Stocks step back
GameStop mania hits new levels
Big-tech earnings top estimates, trading mixed
This week: Jobs, manufacturing, and more high-profile earnings
After kicking off last week with fresh highs, US stocks retreated to end January on a choppy, bearish note.
The S&P 500 (SPX) punched out new records on Monday and Tuesday, but a nasty Wednesday sell-off amid nervousness over the wild swings in GameStop (GME) and other stocks erased a couple of weeks of gains. After a bounce on Thursday, renewed selling on Friday locked in the worst week for the market since October:
Source: Power E*TRADE
---
The headline: Markets slides into February despite big-tech earnings blowouts.
The fine print: Apple (AAPL), Microsoft (MSFT), and Facebook (FB) all crushed their numbers last week, but only MSFT was able to turn the news into an immediate gain on the price chart.  
The number: 4%, the initial estimate of Q4 GDP—slightly below expectations.
The move: 643%, GameStop's (GME) mind-altering Monday–Thursday rally last week.
The scorecard: All the major benchmarks took a step back last week, and the SPX and Dow dipped into negative territory for the year: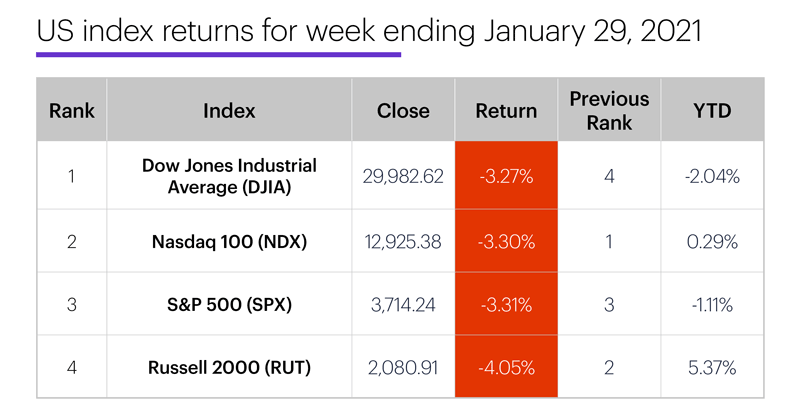 Source (data): Power E*TRADE
---
Sector roundup: The strongest S&P 500 sectors last week were real estate (+0.04%), utilities (-0.8%), and consumer staples (-1.2%). The weakest sectors were energy (-6.3%), materials (-4.7%), and financials (-4.3%).
Highlight reel: Away from the GME fireworks, Vir Biotechnology (VIR) +74% to $77.38 on Tuesday, and Novavax (NVAX) +65% to $220.94 on Friday. On the downside, AMC Entertainment (AMC) -57% to $8.63 on Thursday, and eHealth (EHTH) -39% to $47.85 on Friday.
Futures action: March WTI crude oil (CLH1) closed at $52.20/barrel on Friday—near the bottom of its two-week trading range. February gold's (GCG1) Friday surge pushed it to a three-week high of $1,876 before the market reversed to close at $1,847.30. A Thursday–Friday downturn left March US dollar index futures (DXH1) little changed for the week at 90.55.
Coming this week
Here's a sample of the names from this week's packed earnings schedule:
●Monday: Warner Music (WMG), Cirrus Logic (CRUS), ON Semiconductor (ON), Thermo Fisher Scientific (TMO), Rambus (RMBS), Qiagen (QGEN), NXP Semiconductors (NXPI)
●Tuesday: Alphabet (GOOGL), Amazon.com (AMZN), Alibaba (BABA), Electronic Arts (EA), Royal Caribbean Cruises (RCL), Exxon Mobil (XOM), Chipotle Mexican Grill (CMG), ConocoPhillips (COP), Marvell Technology (MRVL), Match (MTCH), Pfizer (PFE), United Parcel Service (UPS)
●Wednesday: Abbvie (ABBV), Spirit Airlines (SAVE), Cognizant Technology Solutions (CTSH), Check Point Software (CHKP), eBay (EBAY), Royal Gold (RGLD), GrubHub (GRUB), PayPal (PYPL), NETGEAR (NTGR), Qorvo (QRVO), Qualcomm (QCOM), Spotify Technology (SPOT)
●Thursday: Activision Blizzard (ATVI), Bristol-Myers Squibb (BMY), Baxter International (BAX), Ford Motor (F), Merck (MRK), Clorox (CLX), Ralph Lauren (RL), Quest Diagnostics (DGX), Gilead Sciences (GILD), Pinterest (PINS), Peloton (PTON), Wynn Resorts (WYNN)
●Friday: Estee Lauder (EL), Ubiquiti (UI), Regeneron Pharmaceuticals (REGN)
IPOs this week include:
●Wednesday: TELUS International (TIXT), ON24 (ONTF)
●Thursday: loanDepot (LDI), Atotech (ATC), Sana Biotechnology (SANA), Landos Biopharma (LABP)
Friday's jobs report highlights the top-of-the-month economic calendar:
●Monday: Markit Manufacturing PMI, ISM Manufacturing PMI, Construction Spending
●Tuesday: Vehicle Sales
●Wednesday: ADP Employment Change, Markit Services PMI, ISM Non-Manufacturing Index
●Thursday: Challenger Job Cuts, Productivity and Labor Costs, Factory Orders
●Friday: Employment Report, Trade Balance, Imports and Exports, Consumer Credit
Go to the E*TRADE market calendar for an up-to-date earnings schedule and complete list of splits, dividends, IPOs, and economic reports. The Active Trader Commentary also lists earnings announcements, IPOs, and economic report times each morning.
Stop the games
When a stock rallies an average of 12% a day over a seven-day period, people typically take notice. When that trend picks up over the next couple of weeks, and includes a three-day stretch of 16%, 29%, and 94% intraday rallies—ultimately, a 1,257% gain in just seven weeks—people really take notice. They really don't talk about much else.
That's not a description of GameStop (GME), by the way. It's what Tilray (TLRY) did in August–September 2018, as Canada was getting ready to legalize recreational marijuana and TLRY and other cannabis stocks exploded:
Source: Power E*TRADE
---
Now, if you don't know what GME did last week, you haven't been paying attention to the stock market. Although its gain as of Thursday may have been even larger than TLRY's back in 2018, traders who have been around the block a few times will likely see it as just the latest example of a phenomenon as old as markets themselves: Mania. And they know how these episodes almost always end.
Take a look at the TLRY chart. Three days after tagging $300 at the top of its epic run, TLRY had tumbled 67% to $99.50. Two months after that, it was down 76% to $71.38. Last September, that loss had reached 98.5% when the stock traded as low as $4.41. On Friday, TLRY closed at $18.10, a mere 94% below its 2018 bubble high.
Aside from squeezing some institutional short sellers, for now, the GME surge has mostly made billions for a handful of the stock's largest shareholders.1 But the retail traders who are reportedly running up these stocks don't stand to reap similar windfalls—and they're exposing themselves to considerable risk in the process. At some point, the music stops, the scrambling starts, and the pain begins for all but a lucky few.
It doesn't matter whether you're a long-term investor or a short-term trader—the best way to avoid such calamity is to remember if it walks like a bubble and quacks like a bubble, it probably is one.
Click here to log on to your account or learn more about E*TRADE's trading platforms, or follow the Company on Twitter, @ETRADE, for useful trading and investing insights.
---
1 CNBC.com. GameStop's surge has made its 3 largest shareholders billions overnight. 1/27/21.
What to read next...
01/29/21
A look at the action in two tech giants—one that just released earnings, and one that's about to.
---
01/28/21
Several months after its record-setting run—and pullback—are traders seeing signs of stabilization?
---
01/27/21
Is options action in this IT services stock pointing to a possible breakout of its multi-week trading range?
---