Market starts holidays early
S&P 500 dips after six-week win streak
Retail earnings provide the week's fireworks
This week: GDP, housing numbers…and Thanksgiving
After starting last week in now–familiar fashion—making new record highs—the US stock market reined in its horns a bit, breaking a run of six consecutive up weeks for the S&P 500 (SPX):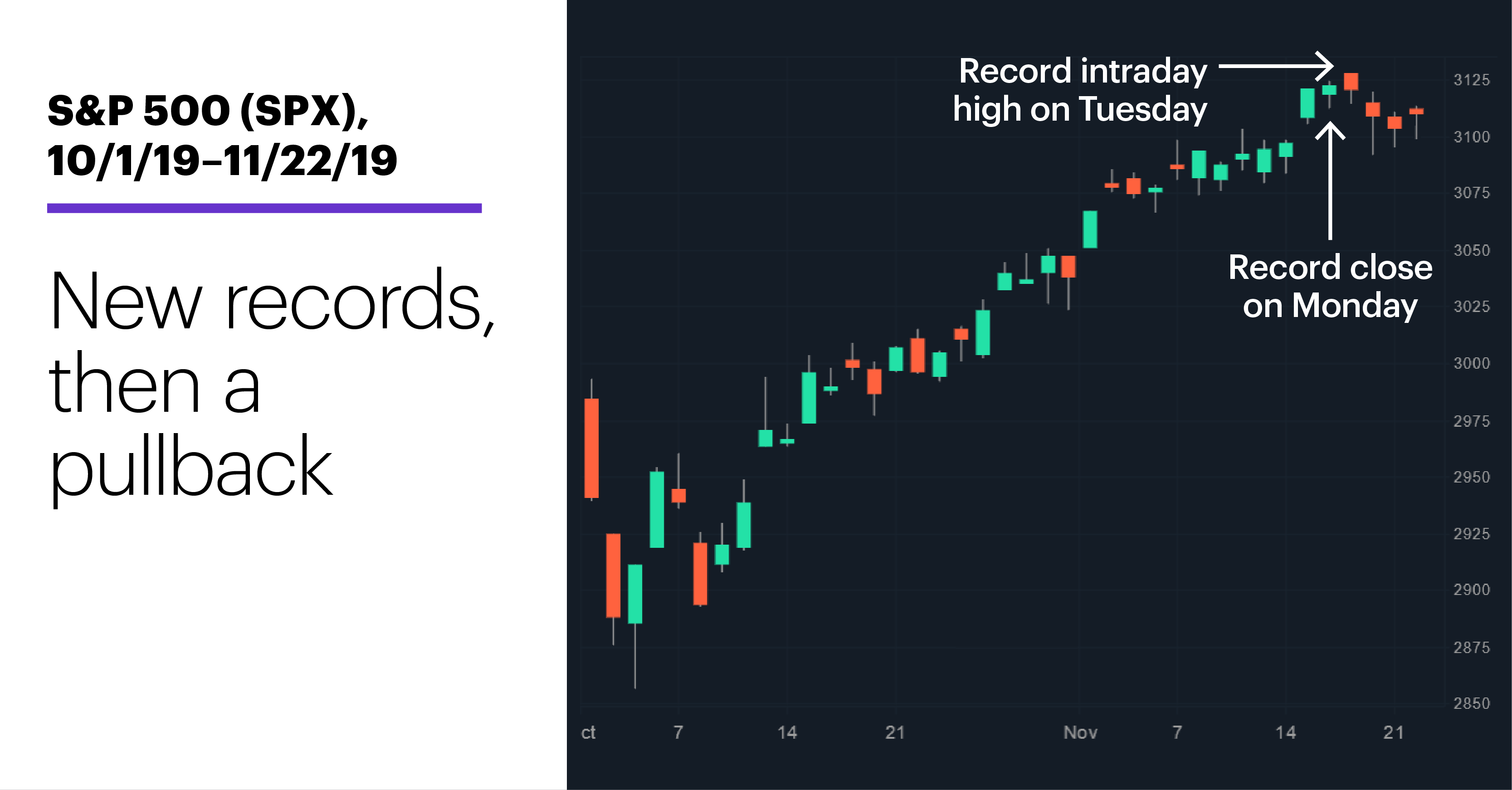 Source: Power E*TRADE
---
But after the Monday and Tuesday milestones, the market sagged. Most of the intraweek action came courtesy of retail stock earnings, which featured some high–profile misses on Tuesday, followed by a few conspicuous beats on Wednesday and Thursday.
Wednesday's FOMC minutes release was a non-event, mostly echoing Fed Chairman Jerome Powell's recent public statements that further interest-rate adjustments would likely occur only in the event of a "material" change in the Fed's economic outlook.1
On the mostly quiet trade–war front: On Tuesday Vice President Mike Pence said a deal could be elusive if China attempted to quell Hong Kong protests with violence.2 But that rhetoric was balanced by comments from Chinese President Xi Jinping on Friday that his country wanted to work toward a Phase 1 trade agreement in a spirit of "mutual respect and equality."3
The bonus of a surprisingly strong Consumer Sentiment number on Friday may have helped awaken sleepy traders, who closed out the week with a small rally rebound and left the SPX less than 1% below Tuesday's peak. Here's how the major US indexes stacked up: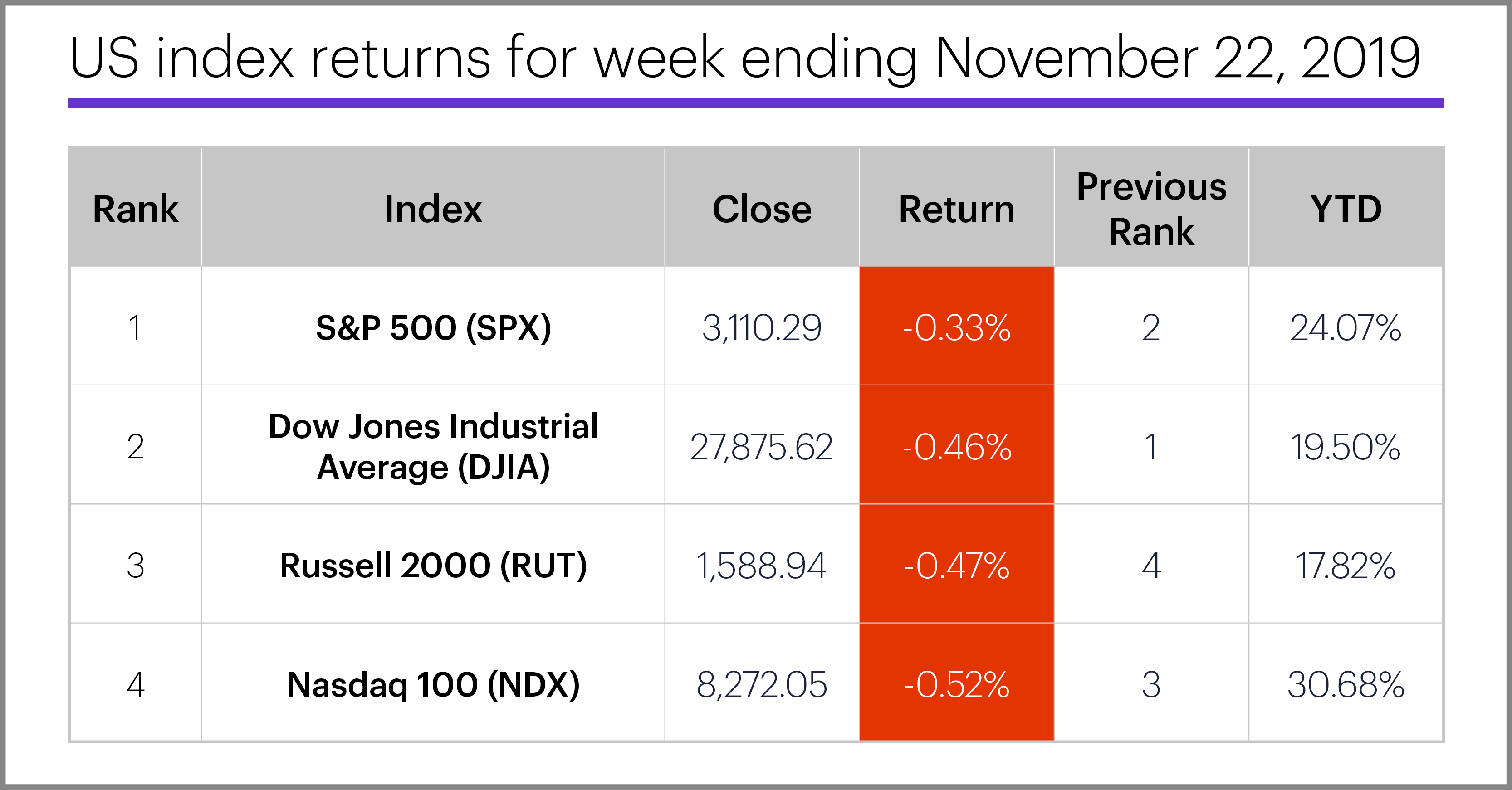 Source: Power E*TRADE
---
Sector roundup: The strongest S&P 500 sectors last week were health care (+0.8%), financials (+0.4%), and utilities (+0.3%). The weakest sectors were materials (-1.7%), real estate (-1.2%), and information technology (-1%).
Power moves: On Tuesday The Medicines Company (MDCO) jumped 20% to $70.21, while Friday Hibbett Sports (HIBB) rallied 15% to $28.69 on Friday. On the downside, Kohl's (KSS) dropped 19.5% to $47.02 on Tuesday, while Cubic (CUB) fell 22% to $57.57 on Thursday.
Futures action: After a sharp Monday–Tuesday pullback to a two-week low of $54.85/barrel, January WTI crude oil (CLF0) rebounded to end last week around $58—back near the top of its recent range. December gold (GCZ9) ended a quiet week around $1,462.50/ounce, down around $6.
Coming this week
It may be a holiday week—no trading in US stock on Thanksgiving, and shortened hours on Friday—but the economic calendar is surprisingly packed, with GDP coming out on Wednesday:
●Monday: Chicago Fed National Activity Index, Fed chairman Jerome Powell speech
●Tuesday: International Trade in Goods, Retail Inventories, S&P Corelogic Case-Shiller HPI, FHFA House Price Index, New Home Sales, Consumer Confidence
●Wednesday: Durable Goods Orders, GDP, Corporate Profits, Personal Income and Outlays, Pending Home Sales Index, Beige Book
●Thursday: Thanksgiving (US stock market closed)
●Friday: Chicago PMI, US stock market closes early (1 p.m. ET)
Tuesday's the big day for earnings this week:
●Monday: Palo Alto Networks (PANW), Agilent (A), Hewlett Packard Enterprise (HPE), PVH (PVH)
●Tuesday: Abercrombie & Fitch (ANF), Autodesk (ADSK), Burlington Stores (BURL), Cracker Barrel Old Country Store (CBRL), Best Buy (BBY), Dell Technologies (DELL), Dollar Tree (DLTR), Dick's Sporting Goods (DKS), VMware (VMW), Keysight Technologies (KEYS), Veeva Systems (VEEV)
●Wednesday: Deere (DE), Cantel Medical (CMD)
●Thursday: Thanksgiving, US stock market closed
Go to the E*TRADE market calendar (login required) for an up-to-date earnings schedule and a complete list of splits, dividends, IPOs, and economic reports. The Active Trader Commentary also lists earnings announcements, IPOs and economic report times each morning.
Market Mover Update. After falling around 4.2% on the week at Wednesday's low, the S&P 500 retail sector rebounded on Friday to cut that loss nearly in half by the closing bell.
Breakout watch: Morgan Stanley is up around 1.8% since November 13, but still within a narrow, two-week consolidation (see "Banking on sector strength").

Click here to log on to your account or learn more about E*TRADE's trading platforms, or follow the Company on Twitter, @ETRADE, for useful trading and investing insights.
---
1 Econoday. FOMC minutes. 11/20/19.
2 Reuters. Pence urges China to respect Hong Kong laws amid protest. 11/19/19.
3 MarketWatch. Dow futures rise as Xi says China is working toward a trade deal on 'basis of mutual respect.' 11/22/19.
What to read next...
11/15/19
Sell-offs in two related Chinese internet stocks may attract the attention of contrarian traders.
---
11/14/19
You never know when a stock has topped or bottomed, but that doesn't mean you shouldn't pay attention to potential signals when they occur.
---
11/13/19
Unusual options activity underscores interest in surging financial stock.
---