Stocks ride reopening trade
New highs for SPX, NDX amid market-friendly "reopening" signals
Banks kick off earnings season with beats
This week: Earnings pick up, more housing data, leading indicators
The calendar says spring but the stock market has been bringing the summer heat, extending its record-setting run as the latest batch of economic data appeared to encourage bulls.
The S&P 500 (SPX) is coming off its fourth-straight up week (its longest run since last August), its biggest 16-day return (+7.6%) since November, and its 12th-straight day of setting either a record close or intraday high: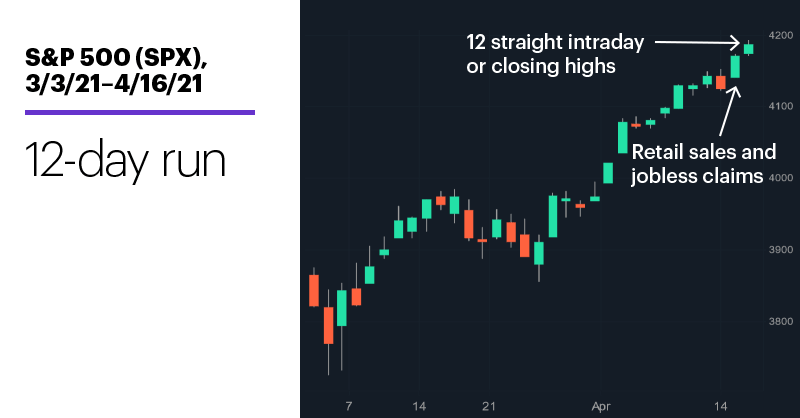 Source: Power E*TRADE
---
The headline: Economic data fuels reopening optimism, US indexes set new milestones.
The fine print: Big banks kicked off earnings season in what has become familiar fashion—beating estimates and reporting strong trading revenues. Another weekly decline in the 10-year yield also kept pressure off the market.
The numbers: 9.8%, the increase in March retail sales, blowing away the 5.6% forecast.1 Also, weekly jobless claims came in at a pandemic-era low of 576,000. (Morgan Stanley recently shared some insights regarding the potential implications of the economic rebound, particularly a "stronger and faster" labor-market recovery.)
The scorecard: Small-caps underperformed again, while the Nasdaq 100's (NDX) third week as the strongest US index marked its longest run since last July: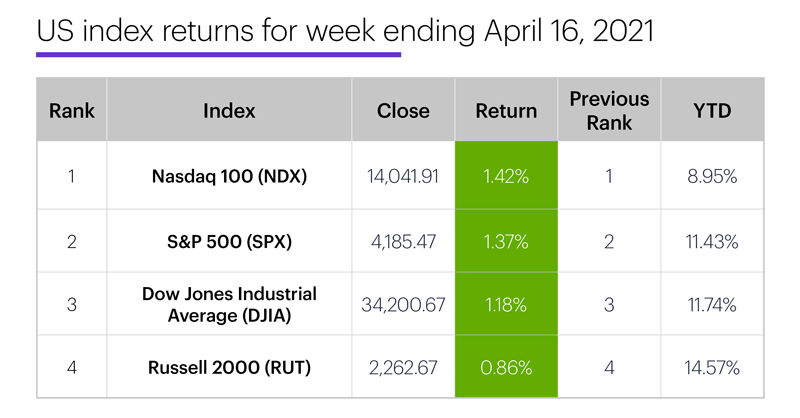 Source (data): Power E*TRADE
---
Sector roundup: Interestingly, defensive sectors were among the biggest gainers last week. The strongest S&P 500 sectors last week were utilities (+3.8%), materials (+3.3%), and health care (+2.8%), while real estate was a close fourth (+2.7%). The weakest sectors were communication services (0.03%), energy (0.3%), and industrials (0.7%).
Highlight reel: Celcuity (CELC) +29% to $27.94 on Monday, General Finance (GFN) +56% to $18.95 on Friday. On the downside, iRhythm (IRTC) -39% to $80.36 on Monday, Praxis Precision Medicines (PRAX) -17% to $25.3 on Wednesday.
Futures action: Crude oil broke out of its consolidation last Wednesday after the International Energy Agency (IEA) upped its demand forecast.2 May WTI crude oil (CLK1) jumped to a 17-day high of $63.44/barrel and edged higher to $63.88 on Friday before closing a little above $63. A Thursday–Friday surge pushed June gold (GCM1) to a 34-day high of $1,784.70/ounce (see "Gold holds its ground").
Last week's biggest futures up moves: May lumber (LBSK1) +14.7%, May sugar (SBK1) +8.2%, May soybean oil (ZLK1) +6.6%. Last week's biggest futures down moves: May feeder cattle (GFK1) -3.9%, May VIX (VXK1) -3.7%, May hogs (HEK1) -3.7%.
Coming this week
In addition to a bunch more banks, the second week of earnings season features more airlines, pharma, tech, energy, and the first FAANG. Here's a sample:
●Monday: United Airlines (UAL), Kaiser Aluminum (KALU), International Business Machines (IBM), Coca-Cola (KO), Teradyne (TER)
●Tuesday: AutoNation (AN), Abbott Laboratories (ABT), Lockheed Martin (LMT), Las Vegas Sands (LVS), Procter & Gamble (PG), CSX (CSX), Dover (DOV), Netflix (NFLX), Philip Morris (PM), Johnson & Johnson (JNJ), Key (KEY)
●Wednesday: Spirit Airlines (SAVE), Baker Hughes (BKR), Whirlpool (WHR), Halliburton (HAL), Lam Research (LRCX), Verizon (VZ), Chipotle Mexican Grill (CMG), Crown Castle International (CCI), Citrix Systems (CTXS)
●Thursday: American Airlines (AAL), Alaska Air (ALK), Southwest Airlines (LUV), AT&T (T), Biogen (BIIB), Intel (INTC), Danaher (DHR), Dow (DOW), Quest Diagnostics (DGX), D.R. Horton (DHI), Freeport-McMoRan (FCX), Snap (SNAP), Mattel (MAT), Verisign (VRSN)
●Friday: American Express (AXP), Kimberly-Clark (KMB), Honeywell International (HON), Schlumberger NV (SLB)
This week's numbers include:
●Thursday: Chicago Fed National Activity Index, Existing Home Sales, Leading Indicators
●Friday: Markit manufacturing PMI (flash), Markit services PMI (flash), New Home Sales
This week's IPOs include:
●Wednesday: UiPath (PATH), SkyWater Technology (SKYT), DoubleVerify  (DV), NeuroPace  (NPCE)
●Thursday: KnowBe4 (KNBE), Zymergen (ZY)
Check the Active Trader Commentary each morning for an updated list of earnings announcements, IPOs, economic reports, and other market events.
Home is where the rally is
Retail sales and jobless claims understandably got the most attention last week, but a data point that slipped under the wire on Friday was a fresh reminder that one of the major trends of the past year hasn't quite thrown in the towel—despite market watchers who have been calling its top for months.
The March housing starts number came in at 1.74 million—well above the 1.6 million estimate, and the highest reading since June 2006. The homebuilder stock rally may be the most obvious reflection of the housing boom (the S&P homebuilders index has more than doubled the S&P 500's return over the past year), but the following chart highlights an even bigger, if less-discussed, offshoot: lumber prices, which have jumped more than 150% since October and hit record highs every day this month: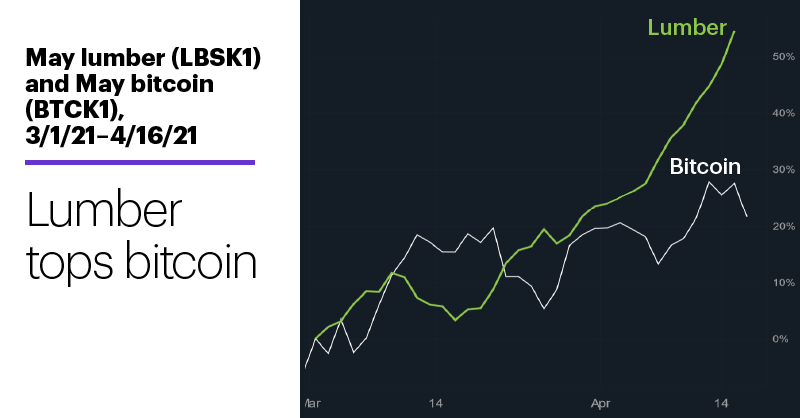 Source: Power E*TRADE
---
To put things in perspective, for all the hoopla surrounding the recent rally in cryptocurrencies—especially amid last week's Coinbase (COIN) trading debut—lumber futures have gained more than twice as much as bitcoin futures since early March.
The housing top-callers will eventually be right—no trend lasts forever—but as of last week, at least, they were still playing the waiting game.
Click here to log on to your account or learn more about E*TRADE's trading platforms, or follow the Company on Twitter, @ETRADE, for useful trading and investing insights.
---
1 CNBC.com. Retail sales explode in March as consumers use stimulus checks to spend heavily. 4/8/21.
2 Reuters. Oil climbs nearly 5% on signs of increasing crude demand. 4/14/21.
What to read next...
04/16/21
Options prices tumble as volatility slides after stock's big earnings move.
---
04/15/21
The stock market accomplished a relatively rare feat this month—and traders may be taking note for next month.
---
04/14/21
A financial tech stock's recent action illustrates the type of price points many traders like to monitor during corrections.
---