Stocks process latest Washington drama
Stocks sag in final full week of September
Markets ponder impeachment inquiry, trade–war developments
This week: Jobs report highlights packed economic calendar
The Beltway again collided with Wall Street, and as usual, the market didn't much like it.
Stocks lost ground for a second-straight week as traders mulled over the implications of the impeachment talk emanating from Congress, and received mixed signals about the status of US–China trade negotiations.
Despite the late-month slump, though, the S&P 500 (SPX) still has a good chance of closing out September in the plus column: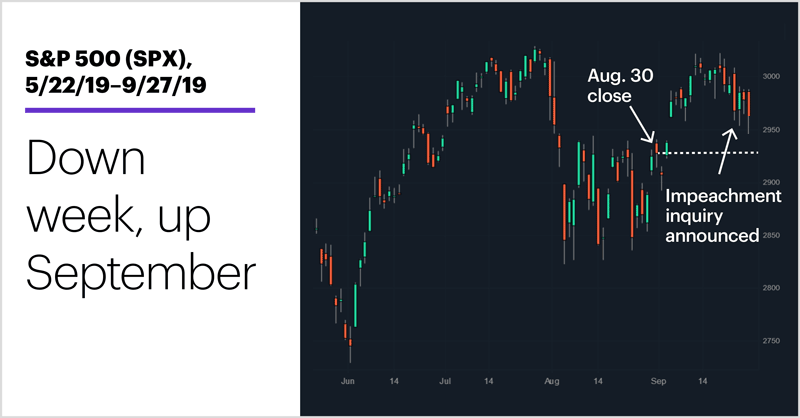 Source: Power E*TRADE
---
On Tuesday both the SPX (-0.8%) and NDX (-1.4%) suffered their worst losses in a month as House Democrats announced an impeachment inquiry into President Trump's Ukraine phone call.1  The market also reacted negatively to the president's "I will not accept a bad deal" comment, raising worries that US–China trade talks, which are currently scheduled to resume mid-October, could be on shaky ground.2  
But the market ping-ponged to the upside on Wednesday after President Trump said that a trade deal with China could emerge "sooner than you think,"3 sending the market into positive territory for the day.
The final volley came on Friday, when an early rally lost momentum after reports emerged that the White House was looking into restricting US investor flows into China.4 The selling dropped the SPX near the support level noted in "The upside of downside," but the market rebounded in the final hour of trading to pare its losses. Here's how the major US indexes fared: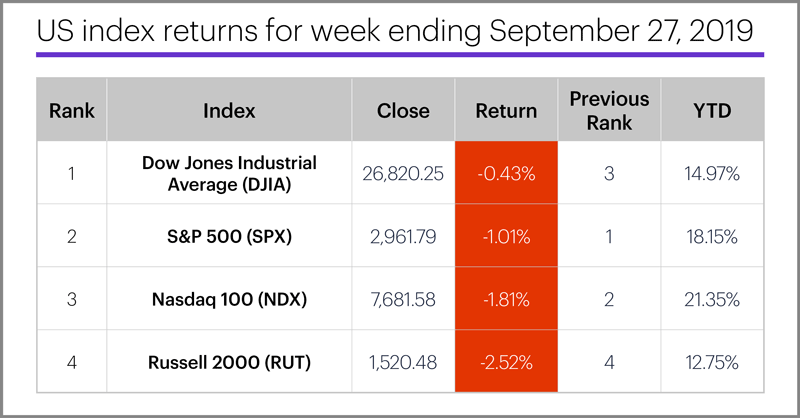 Source: Power E*TRADE
---
Sector roundup: The strongest S&P 500 sectors last week were utilities (+1.3%), consumer staples (+1.2%), and real estate (+0.2%). The weakest sectors were health care (-3%), energy (-2.6%), and communication services (-2.3%).

Power moves: On Monday PriceSmart (PSMT) jumped +20% to $72.38, while Akcea Therapeutics (AKCA) fell -20% to $18.04 and Overstock.com (OSTK) tumbled -25% to $11.19. On Tuesday Pier 1 Imports (PIR) shot up +21% to $13.71 and Fresh Del Monte (FDP) rallied +20% to $36.82.
Futures action: November WTI crude oil futures (CLX9) are coming off a five-day losing streak that dropped the market -4.5% to around $56. After rallying above $1,543/ounce last Tuesday, December gold (GCZ9) retreated to test near-term support around $1,495 before closing the week around $1,503.50.
Coming this week
The jobs report comes out on Friday, but the Street will also be keeping a close eye on the week's manufacturing data:
●Monday: Chicago PMI
●Tuesday: PMI Manufacturing Index, ISM Manufacturing Index
●Wednesday: Motor Vehicle Sales, ADP Employment Report
●Thursday: PMI Services Index, Factory Orders, ISM Non-Manufacturing Index
●Friday: Employment report, International Trade
Earnings this week include:
●Monday: Cal-Maine Foods (CALM), Thor Industries (THO)    
●Tuesday: McCormick & Company (MKC), Stitch Fix (SFIX), United Natural Foods (UNFI), GW Pharmaceuticals (GWPH)
●Wednesday: Acuity Brands (AYI), Bed Bath & Beyond (BBBY), Lennar (LEN), Lamb Weston Holdings (LW), RPM International (RPM), Paychex (PAYX)
●Thursday: Constellation Brands (STZ), IDT (IDT), Costco Wholesale (COST), Smart Global Holdings (SGH), PepsiCo (PEP)
IPOs this week include: ADC Therapeutics (ADCT) on Thursday.
Go to the E*TRADE market calendar (logon required) for an up-to-date earnings schedule and a complete list of splits, dividends, IPOs, and economic reports. The Active Trader Commentary also lists earnings announcements, IPOs and economic report times each morning.
[S]uch periods of outflows tend to see somewhat better equity returns over the following six months.
October prep talk. With the new month kicking off tomorrow, it's a good time to remember that, despite the infamous crashes of yore, October has historically been one of most bullish months of year—and it's bullishness has increased in recent decades.
The catch is that October has also tended to be a volatile month, but as we'll see, that volatility can work in favor of bulls.
Overall, since 1960 October has been a positive month for the SPX in 36 years of 59 years (61% of the time), but since 1990 it's been positive in 19 of 29 years (66% of the time). Also since 1990, October's median monthly return of 1.8% trailed only November's 2.5% gain among all months of the year.
But there's often a lot of shakin' and bakin' going on in October. Since 1990, its average maximum price move (up or down, measured from September's close) is 6.5%—larger than any other month. And although the SPX dropped nearly -17% in 2008, since then the largest October loss was last year's -6.9% sell-off; the other three negative Octobers were all smaller than -2%. In contrast, the six positive Octobers of the past 10 years have all been bigger than +2%, and the two most volatile Octobers, 2011 and 2015, resulted in gains of +10.8% and +8.3%, respectively.
Which is why many experienced traders look at October sell-offs, when they occur, as potential buying opportunities rather than evidence the sky is falling.
Click here to log on to your account or learn more about E*TRADE's trading platforms, or follow the Company on Twitter, @ETRADE, for useful trading and investing insights.
---
1CNBC.com. S&P 500 drops the most in a month on Trump impeachment concerns. 9/24/19.
2 MarketWatch.com. Trump approves Ukraine call transcript release as Pelosi readies impeachment inquiry. 9/24/19.
3 Reuters. Trump says trade deal with China could happen sooner than people think. 9/25/19.
4 U.S. News & World Report. Trump Considers Delisting Chinese Firms From U.S. Markets: Source. 9/27/19.
5 Bloomberg.com. Biggest-Ever Move Out of Stocks Could Foreshadow Gains Ahead. 9/23/19.
What to read next...
09/27/19
Does digital storage stock still have some bullish momentum in its memory bank?
---
09/26/19
Options activity and Street chatter highlight interesting developments in bank stock.
---
09/25/19
A couple of stratospheric rallies get put to the test—in more ways than one.
---