Back on the sunny side of the Street?
SEDG and ENPH up big YTD
Both stocks rallied in wake of negative research reports
Other stocks have mounted extended rallies after similar events
If a stock that's down around 40% over the past month doesn't sound like a compelling "pick to click," what if the stock in question rallied more than 600% in the eight months before that correction?
Such is the case with solar energy technology company Enphase Energy (ENPH), which fell more than 9% intraday yesterday—the sixth time it's dropped 6% or more in a day since hitting a record high of $35.42 on August 27: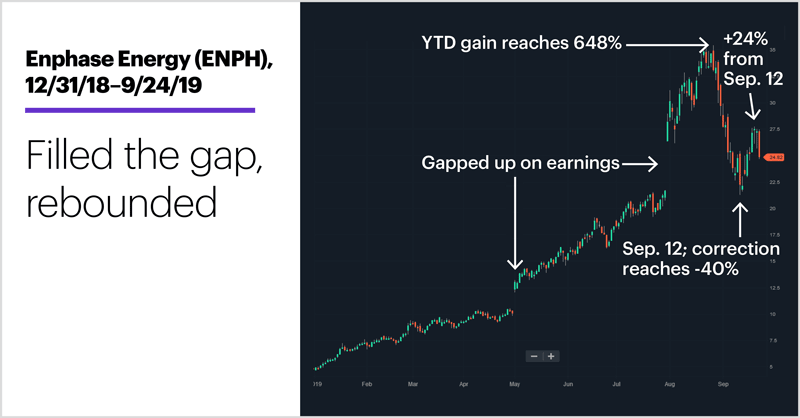 Source: Power E*TRADE
---
The chart also shows the 648% rally that preceded that correction, which still leaves ENPH shares up a healthy 420% on the year as of yesterday.
Stocks that make such stratospheric runs often get pulled back to earth for a while—no shocker there. The extra element in this story is that as of yesterday, ENPH's correction had bottomed on September 12, the same day short-selling analysis firm Citron Research came out with negative comments about Enphase and fellow solar energy company SolarEdge Technologies (SEDG),1 which is up around 148% on the year: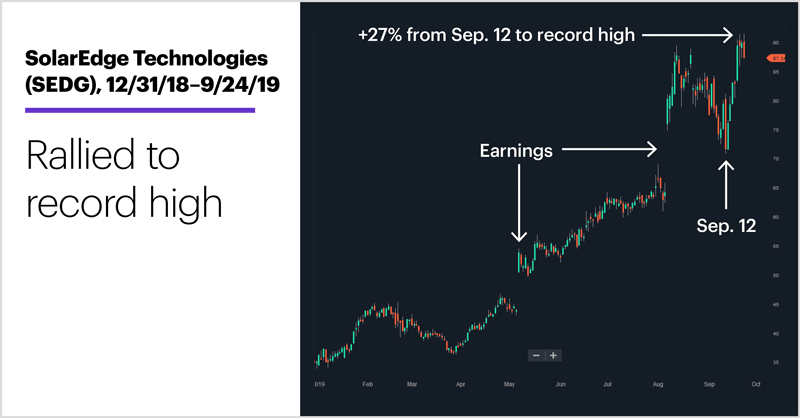 Source: Power E*TRADE
---
Both companies handily beat their headline numbers (especially revenues) in the last two quarterly-reporting cycles—note the up gaps in both charts. In the case of ENPH, the September 12 low filled the chart's huge July 30–31 gap, and the stock jumped nearly 24% over the next six days. September 12 didn't quite fill SEDG's up gap but, like ENPH, the stock immediately turned to the upside, rallying more than 27% to a record high by September 20.
Short sellers play an important (dare we say "valuable"?) role in the market ecosystem. Stocks can get overbought as well as oversold, and short sellers can sometimes highlight instances where "irrational exuberance" may have gripped the market, and help bring prices back into alignment with fundamentals.
But just as buyers can scoop up shares of a beaten-down stock only to see it continue to drop, short sellers can also be just plain wrong. And even when they're right, it can take a long, long time for the market to prove them correct. Things are different when you're operating on a shorter timeframe.
For example, on December 20, 2018, Citron described Twitter (TWTR) as "the Harvey Weinstein of social media" and slapped a price target of $20 on the stock,2 which had closed around $33 the day before. Shares did indeed tumble -18% over the next three days, but seven days after that they were up more than 7%, and as of yesterday, 41% higher.
Traders can also refer to Veeva's (VEEV) 90% gain in the nine months after a Citron takedown on December 4, 2018, Square's (SQ) 109% rally in the five months after Citron's April 30, 2018 slam, or Shopify's (SHOP) 175% surge in the 22 months after getting caught in the short seller's crosshairs on October 4, 2017. And those aren't the only examples.
It's a tough game. In the meantime, many traders are likely to look to the immediate price action of stocks like ENPH and SEDG, to see if the lows they put in on September 12 continue to hold (and if they get tested in the next several days). That resilience could help indicate whether the market has another TWTR, VEEV, SQ, or SHOP on its hands.
The tape has its own story to tell.
Market Mover Update: After testing its September 23 low (and longer-term support level) a couple of days ago, Disney (DIS) got a shout-out from Wells Fargo, which initiated analyst coverage with an "outperform" rating on Monday3 (see "Streaming wars heat up").
Today's numbers (all times ET): New Home Sales (10 a.m.), EIA Petroleum Status Report (10:30 a.m.), Survey of Business Uncertainty (11 a.m.). Speeches by Fed members Charles Evans (8 a.m.), Esther George (10 a.m.), and Robert Kaplan (7 p.m.).
Today's earnings include: KB Home (KBH), HB Fuller (FUL).
Click here to log on to your account or learn more about E*TRADE's trading platforms, or follow the Company on Twitter, @ETRADE, for useful trading and investing insights.
---
1 The Motley Fool. Why SolarEdge Stock Dropped 10% Today. 9/12/19.
2 BusinessInsider.com. Short-seller Andrew Left's Citron Research calls Twitter the 'Harvey Weinstein of social media,' says it will plunge more than 30% (TWTR). 12/20/18.
3 StreetInsider.com. Wells Fargo Starts Walt Disney (DIS) at Outperform. 9/23/19.
What to read next...
09/24/19
Taking stock of where the market is positioned heading into the final quarter of 2019.
---
09/23/19
Stocks continue to hover near record highs after oil spike and Fed meeting.
---
09/20/19
Biopharma company's immunotherapy drug wins key FDA vote, stock swings.
---