Stock leading the news?
With earnings due today, WLTW down more than 20% since May 7
Company pulled plug on insurance mega-merger last week
What could August hold in store for the stock market?
It's often said that markets are constantly "discounting" the news—adjusting and repricing as new information becomes available (which is always).
Sometimes price behavior may lead some traders to wonder how much discounting markets do in advance—that is, adjust to what they think will probably happen rather than simply reacting to each headline.
For example, the Department of Justice successfully quashed insurance company Willis Towers Watson's (WLTW) proposed merger with Aon (AON) more than a week ago,1 news that was followed by a big (9%) but hardly "Where did that come from?" down day: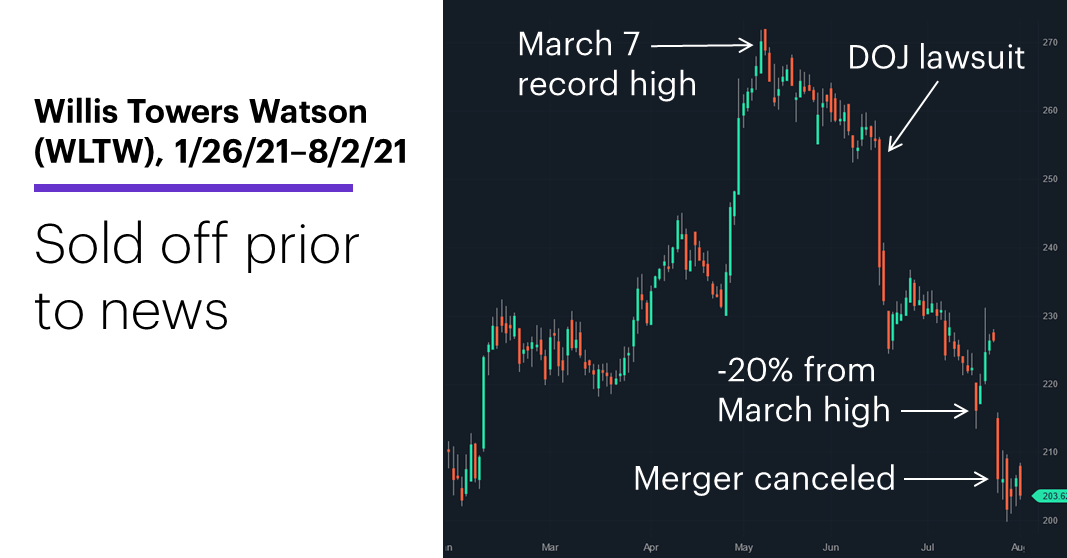 Source: Power E*TRADE (For illustrative purposes. Not a recommendation.)
---
One week before the announcement, though, the stock was down 20% from its May 7 close, a sell-off that far outpaced the S&P 500 financial sector's roughly 7% decline over the same period. The biggest hit came on June 16, when the DOJ announced its lawsuit to block the deal, but the stock had already been drifting lower.
But in early May, the deal had been in the works for nearly 14 months, and WLTW was up around 50% from its November lows. Was its subsequent correction a reflection of the market belief that the deal's odds were shrinking the longer the fight dragged on?
With its latest earnings scheduled for this morning, WLTW has bounced (mildly) the past few days after approaching its January lows last Wednesday. Yesterday the options market was estimating a +/-2.6% earnings-day move for the stock (it's average earnings move over the past three years is 2%).2
How WLTW performs after earnings—especially, perhaps, if it fails to sell off on soft numbers—may indicate whether the market has indeed discounted all the "bad" news it can think of, and has already moved on to other things.
Stocks are always subject to surprises, but the market isn't referred to as "forward looking" for no reason.
August market patterns: August has landed in the plus column 56% of the time since 1960 and has an average return of 0.3%. But the past two decades have been more volatile: While it's been up more often (12 out of 20 years, or 60% of the time), August has a negative average return (-0.2%) because of occasional sharp selloffs, most notably in 2001, 2010, 2011, and 2015:
Source: Power E*TRADE (For illustrative purposes. Not a recommendation.)
---
Check back tomorrow for some follow-up on how the final five months of the year have played out after January–July runs like this year's.
Market Mover Update: Chipmaker Qualcomm (QCOM) went on a minor rollercoaster ride yesterday after news broke that Alphabet was going to make its own smartphone processors instead of buying them from Qualcomm,3 which slid into negative territory after hitting a six-month high in early trading.
Today's numbers include (all times ET): Markit Manufacturing PMI (9:45 a.m.), ISM Manufacturing Index (10 a.m.), Construction Spending (10 a.m.).
Today's earnings include: Phillips 66 (PSX), Activision Blizzard (ATVI), Alibaba (BABA), Verisk (VRSK), Amgen (AMGN), Occidental Petroleum (OXY), Ralph Lauren (RL), Clorox (CLX), Cardlytics (CDLX), ConocoPhillips (COP), Match Group (MTCH), LGI Homes (LGIH).
Click here to log on to your account or learn more about E*TRADE's trading platforms, or follow the Company on Twitter, @ETRADE, for useful trading and investing insights.
---
1 Reuters. Aon, Willis halt $30 bln merger over monopoly concerns, delay. 7/26/21.
2 Power E*TRADE earnings history data.
3 CNBC.com. Google will abandon Qualcomm and build its own smartphone processors this year. 8/2/21.
What to read next...
08/02/21
Stocks tread water the final week of July, but still closed out the month near record highs.
---
07/29/21
Big options trades cross the tape as retailer hovers near key level.
---
07/28/21
Stock's sell-off shows why it's a good idea to look at what traders are doing immediately after a big earnings move.
---