Stocks hit the range
Stocks absorb more "historic" economic data, US-China tensions
Oil continues surge, precious metals shine
This week: Retail stock earnings, housing data
US stocks will enter the second half of May pretty much where they started the month, as "reopening anxiety" and US-China tensions appeared to keep bulls in check most of last week.
Although it started out last week near its highest levels of the past two months, the S&P 500 (SPX) pulled back to a 17-day low on Thursday. But what looked like a potentially bloody week turned out to be a fairly moderate affair, as the market rebounded to close higher Thursday and rallied again on Friday despite the worst monthly retail sales report in history.
The SPX ended the week near the middle of the roughly 160-point trading range it's now been in for more than three weeks: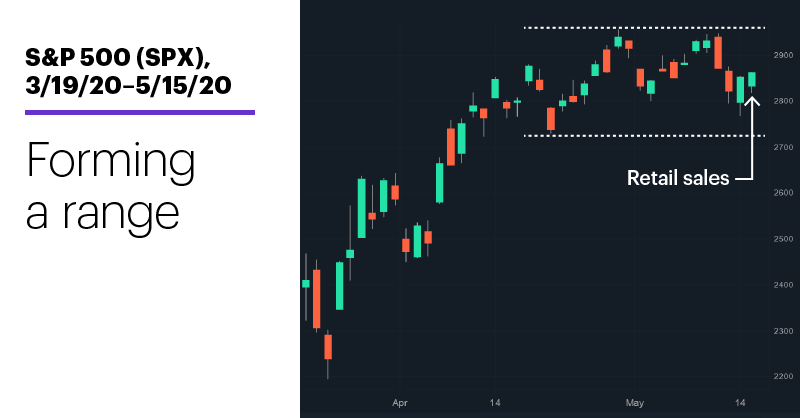 Source: Power E*TRADE
---
The headline: Pullback week for stocks ends with retail sales bummer.
The fine print: While retail sales declined a record 16.4% in April, not all of last week's data was as bad. Friday's other numbers—Empire State Manufacturing, Business Inventories, Consumer Sentiment, and Job Openings—were weak, but they also topped forecasts.
The move: 59%, MyoKardia's (MYOK) rally last Monday when it announced successful clinical trial results for a cardiovascular disease treatment.
The quote: "I think 2021 could be a boom year. With the liquidity that the Fed is adding—unprecedented—it could be a really good year." Wharton Finance Professor Jeremy Siegel on the stock market, and why he thinks it won't test its March lows. 1
The scorecard: Nasdaq 100 (NDX) barely got scratched by last week's selling, and remained in the green for the year: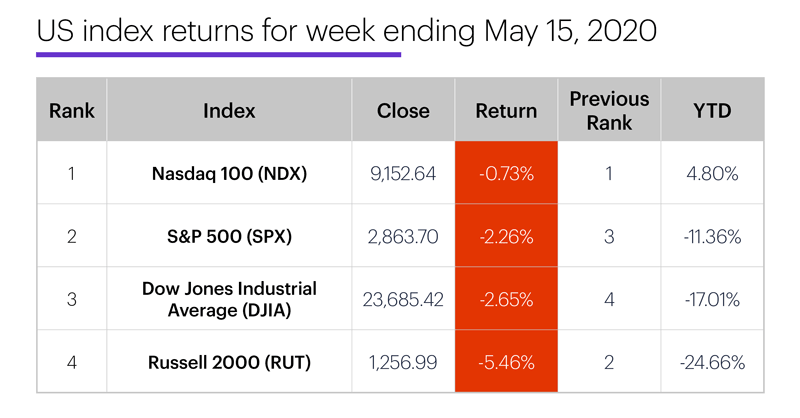 Source: Power E*TRADE
---
Sector roundup: The strongest S&P 500 sectors last week were health care (+0.88%), consumer discretionary (-1.03%), and communication services (-1.19%). The weakest sectors were energy (-7.61%), real estate (-7.26%), and industrials (-5.9%).
Highlight reel:On Tuesday Novavax (NVAX) jumped 63% to $39.82, and Applied DNA Sciences (APDN) soared 71% to $15.21 on Thursday. On the downside, on Thursday Virtusa (VRTU) fell 21% to $25.19, and United National Foods (UNFI) dropped 20% to $18.08.
Futures action: Oil and gold both broke out of consolidations late last week (see "Commodity crunch"). June WTI crude oil (CLM0) jumped 19%, closing Friday at $29.43/barrel, while June gold (GCM0) rallied 2.5% to $1,756.30/ounce. But July silver (SIN0) stole the precious-metals show, surging 8.2% to $17.07/ounce.
Last week's biggest futures up moves: June WTI crude oil (CLM0) +19%, July silver (SIN0) +8%, June VIX (VXM0) +5.9%. Last week's biggest futures down moves: June natural gas (NGM0) -9.9%, June hogs (LHM0) -6.2%, May Bitcoin (BTCM0) -6.1%
Coming this week
It's retail week, with high-profile national chains highlighting the earnings calendar:
●Monday: Ryanair (RYAAY), iQIYI (IQ), Baidu (BIDU)
●Tuesday: Advance Auto Parts (AAP), Kohls (KSS), Weibo (WB), Home Depot (HD), Eagle Materials (EXP), Walmart (WMT), Urban Outfitters (URBN), Nordstrom (JWN), IQIYI (IQ)
●Wednesday: Analog Devices (ADI), Target (TGT), Lowe's (LOW), Take-Two Interactive Software (TTWO), Qiwi (QIWI), Pinduoduo (PDD)
●Thursday: Agilent (A), Palo Alto Networks (PANW), NVIDIA (NVDA), TJX (TJX), Ross Stores (ROST), Intuit (INTU), Teekay Tankers (TNK), Medtronic (MDT)
●Friday: Alibaba (BABA), Marriott Vacations (VAC), Deere (DE), Foot Locker (FL)
Housing numbers dominate a light week on the economic calendar:
●Monday: NAHB Housing Market Index
●Tuesday: Building Permits, Housing Starts
●Wednesday: EIA Crude Oil Inventories
●Thursday: Initial Jobless Claims, Existing Home Sales, Markit Manufacturing PMI, Markit Services PMI
Go to the E*TRADE market calendar (login required) for an up-to-date earnings schedule and a complete list of splits, dividends, IPOs, and economic reports. The Active Trader Commentary also lists earnings announcements, IPOs and economic report times each morning.
Market Mover Update. With earnings due out this week, Home Depot (HD), Lowe's (LOW), and Nvidia (NVDA) all posted big rallies on Friday (see "Trading the numbers game").
Canary in a stock mine?
Whatever stocks end up doing in the coming weeks and months, it's a fair bet that tech will have a lot to say about it. It's arguably been the driving force in the market's huge rebound over the past two months.
When the Nasdaq 100 (NDX) touched 9,354.45 last Tuesday, the tech index was only 4% below its February 19 all-time high of 9,736.57—and a remarkable 38% above its March 23 coronavirus-panic low. Even after pulling back most of last week, the NDX closed Friday higher than it had on all but 28 days in its history.
That's why many traders will be keeping close tabs on the NDX and its key components—including its three biggest stocks, Microsoft (MSFT), Apple (AAPL), and Amazon (AMZN)—to see whether the market's pace car is still on cruise control or pumping the brakes.
Because as traders have been reminded many times in recent years, as goes tech, so (often) goes the market.
Click here to log on to your account or learn more about E*TRADE's trading platforms, or follow the Company on Twitter, @ETRADE, for useful trading and investing insights.
---
1 MarketWatch.com. 'We've seen the lows in March' for the stock market, says man who called Dow 20,000 in 2015, 'and we will never see those lows again. 5/9/20.
What to read next...
05/15/20
Earnings season may feel like it's come and gone, but some key companies will release their numbers next week.
---
05/14/20
Why two of the biggest commodity futures markets may be setting up for breakout moves.
---
05/13/20
With earnings around the corner, a gap looms on the price chart of resurging tech stock.
---