Market keeps grinding
Small caps lead, market digests latest inflation data
Gold tops $1,900, oil hits 31-month high
This week: Jobs report, construction and manufacturing numbers
It wasn't a barn-burning rally by any stretch of the imagination, but it got the job done.
After a bout of choppy trading, the S&P 500 (SPX) jumped back into positive territory for the month last Monday and held its ground for the next four days, giving the US stock market a second-straight up week and closing the books on its eighth positive May of the past 10 years:
Source: Power E*TRADE
---
The headline: Stocks edge higher amid mixed economic data.
The fine print: Weekly jobless claims dropped to another pandemic-era low and the first revision of Q1 GPD held steady at 6.4%, but durable goods orders for April missed badly (-1.3% vs. +0.7%) and the core Personal Consumption Expenditures (PCE) index—the inflation gauge favored by the Federal Reserve—jumped 0.7% in April, which was its biggest one-month increase since October 2001, although just a little above estimates.
The number: 2—the number of times the SPX has closed higher than it did on Friday (April 29 and May 7).

The scorecard: A big (+2%) Wednesday helped the Russell 2000 (RUT) lead the pack last week: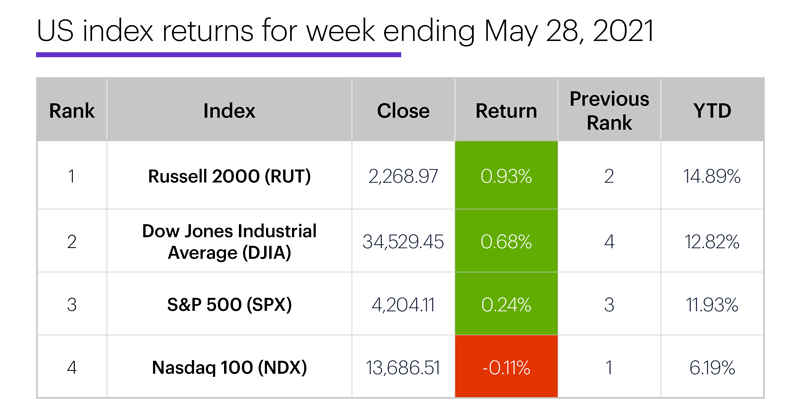 Source (data): Power E*TRADE
---
Sector roundup: The strongest S&P 500 sectors last week were communication services (+2.8%), consumer discretionary (+2.5%), and real estate (+2.4%). The weakest sectors were utilities (-1.5%), health care (-0.6%), and consumer staples (-0.2%).
Highlight reel: Owens & Minor (OMI) +36% to $44.12 on Wednesday, AMC Entertainment (AMC) +36% to $26.52 on Thursday. On the downside, NGM Biopharmaceuticals (NGM) -41% to $16.81 on Monday, IAC/InteractiveCorp (IAC) -37% to $158.74 on Tuesday.
Futures action: After topping $1,900/ounce for the first time in nearly five months last Wednesday, June gold (GCM1) traded as high as $1,913.30 on Thursday before ending the week at $1,902.50. July WTI crude oil (CLN1) posted its third-biggest up week of the past three months, hitting a new contract high of $67.52/barrel on Friday before closing lower at $66.32. Biggest up moves: July coffee (KCN1) +8.2%, July oats (ZON1) +6%, July WTI crude oil (CLN1) +4.8%. Biggest down moves: July lumber (LBSN1) -9.8%, June milk (DCM1) -4.7%, July wheat (ZWN1) -1.6%.
Coming this week
A busy top-of-the-month economic calendar wraps up with the May jobs report:
●Tuesday: Markit Manufacturing PMI, ISM Manufacturing Index, Construction Spending
●Wednesday: Vehicle Sales, Fed Beige Book
●Thursday: Labor Costs, Productivity, Markit Services PMI, ISM Non-Manufacturing Index
●Friday: Employment report, Factory Orders
This week's earnings include:
●Tuesday: Hewlett Packard Enterprise (HPE), Zoom Video (ZM), Campbell Soup (CPB), Canopy Growth (CGC), StoneCo (STNE)
●Wednesday: Advance Auto Parts (AAP), J.M. Smucker (SJM), DocuSign (DOCU), Smartsheet (SMAR), NetApp (NTAP), nCino (NCNO), RH (RH)
●Thursday: Lululemon Athletica (LULU), Five Below (FIVE), Broadcom (AVGO), CrowdStrike (CRWD), PagerDuty (PD), Slack (WORK)

This week's IPOs include:
●Thursday: dLocal (DLO)
Check the Active Trader Commentary each morning for an updated list of earnings announcements, IPOs, economic reports, and other market events.
Will June sing its typical tune?
If you were looking for a poster child for the stock market's so-called "summer doldrums," June's traditionally yawn-worthy performance would probably make it a good candidate.
Over the past 61 years, here's how June has measured up against other months of the year in terms of the S&P 500's performance:
●Win percentage: 56% (9th place)
●Median return: 0.08% (11th place)
To be fair, June has dialed things up a bit over the past decade, posting a median return of 0.48% (9th) and a 70% win rate (tied for 4th) since 2011.
Also, like the month that just ended, June has tended to be a relatively low-volatility spot on the calendar. Over the past 30 years the SPX's best June was +6.9% and its worst was -8.6%—after May, that's the second-smallest differential between those extremes of any month of the year.
Finally, we're also coming off a holiday weekend—one that's typically been followed by more-bullish than-average stock performance. Over the past 50 years, the SPX's average four-day gain after Memorial Day weekend is 0.52%—three times as big as the index's overall average four-day return (0.13%).1
Click here to log on to your account or learn more about E*TRADE's trading platforms, or follow the Company on Twitter, @ETRADE, for useful trading and investing insights.
---
1 All figures based on S&P 500 daily and monthly closing prices, January 1960–May 2021. Supporting document available upon request.
What to read next...
05/28/21
Unusually high open interest shines light on stock testing its all-time low.
---
05/27/21
How do some traders adjust for the limitations—and frequently high price tags—of directionless options strategies?
---
05/26/21
Traders who consult "unusual" options activity know it's a good idea to find out if it's actually unusual.
---