Stocks embrace stimulus
Tuesday was the S&P 500's biggest up day since 2008
Energy stocks lead SPX higher
Gold surges more than $100 intraday
Weren't you less stressed yesterday?
It's never a good idea to read too much into a single day's price action, but looking underneath the hood of yesterday's roaring stock rally may shed some light on how the Street is digesting the latest coronavirus and stimulus headlines, and what may be in store for traders in the weeks to come.
It may not look very impressive in the shadow of all the selling that preceded it, but yesterday the S&P 500 (SPX) notched its fourth-biggest up day of the past 30 years (+9.4%), as the market anticipated a breakthrough in the Senate economic stimulus bill:1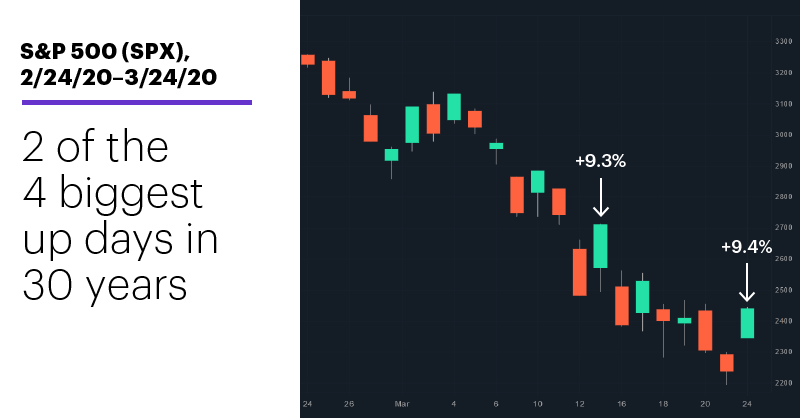 Source: Power E*TRADE
---
Before delving deeper into yesterday's move, it's worth noting how things were playing out on the sector level. Even though it may have seemed like a classic "risk-on" day, with traders loading up on momentum stocks, tech was not at the top list—not even in the top three, in fact. With less than two hours remaining in yesterday's trading session, these were the strongest S&P 500 sectors:
1. Energy
2. Financials
3. Industrials
Energy's leadership is interesting because it wasn't getting a huge boost from crude oil, which was up only around 1% in the late afternoon, and the energy sector itself has been at the bottom of the barrel for so long it's forgotten what the top looks like. One explanation is that some investors and traders were picking up heavily discounted stocks in some of the most battered areas of the market.
If that was the case, it could be an encouraging bit of news for bulls. But does yesterday's broad-market surge suggest such players were making their move at a good time? Impossible to say, of course, but days like yesterday are rare enough that it's easy to survey what's happened after them in the past.
The table below shows the SPX's returns one day to four weeks after other big one-day up moves (5% or larger) that, like yesterday, were preceded by at least two down days. There have been only 11 other moves like this over the past 60 years:2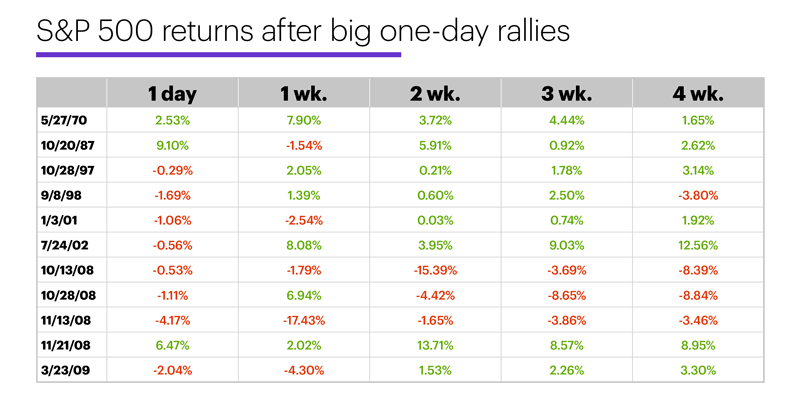 Source (data): Power E*TRADE
---
Takeaways:
1. Big snap-back or "relief" rallies are a characteristic of extreme market environments, but not necessarily a sign of a market bottom: Most of these days occurred during other "crisis" periods—notice 2008-2009's heavy representation, along with 2001-2002, 1998, 1997, and 1987. Some occurred near bottoms, but not all.
2. Short-term give-backs after these big up days are normal: If you've already forgotten how much the market dropped the day after the March 13 rally, the table shows the SPX closed lower the next day in eight of the 11 cases. At the two- and three-week marks, though, the market was higher in eight of 11 instances. After four months, the SPX was higher in seven of the examples.
But the fact that these big up days don't necessarily mean "The bottom is in!" shouldn't be discouraging for bulls. What they really highlight is that, in all likelihood, there's still more volatility in store for the market. Even on the off chance that Monday turns out to be an important coronavirus sell-off low—say, analogous to the market's October 2008 low—that doesn't mean the market won't drop more, or that volatility is poised to revert to early 2020 levels. After all, even though the September–October 2008 drop was the worst part of the financial crisis sell-off, the SPX made lower lows in November and again in March 2009 (see "Lessons from 2008"). Uptrends, like Rome, are not built in a day.
That may dovetail with current expectations about an economic slowdown: Even if the coronavirus itself is less damaging than expected in the US, the market is going to have to deal with more than a few psychological setbacks in the weeks and months to come as the lockdown makes itself felt in GDP, jobs numbers, and other economic data.
But if you take the time to review a very long-term SPX chart, you may be encouraged to see, in the big scheme of things, how relatively close the market was (usually, not always) to the end of a "pain" cycle when price action like we've seen recently has occurred.
Market Mover Update: Gold surged for a second straight day—the April futures contract (GCJ0) jumped more than 8% intraday, tagging $1,698/ounce before retreating to around $1,660 in the afternoon. The market has gotten a renewed boost as the Fed has taken quantitative easing to unprecedented levels (see "Fed all in, markets wait for Congress").
Today's numbers (all times ET): Durable Goods Orders (8:30 a.m.), FHFA House Price Index (9 a.m.), EIA Petroleum Status Report (10:30 a.m.).
Today's earnings include: Shoe Carnival (SCVL), Paychex (PAYX), Micron (MU).
Click here to log on to your account or learn more about E*TRADE's trading platforms, or follow the Company on Twitter, @ETRADE, for useful trading and investing insights.  
---
1 CNBC.com. The Federal Reserve just pledged asset purchases with no limit to support markets. 3/23/20.
2 Reflects S&P 500 (SPX) returns after days the index closes up 5% or more after two consecutive down days. Supporting document available upon request.
What to read next...
03/24/20
The Federal Reserve announced sweeping new "quantitative easing" measures to support the US economy and markets. And the markets moved.
---
03/23/20
Second-worst week in 63 years for the S&P 500, which fell below its 2018 lows.
---
03/20/20
As rough a patch as this has been, the stock market has been here before. And it may have something to teach us.
---