From beat up to bid up
Energy, airlines, hotels some of biggest gainers over the past two days
Senate passes $2 trillion stimulus package
Oil steadies, gold gets a shout-out
US stocks may not have rallied as much yesterday as they did on Tuesday—it would have been hard to match that performance, anyway—but one thing stayed the same: Some of the most beaten-down areas of the market were getting some of the biggest bumps.
The all-clear signal?
Not quite, but it is, as mentioned yesterday, a potentially encouraging sign for the market, since the magnitude of the moves in some sectors and industries suggests it's more than mom-and-pop buying.
After leading the S&P 500 (SPX) higher on Tuesday, the energy sector followed up yesterday with another strong showing, as stocks like Chevron (CVX), Exxon Mobil (XOM), and ConocoPhillips (COP) pushed their two-day percentage returns well into double-digits: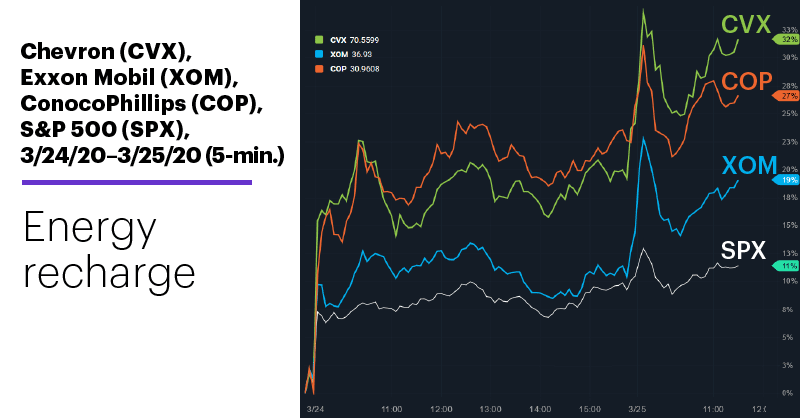 Source: Power E*TRADE
---
These moves are notable not just because the energy sector has been the SPX's cellar dweller for the better part of two years, but because oil stocks were getting scooped up even though crude oil was still relatively close to its 18-year lows.
These rallies paled in comparison to the ones made by some airline stocks, though. American (AAL), United (AAL), and Delta (DAL), all had two-day returns in excess of 35% halfway through yesterday's trading session: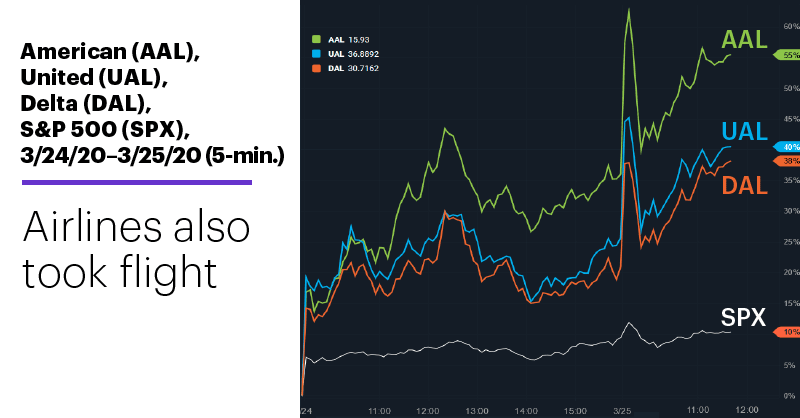 Source (data): Power E*TRADE
---
Another hard-hit industry, hotel stocks, also saw some of its high-profile names outpacing the market yesterday, with Hyatt (H) up more 11% midday and Marriott (MAR) up more than 14%.
In addition to the feel-good atmosphere surrounding the passage of the Senate's $2 trillion dollar economic relief and stimulus package, yesterday's follow-through rally unfolded as news emerged that fund manager Bill Ackman of Pershing Square Capital Management had informed his investors that he'd lifted some hedge positions and was "increasingly positive" on stocks.1
This is when experienced traders turn to their experience. Yesterday's gains, while no doubt welcomed by investors, bucked the historical pattern of pullbacks following monster up days like Tuesday. Also, the fact that the Street appears not to have given up on stocks many people left for dead is a long-term positive for the market. Nonetheless, savvy traders resist the urge to chase surging prices. They pick their spots and define their risk.
With volatility still at exceptionally high levels and the trajectory of the US coronavirus outbreak still uncertain, we likely haven't seen the end of big down days. In other words, bulls who are interested in energy, airline, and hotel stocks—or anything else that went to the moon the past two days—may find that yesterday wasn't the last time they could potentially scoop up these names on the cheap.
Long-term investors aren't the only ones who need to be patient.
Market Mover Update: April gold futures (GCJ0) traded mildly lower yesterday after a massive Monday-Tuesday surge, but the yellow metal got a vote of bullish confidence from Goldman Sachs, which saw the potential for a continued rally2 (see "Fed all in, markets wait for Congress").
Sub-zero trading: The US officially joined the negative-rate club yesterday, as yields on one- and three-month Treasuries fell below zero.3
Today's numbers (all times ET): GDP (8:30 a.m.), International Trade in Goods (8:30 a.m.), Corporate Profits (8:30 a.m.), Retail Inventories (8:30 a.m.), Wholesale Inventories (8:30 a.m.), EIA Natural Gas Report (10:30 a.m.).
Today's earnings include: Lululemon Athletica (LULU), KB Home (KBH), RH (RH).
Click here to log on to your account or learn more about E*TRADE's trading platforms, or follow the Company on Twitter, @ETRADE, for useful trading and investing insights.  
---
1 Reuters. Ackman's Pershing Square takes off coronavirus hedges—letter. 3/25/20.
2 Barron's. Gold Is Gearing Up for a Sustained Rally, Goldman Says. Here's Why. 3/25/20.
3 CNBC.com. Negative rates come to the US: 1-month and 3-month Treasury bill yields are now below zero. 3/25/20.
What to read next...
03/25/20
S&P 500 enjoys one of its best days of the past 30 years, but what does it say about the market's path forward?
---
03/24/20
The Federal Reserve announced sweeping new "quantitative easing" measures to support the US economy and markets. And the markets moved.
---
03/23/20
Second-worst week in 63 years for the S&P 500, which fell below its 2018 lows.
---