Market battles lockdown sentiment
S&P 500 makes three-year low, oil slides again
Fed slashes rates to zero; global stimulus efforts engage
This week: GDP, housing data, and coronavirus watch
Despite banking a couple of up days last week, stocks fell for the fourth time in the past five weeks as the US continued to hunker down in an effort to slow the spread of the coronavirus.
The S&P 500 (SPX) fell to a three-year low on Wednesday, punching below its December 2018 bottom (which was also near the 2009–2020 bull market's 38.2% retracement level), but rebounded later in the day and again on Thursday.
But early bullish momentum on Friday was derailed by news that California and New York were expanding their coronavirus lockdowns, and the SPX slid to its second-worst week since 1957: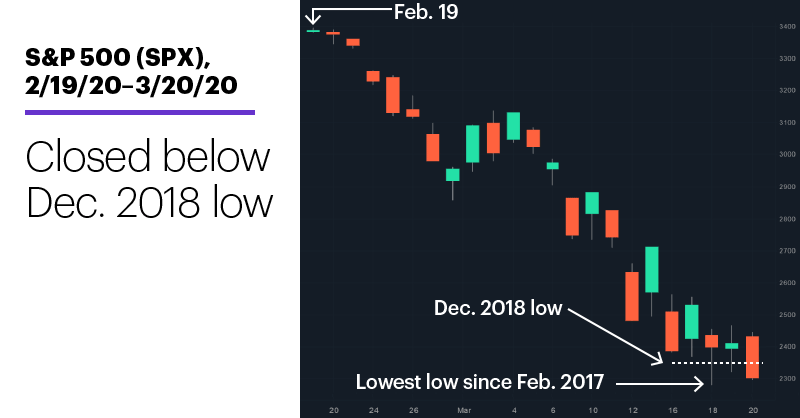 Source: Power E*TRADE
---
The headline: Global stimulus launched to combat coronavirus as US business, school closings continue.
The fine print: The Federal Reserve didn't even wait for last Wednesday's scheduled FOMC meeting, cutting interest rates by 1% to 0-0.25% on Sunday, March 15. Other central banks across the world have also slashed their rates, and governments continue to roll out fiscal stimulus programs to head off the economic fallout from the coronavirus.
The quote: "They're trying to do all they can do—and do it quick, do it now." J.P. Morgan chief U.S. economist Michael Feroli, commenting on the Federal rate cut.1
The move: -25%, crude oil's intraday sell-off on Wednesday after Saudi Arabia fired another shot in the oil war by vowing to keep its oil production near record levels in the coming months.
The number: 0, the effective fed funds rate. The Fed last slashed rates to zero in December 2008, and left them there until 2015.
The scorecard: Overall, it was worst week for US stocks since October 2008. The Nasdaq 100 (NDX) held up best under the pressure:
Source: Power E*TRADE
---
Sector roundup: The strongest S&P 500 sectors last week were consumer staples (-11.3%), communication services (-12.3%), and consumer discretionary (-12.5%). The weakest sectors were real estate (-23%), energy (-19.6%), and industrials (-18.6%).
Highlight reel: On Tuesday, Appfolio (APPF) rallied 29% to $109.94, and ATN International (ATNI) jumped 63% to $62.75 on Thursday. On the downside, Ryman Hospitality Properties (RHP) dropped 36% to $24.09 on Monday, and Children's Place (PLCE) fell 29% to $20.30 on Tuesday.
Futures action: After Wednesday's collapse to around $20/barrel—its lowest level in 18 years—and Thursday's 12% rebound to $25.65, May crude oil (CLK0) traded as high as $28.49 on Friday before selling off to around $23.40, down nearly 30% for the week.
After tumbling to a year-to-date low of $1,450.90/ounce last Monday, April gold (GCJ0) ended a volatile week with a 1.2% Friday rally to close around $1,497.
Coming this week
GDP and housing numbers are due out this week, but the number most likely to move the markets may be the number of new coronavirus cases in the US:
●Monday: Chicago Fed National Activity Index
●Tuesday: New Home Sales
●Wednesday: Durable Goods Orders, FHFA Housing Price Index
●Thursday: GDP, Wholesale Inventories
●Friday: Personal Income, Core Inflation, Consumer Spending, Consumer Sentiment
This week's earnings include:
●Monday: Raven Industries (RAVN)
●Tuesday: Neogen (NEOG), Nike (NKE)
●Wednesday: Shoe Carnival (SCVL), Paychex (PAYX), Micron (MU)
●Thursday: Lululemon Athletica (LULU), KB Home (KBH), RH (RH)
Go to the E*TRADE market calendar (login required) for an up-to-date earnings schedule and a complete list of splits, dividends, IPOs, and economic reports. The Active Trader Commentary also lists earnings announcements, IPOs and economic report times each morning.
The new normal. To get an idea of how much things have changed in recent weeks, the SPX's 4.3% Friday loss—which probably would have been the lead story on the evening news two months ago—was not only the smallest down day of the week, it was the fourth-smallest down day of the month.
The market's adjustment to our new normal was evident in Friday's implied volatility levels. The Cboe Volatility Index (VIX), the stock market fear gauge derived from SPX options prices, actually closed 8.3% lower on Friday—meaning, there was less investor anxiety on a day the SPX dropped 4.3% than there was a day earlier when it closed up 0.5%. (This is a contrarian signal implying a potential short-term up move that some traders watch for during sell-offs, since the VIX usually rises when the stock market falls.)

And if you want some perspective on how unusual that is, consider this: When the SPX fell just 1.6% on January 27—less than half as much as it did on Friday—the VIX soared 25%.
But if you want some perspective how much things haven't changed in the market—and why the new normal isn't the "forever" normal—check out "Lessons from 2008."
Finally, don't forget about the stock market circuit breakers, which triggered twice last week.

Click here to log on to your account or learn more about E*TRADE's trading platforms, or follow the Company on Twitter, @ETRADE, for useful trading and investing insights.
---
1 The New York Times. Fed Slashes Rates to Near-Zero and Unveils Sweeping Program to Aid Economy. 3/15/20.
What to read next...
03/20/20
As rough a patch as this has been, the stock market has been here before. And it may have something to teach us.
---
03/19/20
Make sure you understand how the market's temporary outages can impact how you buy and sell.
---
03/19/20
S&P 500 hits three-year low before rebounding, while the oil war sinks crude prices.
---