Friday follow-through
Broad market gains ground, small caps struggle
Tech holds ground as interest rates churn
This week: Jobs report, housing prices, four-day trading week
The US stock market looked like it was headed for its second-straight losing week when the S&P 500 (SPX) fell to a 12-day low early last Thursday, but an intraday reversal—and a huge follow-through rally on Friday—pushed the index to a new record close: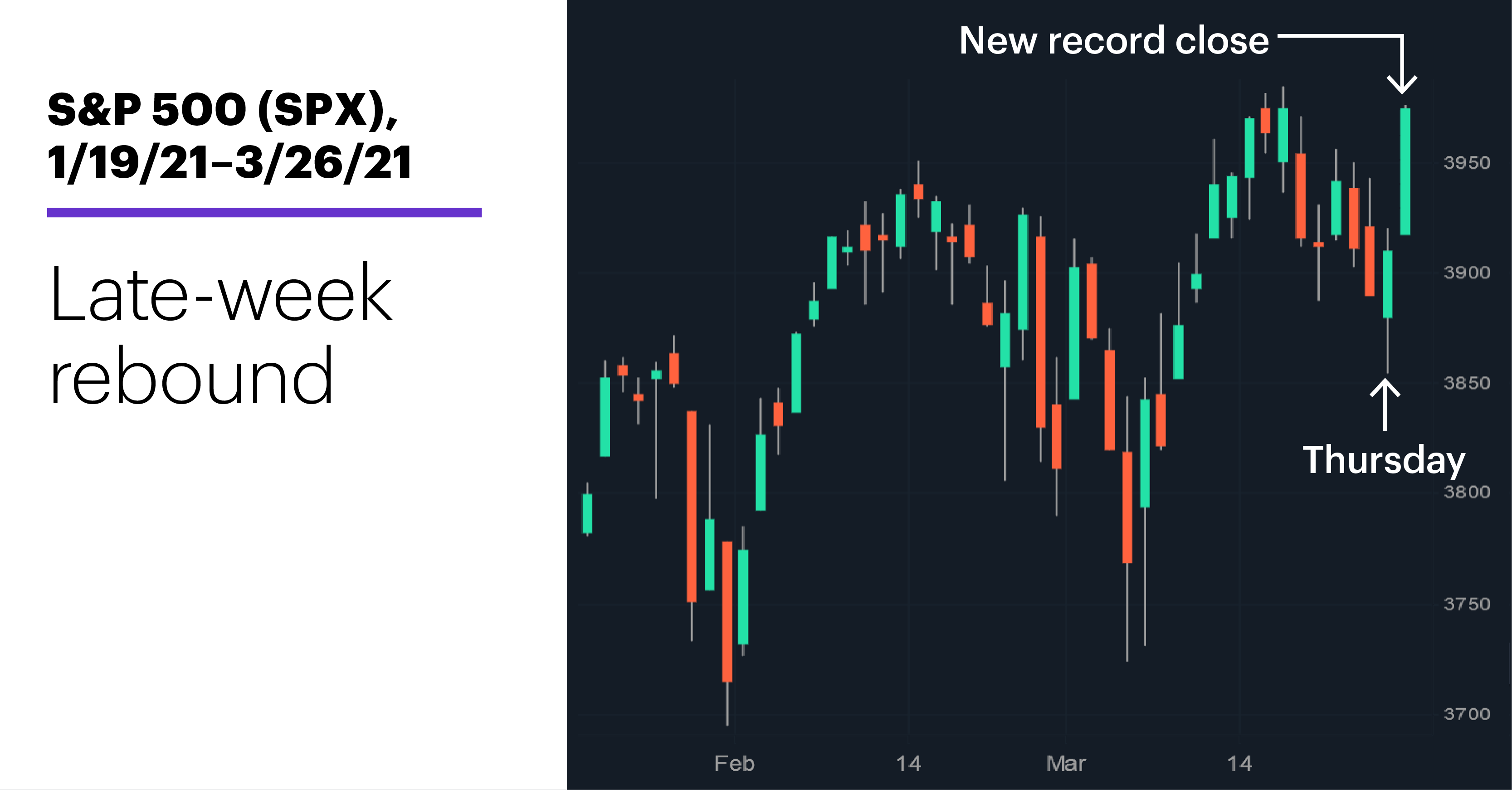 Source: Power E*TRADE
---
The headline: Stocks (mostly) rally as interest rates (mostly) ease.
The fine print: Although rising rates have been the tail wagging the market dog on any given day recently—punishing stocks on days rates jumped—it's worth noting the SPX declined in tandem with interest rates on Tuesday and Wednesday, and then notched its largest gain in three weeks on Friday even as the 10-year T-note yield made its biggest jump of the week.
The numbers: 684,000, the number of new weekly jobless claims reported last Thursday—the lowest tally of the pandemic era. Home sales were weaker than expected, though, and durable goods orders surprised the Street with a monthly decline.
The scorecard: The SPX may have avoided consecutive down weeks, but the Russell 2000 (RUT) wasn't so lucky: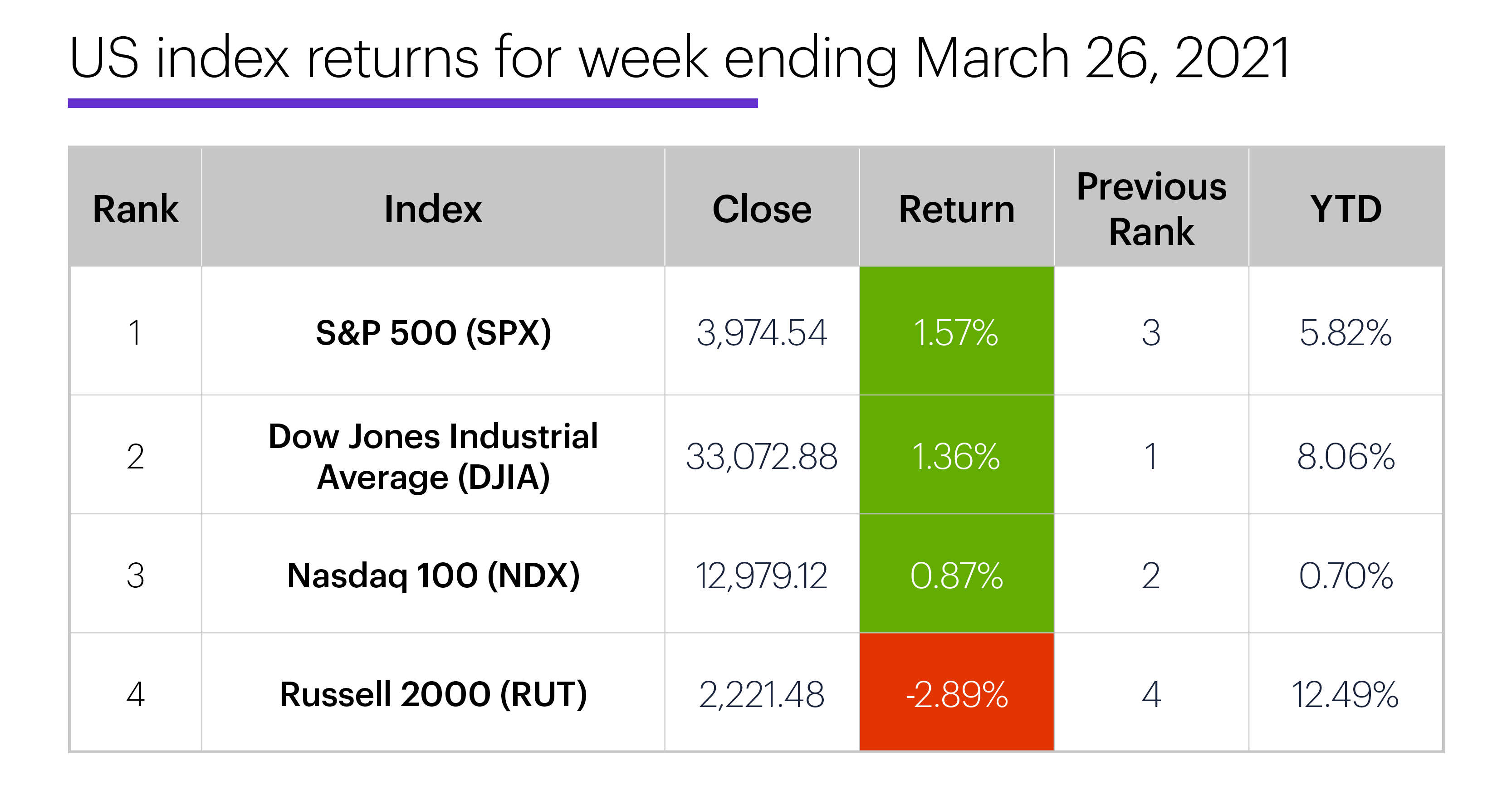 Source (data): Power E*TRADE
---
Sector roundup: The strongest S&P 500 sectors last week were real estate (+4.2%), consumer staples (+3.9%), and energy (+3%). The weakest sectors were communication services (-1.9%), consumer discretionary (-0.2%), and financials (1%).
Highlight reel: Two stocks accounted for some of the week's biggest moves—on both sides of the market. On Monday Upstart Holdings (UPST) jumped 32% to $164.87, then fell 28% to $118.48 on Tuesday. On Wednesday GameStop (GME) slid 32% to $121, then jumped 53% to $183.75 on Thursday.
Futures action: May WTI crude oil (CLK1) is coming off a volatile week amid the uncertainty of the Suez canal blockage, falling to a five-week low of $57.40/barrel on Tuesday before closing Friday at $60.97 (a little above the support level noted in "Energy, value, and support"). April gold (GCJ1) drifted lower, closing Friday down $9.40 for the week at $1,732.30/ounce.
Last week's biggest futures up moves: May lumber (LBSK1) +7.4%, April hogs (HEJ1) +7%, April pork cutout (KMJ1) +5.4%. Last week's biggest futures down moves: April bitcoin (BTCJ1) -9%, April VIX (VXJ1) -8.4%, May cotton (CTK1) -5.1%.
Coming this week
The jobs report highlights the economic calendar, even though stock exchanges will be closed when it's released on Good Friday:
●Tuesday: S&P/Case-Shiller Home Price Index, FHFA Housing Price Index, Consumer Confidence
●Wednesday: ADP Employment Report, Chicago PMI, Pending Home Sales, USDA Prospective Plantings Report
●Thursday: Challenger Job Cuts, ISM Manufacturing Index, Markit Manufacturing PMI, Construction Spending, Vehicle Sales
●Friday: Good Friday (US equity markets closed; futures trade limited hours), Employment Report
This week's earnings include:
●Monday: Cal-Maine Foods (CALM), SINA (SINA), Sunworks (SUNW)
●Tuesday: Lululemon (LULU), McCormick (MKC), PVH (PVH), Chewy (CHWY)
●Wednesday: Walgreens Boots Alliance (WBA), Dave & Buster's (PLAY), Micron (MU), nCino (NCNO), Verint Systems (VRNT)
●Thursday: CarMax (KMX)
This week IPOs include:
●Wednesday: Flora Growth (FLGC), Karooooo (KARO), Achilles Therapeutics (ACHL)
●Thursday: Intermedia Cloud Communications (INTM), Kaltura (KLTR), Frontier Group (ULCC), Compass (COMP)
The Active Trader Commentary updates earnings announcements, IPOs, and economic report times each morning.
Sector check
In December, "2021: Sector rotation" raised the question of whether one of 2020's top-three sectors—tech, communication services, or consumer discretionary—would underperform in 2021.
The rationale behind that query was the noted tendency for one of the three-strongest S&P 500 sectors in one calendar year to become one of the three-weakest the next year. In 2020 it was the financial sector, which was the second-weakest sector after being the third-strongest in 2019.
We still have a long way to go in 2021, but if the year had ended last Friday, this year's "Trading Places" sector would be tech, which was last year's biggest gainer (+42%) but this year's third-worst performer (+1.7%).
And although year-to-year sector swings in the opposite direction—from weakest to strongest—are less common, energy has made a run at it so far this year. The weakest sector of the past decade currently has a year-to-date gain (33.2%) more than twice the size of its nearest competitor (financials, +16.7%).
But like we said, there's a long way to go.
Click here to log on to your account or learn more about E*TRADE's trading platforms, or follow the Company on Twitter, @ETRADE, for useful trading and investing insights.
---
What to read next...
03/26/21
Sector momentum sometimes extends to lesser-known stocks–you just have to look for them.
---
03/25/21
In the middle of a semiconductor shortage, a news surprise sends shockwaves throughout the industry.
---
03/24/21
Why you can't avoid forecasting in trading—you can only choose what you forecast.
---