Market absorbs initial economic blow
Stocks down, but not out, on dismal jobs data
Oil soars on possible Saudi-Russian reconciliation, energy stocks bounce
This week: US approaches expected virus peak, OPEC meeting
Yes, last week was red for the stock market, but considering the circumstances, it could have been much worse.
In the quietest week for the market in more than a month, US stocks posted mostly modest losses even though employment data hinted at what could be in store for the economy in the coming months.
In a bit of a break from recent history, the S&P 500 (SPX) had only one nasty down day last week—Wednesday's 4.6% slide. And the index actually closed the week above Wednesday's low despite Thursday's record-setting jobless claims number (6.6 million) and Friday's monthly employment report, which showed a spike in job losses and a jump in the unemployment rate:
Source: Power E*TRADE
---
The headline: "Stocks sag, but don't slide, as jobs data hints at future economic pain." Unfortunately, that data is expected to get worse before it gets better, as last week's numbers reflected only the initial portion the US lockdown phase.
The fine print: Nonetheless, the stock market's measured response to the news may be encouraging to bulls. But the market also got some unexpected support from the energy sector, which got a shot of adrenaline from a crude oil market that rallied furiously amid reports that Russia and Saudi Arabia were close to ending their oil-price war.
The quote: "The toughest part of this is the fundamentals are out the window. The earnings are going to be super unpredictable going forward." Michael Bapis, managing director of Vios Advisors at Rockefeller Capital Management, on the challenges of the current market.1
The move: 36%—crude oil's Thursday-Friday rally.

The number: 701,000—the decline in US jobs in March—the first monthly decline since 2010. The unemployment rate jumped from 3.5% to 4.4%.
The scorecard: The small-cap Russell 2000 (RUT) was the only major US index that truly took it on the chin last week, while the Nasdaq 100 (NDX) posted a run-of-the-mill decline: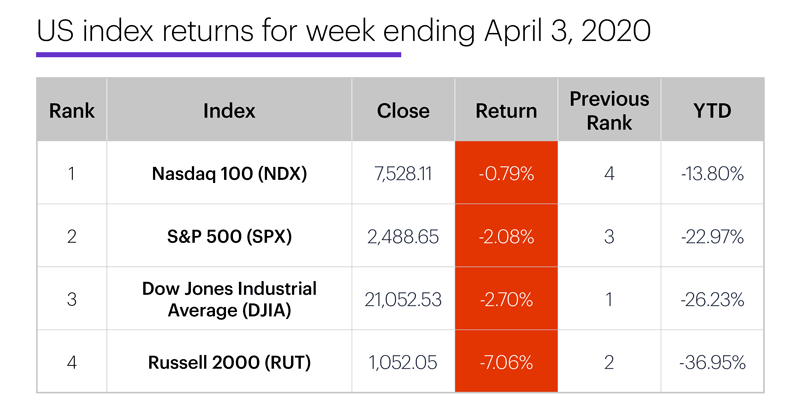 Source: Power E*TRADE
---
Sector roundup: The strongest S&P 500 sectors last week were energy (+5.8%), consumer staples (+3.6%), and health care (+2.4%). The weakest sectors were utilities (-6.9%), financials (-6.6%), and real estate (-5.9%).
Highlight reel: The week's marquee move was Chinese coffee chain Luckin Coffee's (LK) 76% freefall from $26.20 to $6.40 on revelations the company had fudged sales numbers. On the upside, Akero Therapeutics (AKRO) jumped 23% to $21.20 on Tuesday, and Occidental Petroleum (OXY) rallied 19% to $12.77 on Thursday—one of many energy stocks to surge that day.
Futures action: After falling to an 18-year low of $19.27 on Monday, May WTI crude oil (CLK0) exploded 16.8% to $24.75/barrel on Thursday and tacked on a 16.4% rally on Friday to close the week around $28.80. June gold (GCM0) fell to a six-day low of $1,576/ounce on Wednesday, but got back in gear on Thursday and Friday to end the week around $1648.50/ounce. Hogs got slaughtered, with April lean hogs futures (LHJ0) tumbling more than 30% to 40.50.
Last week's biggest futures up moves were all energy: May WTI crude oil WTI (CLK0) +34%, June Brent crude oil (BM0) +24%, and May gasoline (RBK0) +16%. Last week's biggest futures down moves: April lean hogs (HEJ0) -31%, May lumber (LBK0) -15%, and May ethanol (EHK0) -13%.
Coming this week
It's a four-day week (markets will be closed for Good Friday) with a light economic calendar, but an OPEC meeting that could decide the fate of the oil-price war may provide a non-coronavirus catalyst for the stock market:
●Monday: OPEC meeting
●Tuesday: Consumer Credit
●Wednesday: FOMC minutes
●Thursday: Producer Price Index (PPI), Consumer Sentiment, Wholesale Inventories
●Friday: Consumer Price Index (CPI), Trade Deficit, Factory Orders
This week's earnings include:
●Monday: Simply Good Foods (SMPL)
●Tuesday: Levi Strauss (LEVI), Smart Global Holdings (SGH)
●Wednesday: Delta Airlines (DAL), PriceSmart (PSMT)
●Thursday: WD-40 (WDFC), Commerce Bancshares (CBSH)
●Friday: Markets closed for Good Friday
Go to the E*TRADE market calendar (login required) for an up-to-date earnings schedule and a complete list of splits, dividends, IPOs, and economic reports. The Active Trader Commentary also lists earnings announcements, IPOs and economic report times each morning.
Volatility settles down: What's next?
Here's some perspective for you: Last week's S&P 500 high-low range of 193.90 points was nearly three times the index's 65.90-point average weekly range from February 18, 2019 to February 17, 2020. In fact, last week's range was 24% larger than the biggest week of that entire stretch.
But last week was the SPX's narrowest weekly range of the past six weeks—the next biggest was 235.18 (March 2–6). And last week's range was less than half the size of three other weeks since February 28. Volatility may be high by long-term standards, but in terms of recent history, it's fallen off significantly.
Last week also ended with another interesting volatility development: Friday marked the lowest close for the Cboe Volatility Index (VIX) since March 10, and the VIX closed down 8.1% even though the SPX fell by 1.5%.
Even if you've only been watching the VIX recently, you know the fear gauge typically rallies when the market sells off. In days gone by, a 1-2% down day would have been a bit of an eyebrow raiser, and almost always would have been accompanied by a surging VIX. Over the past 10 years, in fact, the VIX closed higher on 166 of the 173 days the SPX closed down between 1-2%, and its average gain on those days was 11.5%.2
By the way, two recent days the VIX and the SPX both closed lower were March 20 and 23—right before the market staged one of its biggest three-day rallies in history. (Consecutive days with a lower VIX and longer-term SPX new lows are extremely rare.) It wasn't the first time lower stock prices accompanied by lower VIX levels preceded a market rebound.
The stock market hasn't necessarily bottomed, and volatility could ramp up again, but now traders and investors have a useful reference point: If the SPX fall below its March lows and the VIX is higher than it was in late March, it would suggest investors are experiencing more fear at lower market levels—exactly what you'd expect. But if the VIX is lower than it was at the March SPX lows, it suggests investors are less afraid despite falling prices—a "selling fatigue" signal that sometimes occurs around market bottoms.
Click here to log on to your account or learn more about E*TRADE's trading platforms, or follow the Company on Twitter, @ETRADE, for useful trading and investing insights.
---
1 CNBC.com. The S&P 500 hits an ominous milepost, but trader says it may not be so bad. 4/3/20.
2 Reflects S&P 500 (SPX) daily prices from 3/26/10 – 3/26/20. Supporting document available upon request.
What to read next...
04/03/20
Communications tech stock jumps after video chat announcement.
---
04/02/20
Companies that have what people need in the new world of social distancing and hunkering down have seen their stocks jump. Can it last?
---
04/01/20
Recent pause highlights short-term breakout possibilities and long-term market positioning.
---