Stocking up
BJ's Wholesale (BJ) approached bottom of 5-week trading range
Stock up 94% since late-February
Renewed boost from second wave?
One of the first widespread social developments of the COVID crisis was the stockpiling of food and other home supplies. As the market cratered in March, stocks of many of the companies whose shelves were being cleared held their own—and in some cases rallied, sharply.
While household-name stocks like Costco (COST), Walmart (WMT), Target (TGT), and Kroger (KR) garnered a lot of the attention, one that many people may never have heard of left most of the competition in the dust—BJ's Wholesale Club (BJ), a mostly East Coast bulk shopping outlet that's been around since the 1980s but has been traded only since 2018.
The following chart shows BJ's gains since its late-February low, along with those of COST and KR: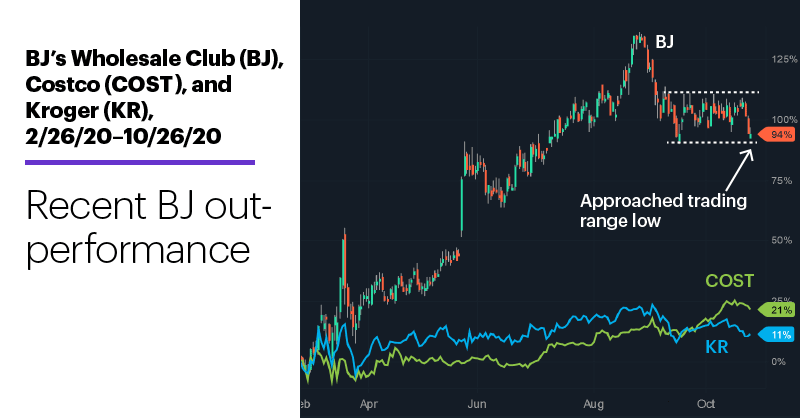 Source: Power E*TRADE
---
Yesterday BJ was still up around 94% off that low—more than four times as much as COST and nearly nine times as much as KR—and that's after pulling back around 17% from its August record high just above $47.
While it remains to be seen whether the company can, in the long run, come close to the type of growth it experienced this year (as of mid-September it had added 500,000 new customers1), the recent surge in new COVID cases has raised concerns about renewed lockdowns—the threat of which could lead some traders to look for up moves in stocks, like BJ, that rallied at the outset of the crisis.
Although yesterday was the worst day for the US market in more than a month, BJ pushed solidly into the green after first approaching the bottom of a roughly five-week trading range. While some bullish traders would wait for the stock to pull a classic "bear trap"—a downside breakout of the range that entices short sellers, then quickly reverses and gains upside momentum as they scramble to cover their losses—others may simply see yesterday's rally as a successful test of support.
Regardless of timing, given the uncertainties looming over the market (fiscal stimulus, the election), some traders looking to play the long side would likely lean toward a limited-risk, limited-reward options spread. The following chart shows the risk-reward profile for a December $40-$45 bullish call spread—long the $40 call and short the $45 call, and potentially profitable at expiration as long as the stock is above $40: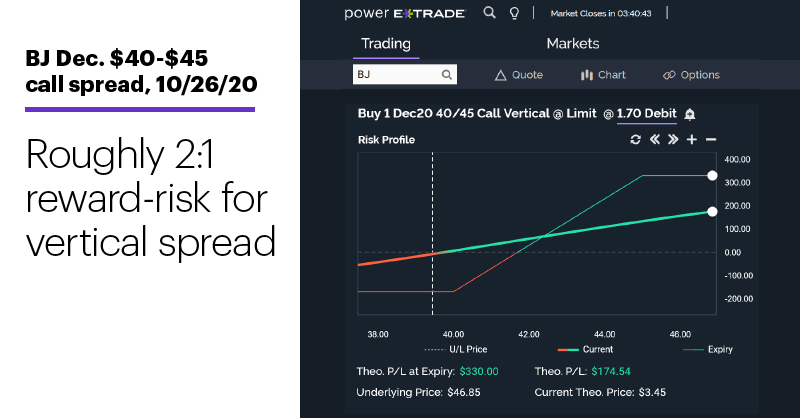 Source: U.S. Census Bureau
---
Yesterday the spread was trading around 1.7 ($170), which is also its maximum loss, not including commissions) and had a maximum potential profit of 3.3 ($330), which would occur if the stock was at or above $45.
For shorter-term traders looking for a move back to the upper boundary of the trading range—or higher—this approach could represent an attractive balance of risk and reward.
Market Mover Update: Yesterday StoneCo (STNE) pulled back very close to the breakout level described in "Breakout or fake-out," while TJX (TJX) reversed its recent bounce and dropped to a nearly four-week low (see "Options discount").
Today's numbers (all times ET): Durable Goods Orders (8:30 a.m.), Case-Shiller House Price Index (9 a.m.), FHFA House Price Index (9 a.m.), Consumer Confidence (10 a.m.).
Today's earnings include: 3M (MMM), JetBlue Airways (JBLU), Akamai Technologies (AKAM), Eli Lilly (LLY), Advanced Micro Devices (AMD), Merck (MRK), SolarWinds (SWI), Raytheon Technologies (RTX), Sherwin-Williams (SHW), Caterpillar (CAT), Microsoft (MSFT), Enphase Energy (ENPH), First Solar (FSLR), Maxim Integrated Products (MXIM), Juniper Networks (JNPR), Pfizer (PFE).
Click here to log on to your account or learn more about E*TRADE's trading platforms, or follow the Company on Twitter, @ETRADE, for useful trading and investing insights.  
---
1 CNN.com. Amazon's stock is getting beat by a warehouse chain this year. And it's not Costco. 9/17/20.

What to read next...
10/26/20
Traders step gingerly as election season winds down and earnings season ramps up.
---
10/23/20
Will bulls think the initial reaction to biotech stock's clinical trial data is off the mark?
---
10/22/20
Social media stock's earnings beat takes a few of its industry brethren along for the ride. Can the momentum last?
---