Hardware stock seeks to rehab trend
Home Depot dropped after Nov. 27 earnings
Average analyst target roughly 11% above current levels
Divergence from longer-term relationship with competitor a signal?
A couple of weeks ago when the phrase "retail wreck" was pinballing around the internet, one of the reasons was Home Depot (HD), which dropped sharply from an all-time high after releasing earnings on November 19: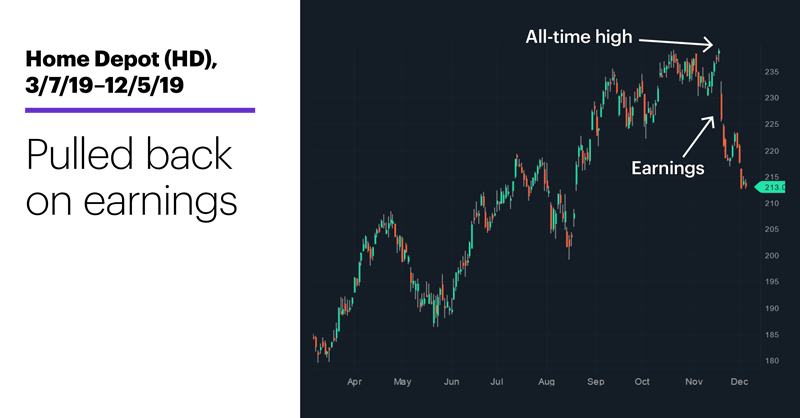 Source: Power E*TRADE
---
As more retail earnings rolled in, including several high-profile beats, it became apparent that the wreck was more of a fender bender—if that. But the fact that HD was one of the first big retail names to report, and that it caught the Street off guard, briefly made it a bearish poster child.
The top-line numbers weren't bad, either, but better-than-forecasted earnings and revenue numbers took a back seat to the company's drop in same-store sales and its lowered full-year guidance1—the two factors that appeared to surprise traders.
As of yesterday, the stock was still roughly 11% below its pre-earnings high around $239. Enough of a discount for bargain hunters (if that concept applies to a stock that's still up around 24% on the year) to think about potential upside opportunities?
Interestingly, Street analysts haven't appeared to bail on HD. The stock's average 12-month price target is still hovering around $239.2
Some traders may be doing a bit of comparison shopping—check that, analysis—in gauging whether HD has the potential to stage a rebound in the near future. Take a look at the following chart, which compares HD to competitor Lowe's (LOW):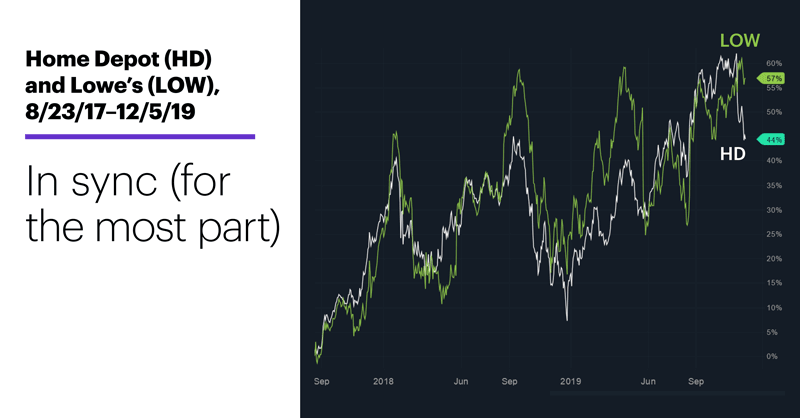 Source: Power E*TRADE
---
No correlation analysis necessary: The two stocks have tracked each other closely over the past two-plus years. The relative magnitude of their price swings may have occasionally differed, but for the most part the stocks were usually moving in the same direction.
The past two weeks marks the biggest divergence between HD and LOW during this period, as shown in the shorter-term chart below: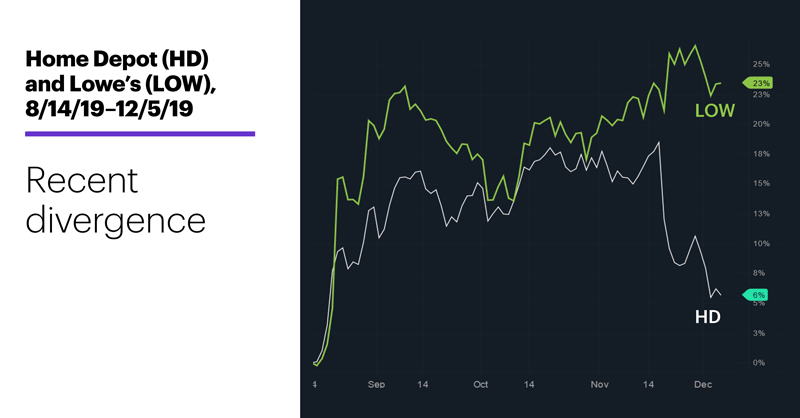 Source: Power E*TRADE
---
Yes, there is a chance that the recent phenomenon of HD dropping while LOW rallies represents a sea change—a new normal in which the two stocks no longer exhibit their long-term correlation.
But it could also highlight an aberration—a temporary disruption to an established pattern. Now, even if this hypothesis is correct, it doesn't mean HD is destined to rally; the two stocks could re-establish their correlation if both moved lower.
But temporary disruptions to long-term patterns can sometimes signal potential trade opportunities.
Given HD's longer-term performance, it wouldn't be out of left field for bulls to be looking for entry points, especially if broader market conditions remain stable.
Today's numbers (all times ET):  Employment Report (8:30 a.m.), Consumer Sentiment (10 a.m.), Wholesale Trade (10 a.m.), Baker-Hughes oil rig count (1 p.m.), Consumer Credit (3 p.m.).
Today's earnings include: Big Lots (BIG), Genesco (GCO).
Click here to log on to your account or learn more about E*TRADE's trading platforms, or follow the Company on Twitter, @ETRADE, for useful trading and investing insights. Online stock, ETF, and options trades1 are now commission-free.
---
1 BusinessInsider.com. Home Depot slides after cutting its full-year profit outlook for the 2nd time (HD). 12/19/19.
2 TipRanks. HD Home Depot, Analyst Price Targets. 12/5/19.
What to read next...
12/05/19
Was yesterday's rebound a head fake or the end of the dip? We crunch some numbers to help find out.
---
12/04/19
Is China's big cup of joe poised to cool, or is it just starting to heat up?
---
12/03/19
Huge stock move was even bigger for options yesterday.
---