Stock tortoise seeks to become hybrid hare
Hyliion (HYLN) has dropped more than 35% since Oct. 1
HYLN shares began trading after SPAC merger with Tortoise Acquisitions (SHLL)
Price drop, volatility contraction making call options attractive?
Along with the usual household names that routinely appear on the LiveAction scan for the largest number of options trades—the Teslas (TSLA), Amazons (AMZN), and Apples (AAPL) of the world—one of the tickers yesterday morning may have had some traders scratching their heads: Hyliion (HYLN).
With an early 10% intraday rally and stock volume in excess of four million shares before half the day was over, HYLN also appeared on the scan for high open interest (OI), with open options positions in excess of 285,000 contracts—around 363% of average in early trading: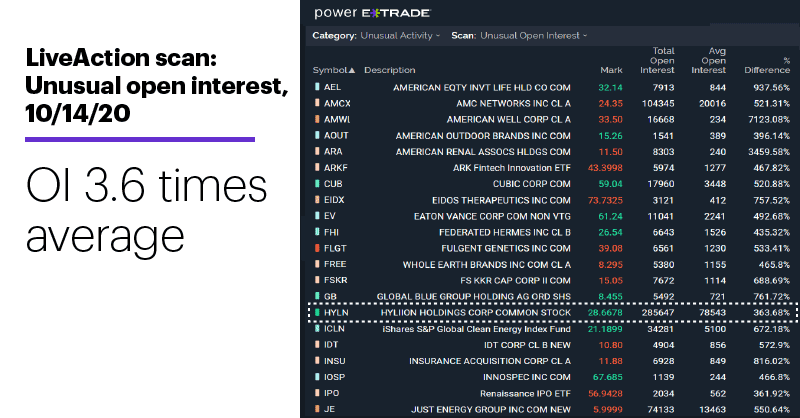 Source: Power E*TRADE
---
If you haven't heard of HYLN, it may be because it's only been trading since June. Technically, it's only been trading since October 2, when a shell company called Tortoise Acquisition (SHLL) morphed into Hyliion through what has become an increasingly popular alternative to the traditional IPO—the Special Purpose Acquisition Company (SPAC) merger process.
In reality, though, SHLL shares, which had been trading since 2019, became the trading proxy for HYLN on June 19 when the deal was announced. The following chart shows how shares jumped in the first seven days after that news and, after a pulling back a few weeks, skyrocketed as high as $58.66—a total gain of 474%—by September 2: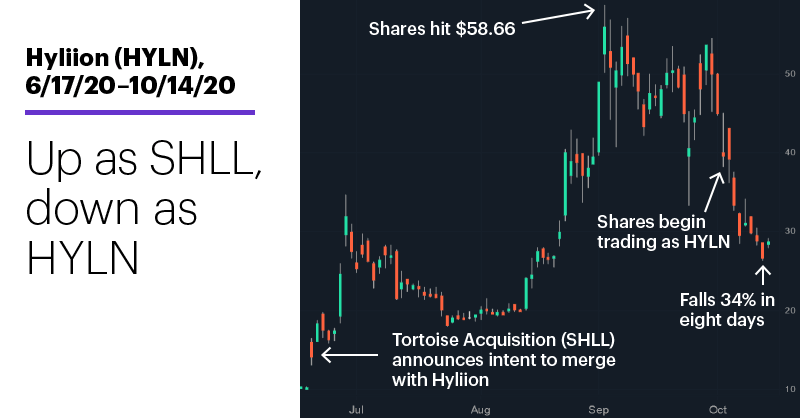 Source: Power E*TRADE
---
That the stock pulled back after such a huge rally is understandable, especially since September ushered in the broad market's biggest downturn since March. But what may have surprised some traders was the accelerated sell-off in the first several days after it officially became HYLN—at Tuesday's low, it was roughly 34% lower than where it opened on October 2.
Maybe now's a good time to actually talk about what Hyliion does. Although it's been lumped in with other electric vehicle makers (EVM) that have gone public recently or seen their shares break out to record highs—Workhorse (WKHS), Nio (NIO), and Nikola (NKLA), among others—HYLN is really in the business of providing alt-energy technologies for existing vehicles rather than building its own from scratch.
Specifically, HYLN makes electric drivetrain technology that can be integrated into existing long-haul trucks that, in effect, makes them "hybrid" vehicles with better mileage, lower emissions, and the ability to recharge automatically—no plug-in required.1
But a lot of HYLN recent press seemed to breeze over the company's tech in favor of pointing out that the company's 28-year-old founder and CEO, Thomas Healy, reportedly became a billionaire when HYLN began trading. That, along with a cool-down in the EVM space and lingering skepticism about SPACs, may have helped stack the deck against Hyliion as it debuted under its own ticker symbol.
Interesting sidebar: One of the criticisms of SPACs is that they make it easier for initial investors to cash out—in contrast to a traditional IPO, which usually prevents existing shareholders from selling during a specified "lockup" period. The implication is that SPACs allow insiders to take advantage of potentially high prices when excitement is often at its peak and public information is at its low. Part of Healy's deal, though, is that he is initially limited to selling only 10% of his shares (after six months), and then must wait two years to sell the majority.2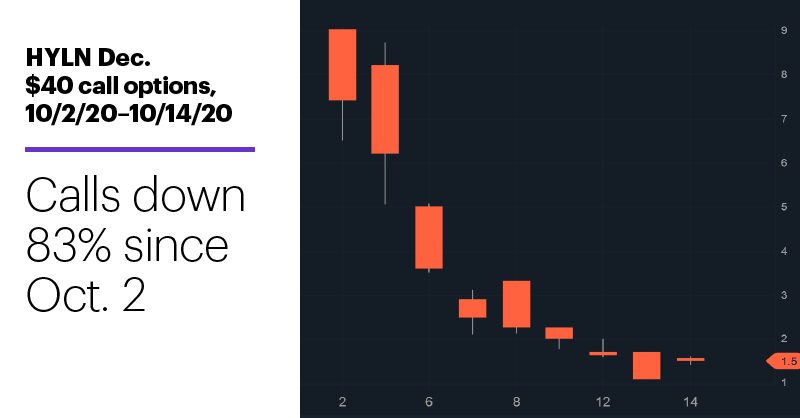 Source: Power E*TRADE
---
Bulls who think the selling may have gotten (or is getting) overdone may have also noticed that HYLN's options implied volatility is running below average, which means that call options could be relatively underpriced. Yesterday morning, for example, the December $40 calls were trading at an 83% discount to where they opened on October 2 (chart above). The $40 calls, coincidentally, had the highest OI of all December options contracts.
The tortoise may be gone, but it remains to be seen if the hare is back in the race. While cautious traders may prefer to see the stock fall more before making a move—say, testing the July lows around $18?—continued low IV may keep bulls interested in playing the long side with calls, regardless of the specific stock-price threshold they reference.
Today's numbers (all times ET): Jobless Claims (8:30 a.m.), Empire State Manufacturing Index (8:30 a.m.), Import and Export Prices (8:30 a.m.), EIA Petroleum Status Report (11 a.m.)
Today's earnings include: Atlassian (TEAM), Walgreens Boots Alliance (WBA), Dover (DOV), Honeywell International (HON).
Click here to log on to your account or learn more about E*TRADE's trading platforms, or follow the Company on Twitter, @ETRADE, for useful trading and investing insights.  
---
1 Forbes. How Hyliion's Under-30 CEO Aims To Compete With Tesla And Nikola In The Electric-Powered Big Rig Revolution. 7/31/20.
2 Bloomberg. A 28-Year-Old SPAC Billionaire Can't Splash the Cash. 10/6/20.
What to read next...
10/14/20
A high-profile investment drives up a stock one day, but sellers rush in the next. What will traders be looking for now?
---
10/13/20
The market's so-called "fear gauge" can provide useful insights into market dynamics, but you first need to understand what it really represents.
---
10/12/20
Market hits five-week high as traders appear to stay positive about coronavirus-relief saga.
---