Stock surge discounts puts
BILL jumps 32% on Friday, up more than 400% since IPO
Heavy OTM put options volume on Monday
Oil surge continues—crude tops $58
With put options volume nearly four times that of calls, financial tech stock Bill.com (BILL) probably would have elbowed its way on to a few trader screens yesterday.
Chances are, though, it was already there.
BILL has been trading only since December 2019, but in that brief span the stock has rallied more than 400%, despite taking a significant hit with the rest of the market last March. But the chart below shows the epic nature of what happened last week: Last Thursday, BILL was up 294% from its first trading day before Friday's 32% post-earnings moonshot carried the stock to an all-time closing high of $184.69: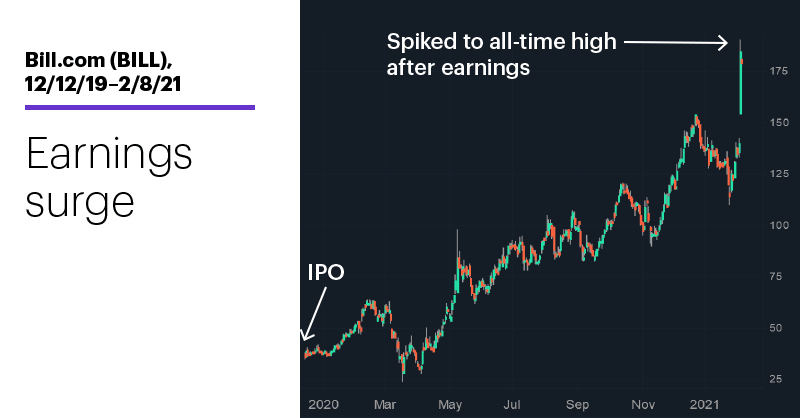 Source: Power E*TRADE
---
Like many tech stocks, BILL, which provides online payment and other financial tech solutions for smaller businesses, found the new pandemic economy created demand for its services.1 Some traders, though, may be surprised to discover that while BILL beat its headline numbers, it did so on negative earnings (-$0.03 vs. -$0.08) and seemingly modest revenues of $54 million (vs. a $47.1 million estimate).2  But core revenues (subscriptions and transaction fees) were up nearly 60% from a year earlier.
While some investors may be understandably hesitant to chase a stock that just jumped more than 30% in a single day, one thing that tends to get cheaper as stock prices soar is put premium—and as it turns out, BILL puts were in heavy rotation yesterday.
Put options volume was around four times call volume yesterday morning, with the real difference-maker being the 1,500 February $165 puts that changed hands:
Source: Power E*TRADE
---
Of course, heavy trading in puts that went from being $20 or more in the money (ITM) to $20 or more out of the money (OTM) in a single day could mean at least some former buyers were closing their positions (February options expire a week from Friday). But there was also higher-than-average activity in the February $160 puts (225 contracts), and even more noticeable was the nearly 20,000 contracts of open interest.
In other words, it doesn't look like all the BILL put buyers had necessarily abandoned ship, and some traders may have been establishing new positions (perhaps with the expectation of a near-term give-back of at least some of last Friday's stock surge?) in contracts that were much cheaper than they were just 24 to 48 hours earlier.
Market Mover Update: The oil market picked up yesterday where it left off last week, as March WTI crude (CLH1) rallied to its highest level ($58.14/barrel) in more than a year—a 50%-plus gain since the market's spike low on November 2.
Today's earnings include: Cisco (CSCO), Incyte (INCY), Enphase Energy (ENPH), Mattel (MAT), Yelp (YELP), LYFT (LYFT), Martin Marietta (MLM), Twitter (TWTR).
Today's IPOs include: Adagene (ADAG), loanDepot (LDI).
Today's numbers (all times ET): NFIB Business Optimism Index, JOLTS (job openings).
Click here to log on to your account or learn more about E*TRADE's trading platforms, or follow the Company on Twitter, @ETRADE, for useful trading and investing insights.  
---
1 Barron's. Bill.com Stock Is Soaring. The CEO Says the Pandemic Has Been a Tailwind. 2/5/21.

2 StreetInsider.com. Bill.com (BILL) Earnings. 2/8/21.
What to read next...
02/08/21
Market kicks off February with its best week in three months.
---
02/05/21
If the market rotates back toward recently weakened sectors, traders may attempt to scoop up potentially oversold names.
---
02/04/21
A medical tech stock's sharp downturn sends put premiums soaring. What will traders be looking for next?
---