Stock sell-off highlights chipmaker's options
Micron (MU) hit YTD low on Monday
Shares down roughly 20% from April high
Volatility levels favorable to options buyers?
When a stock sells off, bullish traders looking to go long may think about buying call options (instead of shares) to increase their leverage.
Aside from the risk considerations that come with that choice, buying stock vs. options isn't a six-of-one, half-dozen-of-the-other proposition. There are two basic questions experienced traders tend to ask when considering buying options to make a directional trade:
1. Are the options fairly priced?
2. How much of a risk is time decay?
Let's see how a trader may have tackled these questions in light of one stock's recent price action.
Chipmaker Micron (MU) rallied for a second-straight day on Wednesday after hitting a year-to-date low on Monday: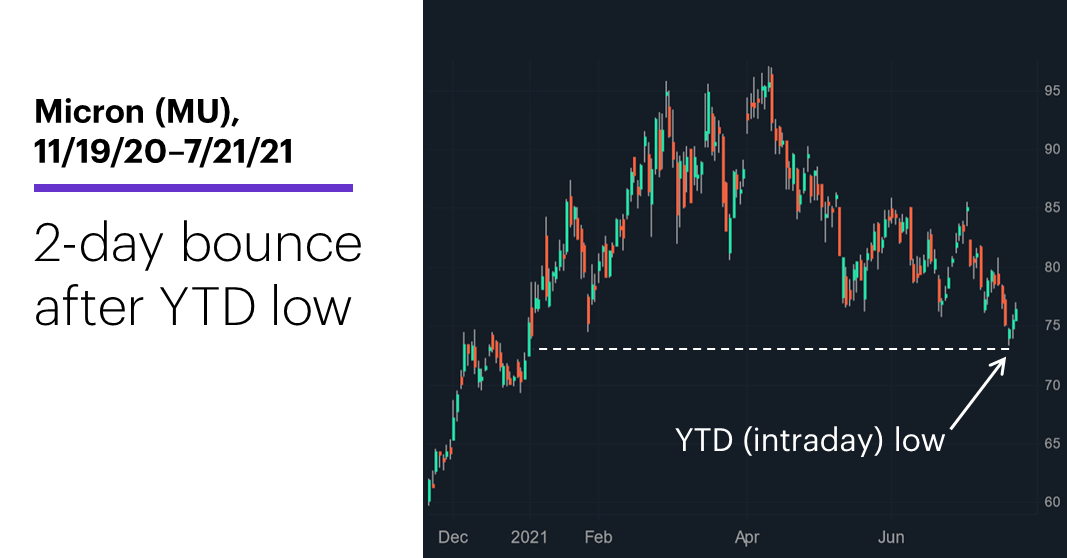 Source: Power E*TRADE
---
But MU has underperformed its sector over the past three months—it's down roughly 20% since April 12 while the PHLX Semiconductor Index (SOXX) has broken even over that period. In this type of situation, would options be a viable choice for traders expecting a stock to rebound?
First, while determining an option's real-time "fair value" in a constantly moving market is a challenge, knowing whether implied volatility (IV) is relatively high or low is one way some traders get a handle on whether an option may be relatively overpriced or underpriced. Translation: Options buyers try to avoid high-IV options in favor of low-IV ones (options sellers try to do the opposite).
And because big price moves—especially sharp sell-offs—can pump up IV, call options may not be as cheap as you think after a stock has made a big down move. For example, yesterday Healthcare Services Group (HSCG) fell more than 12% intraday, and IV for its August and September options was well above average. By contrast, although MU recently entered correction territory, its recent price action hasn't been exceptionally volatile, and yesterday its IV was running a little below average: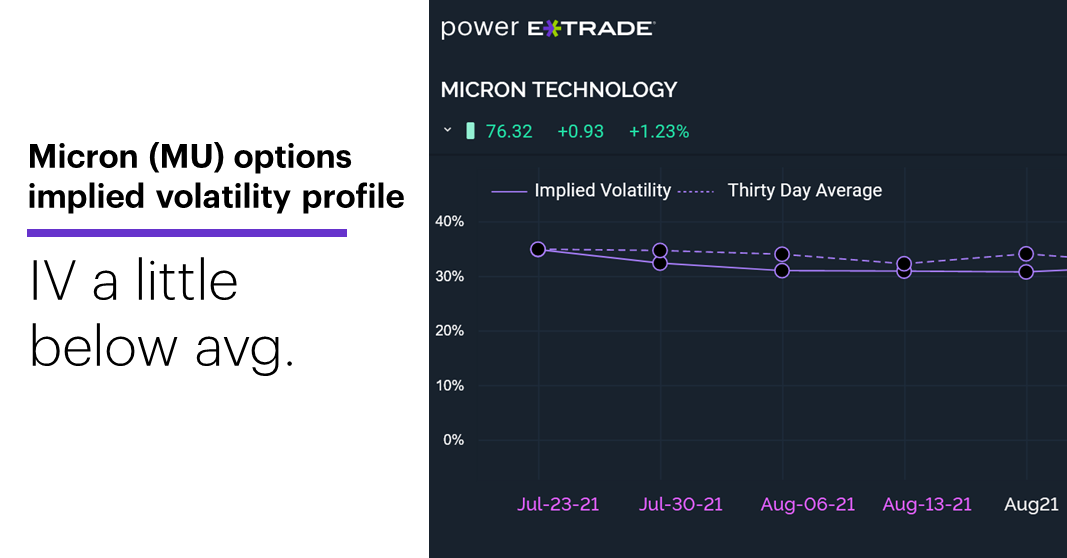 Source: Power E*TRADE
---
Micron also showed up on a scan yesterday morning for tickers with 30-day IV below their 30-day historical volatility, another indication that IV was leaning toward the lower side rather than the higher side.
Regarding the second issue—time decay—options buyers always need to ask themselves whether the move they need to see in the underlying instrument will be big enough and occur soon enough to offset the constant loss of value that every option experiences. (As an aside, one reason some traders use vertical options spreads is that although the position's long option is hurt by time decay, the short option benefits from it.)
And because this loss accelerates toward the end of an option's life (i.e., the final two or three weeks), traders considering buying options within this time window always need to be confident the underlying stock will move enough in their favor to make the trade worthwhile. If not, a more-distant expiration is a better choice. For example, August monthly options expire on August 20, which means the accelerated time decay window for these contracts is quickly approaching.
Ultimately, traders need to remember that just because a stock has fallen to what they may think is an attractive level, its call options aren't automatically "good deals." Volatility and time will have a lot to say about that.
Market Mover Update: No post-rebound slump for Allegiant Travel (ALGT)—the stock jumped more than 2% yesterday after Tuesday's 8% rally (see "Calls take flight").
Today's numbers include (all times ET): Weekly jobless claims (8:30 a.m.), Chicago Fed National Activity Index (8:30 a.m.), Existing Home Sales (10 a.m.), Leading Indicators (10 a.m.).
Today's earnings include: American Airlines (AAL), Southwest Airlines (LUV), Abbott Laboratories (ABT), AT&T (T), Biogen (BIIB), Cleveland-Cliffs (CLF), Intel (INTC), Newmont (NEM), Domino's Pizza (DPZ), D.R. Horton (DHI), Freeport-McMoRan (FCX), Snap (SNAP), Twitter (TWTR), Verisign (VRSN).
Today's IPOs include: Instructure (INST), Ryan Specialty Group (RYAN), VTEX (VTEX), Zenvia (ZENV), Zevia (ZVIA), Couchbase (BASE).
Click here to log on to your account or learn more about E*TRADE's trading platforms, or follow the Company on Twitter, @ETRADE, for useful trading and investing insights.
---
What to read next...
07/20/21
Stocks that buck the market can sometimes underscore pockets of market strength or weakness.
---
07/19/21
Market slips as traders mull inflation, earnings, and signals from the options market.
---
07/16/21
nverting a popular call spread shows how traders use puts to make limited-risk bets on possible down moves.
---