Stock pressures resistance level
BLKB consolidated after last week's earnings beat and rally
Options OI high as stock pauses at longer-term resistance
Upward earnings revisions could signal sentiment turn
You often see a lot of options activity in the runup to an earnings announcement, but a scan for unusual open interest (OI) yesterday morning pulled up a name whose numbers have come and gone—Blackbaud (BLKB), a cloud-tech company that specializes in the non-profit sector: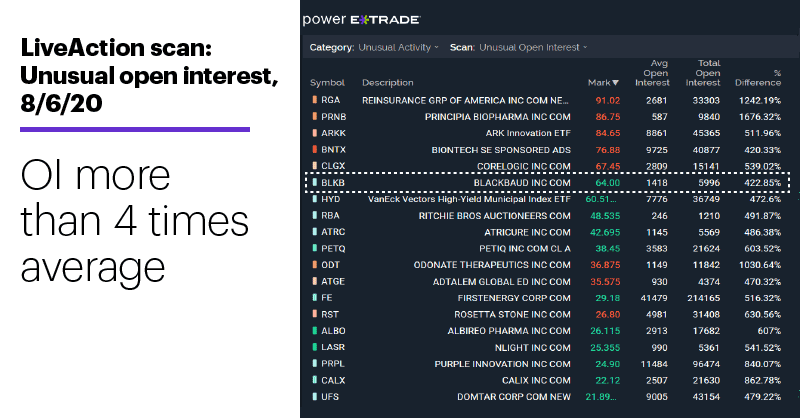 Source: Power E*TRADE
---
Then again, the fact that BLKB blew away estimates—it topped earnings estimates by 70%1—helps explain why options traders may be getting into more positions that usual. The stock jumped 15% to its highest level in nearly five months on July 30 in the wake of the announcement—but, as we shall see, it's been cooling its heels since.
Blackbaud is currently enjoying its biggest up move in a year, having rallied more than 60% since March 18. After tagging an all-time high around $120 in July 2018, it embarked on a downtrend that saw it retreat to the low $80s—just before the February–March sell-off drop-kicked it as low as $38.22.
One non-technical development that emerged in recent weeks may have caught the eye of bullish traders.
But the stock's price action over the past several weeks is reminiscent of a recent development in Costco (COST): a shorter-term (and narrow) consolidation forming near the top of a longer-term trading range or resistance level. Some traders view this type of "range within a range" as a potential setup for a breakout move. The implication is that prices are maintaining upside pressure at a resistance level, rather than pulling back—in effect, forming a potential "double breakout" of the short- and long-term consolidations.
Blackbaud's pause over the past few days occurred right around its June highs, which represented an expansion of the broader range the stock has been in since its six-day, 41% surge off its March low: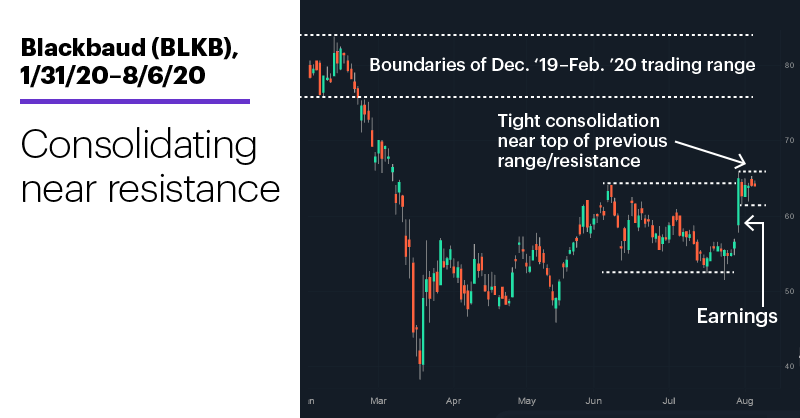 Source: Power E*TRADE
---
On the chart, at least, prices don't appear to face an obvious technical challenge before possibly testing the boundaries of the trading range they tumbled out of in late February (roughly $75–$84).
One non-technical development bulls may have noticed is the spate of upward earnings revisions for BLKB in recent weeks—which some research suggests is tied to potential near-term bullish price action. Over the past month, four BLKB earnings estimates have been raised, none have been lowered, and the consensus earnings estimate has jumped more than 40%.2 (Earnings revisions or no earnings revisions, though, the stock probably won't get too far without a solid broad market behind it.)
At-the-money September $65 calls were trading around $3.80 halfway through yesterday's session, but traders interested in playing a potential upside breakout with a lower price tag (as well as limited upside) could have also sold the September $70 call for around $1.70—creating a bull call spread with a maximum potential profit of $2.70—a little more than the position's cost ($2.10), which is also its maximum risk.
Fast-moving markets don't often pause to give traders time to reflect—something that's been especially true in 2020. When they do, it's a chance to consider your options and plan accordingly.
Market Mover Update: It's worth noting that COST's recent trading range breakout, which pushed the stock to new record highs, resulted in the September $330 calls surging around 85% over the past three days (see "This lane open"). Also, some traders probably noticed the stock made a downside "head fake" before breaking out to the upside.
September silver futures (SIU0) shot up more than 7% intraday on Wednesday, running their gain since March 18 past 140%. And, oh yeah—October gold (GCV0) hit another record high of $2,070, for a 40% gain off its March low.
Today's numbers (all times ET): Employment Report (8:30 a.m.), Wholesale Trade (10 a.m.), Consumer Credit (3 p.m.).
Today's earnings include: Ubiquiti Networks (UI).
Click here to log on to your account or learn more about E*TRADE's trading platforms, or follow the Company on Twitter, @ETRADE, for useful trading and investing insights.  
---
1 StreetInsider.com. Blackbaud (BLKB) Tops Q2 EPS by 35c. 7/29/20.
2 Zack's Equity Research. Why Blackbaud (BLKB) Might be Well Poised for a Surge. 8/5/20.
What to read next...
08/06/20
Respiration technology stock gets wind knocked out of it, traders pause to catch breath and assess situation.
---
08/05/20
Mattress company's investors have probably rested comfortably lately, but the market may have set off an alarm.
---
08/04/20
Streaming content provider faces its first test since last month's earnings release.
---