Stock-options interaction
MSFT has fallen as much as 6.2% since last week's record high
Pullback reached recent breakout level on Tuesday
Some call options traded at one-month lows
While stock traders analyze price action various ways to help understand where a symbol has been and where it may be going, options traders are generally less likely to use this approach. But Tuesday's tech retreat provided an example of how stock moves can help shed light on options—and vice-versa.
Since releasing earnings and closing at a record high of $261.97 on April 27, Microsoft (MSFT) has retreated more than 6%—perhaps not unusual since its average move one week after earnings is negative.1 But yesterday that pullback also reached its February highs—the level of the stock's most recent breakout: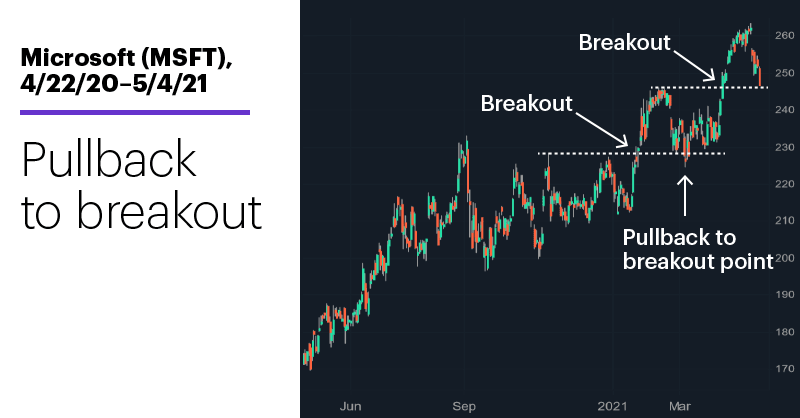 Source: Power E*TRADE
---
In this type of situation, a bull expecting a pullback to play out similarly to a previous episode—in this case, for example, the late-February, early-March downturn that reversed to the upside shortly after reaching its preceding breakout point—may simply be eyeing shares. Others may lean toward options—say, selling puts, buying calls, or buying a bull call spread (long an at-the-money call and short a higher-strike call with the same expiration).
As one would expect, the percentage move in the MSFT at-the-money call options was much larger than the move in the stock itself. Around noon ET, for example, the June $245 call was down 25% on the day (when MSFT shares were down 2.3%), and was nearly 60% below where it closed on April 27:
Source: Power E*TRADE
---
One other thing that may have interested traders: The $245 call was closer than it had been in more than a month to the contract lows (around $5.40) it hit in January and late March.
While some people may view buying call options in this type of situation as nothing more than a leveraged stock purchase (meaning, if you were going to pull the trigger on a stock trade there would be no reason not to execute the equivalent options trade), someone viewing a chart like this in isolation may reasonably consider the possibility that prices could challenge their contract lows.
That, in turn, would imply the stock's pullback may not be over, in which case technical traders may look for the next likely support level before considering a long trade, especially if other factors contributed to that view.

Options traders often rely on stock analysis to inform their trades, but there's no reason that door can't sometimes swing the other way.  
Market Mover Update: BioNTech (BNTX) gave back a piece of its recent rally, falling more than 16% intraday to $175.15 (see "When all the news is in").
So far, some of last week's sector trends have followed through this week—namely, energy leading the pack and tech bringing up the rear. Also, E*TRADE's monthly sector rotation study shows one of the biggest shifts between March and April occurred in the real estate sector.
Futures Watch: July copper futures (HGN1) traded in a narrow range Tuesday but nearly matched their contract high of $4.5510 as the market continued to knock on the door of its all-time highs from 2011. Lumber prices added to their historic run, with the July futures (LBSN1) hitting a fresh record high of 1481.50  and extending their year-to-date gain to 147%. June crude oil (CLM1) 2% intraday to $65.84—its highest level since March 15.
Today's numbers include (all times ET): Mortgage Applications (7 a.m.), ADP Employment Report (8:15 a.m.), PMI Composite Final (9:45 a.m.), ISM Services Index (10 a.m.), EIA Petroleum Status Report (10:30 a.m.).
Today's earnings include: Albemarle (ALB), Barrick Gold (GOLD), General Motors (GM), Emerson Electric (EMR), Etsy (ETSY), PayPal (PYPL), Q2 Holdings (QTWO), Sunrun (RUN), Qorvo (QRVO), Plug Power (PLUG), Uber (UBER), PetIQ (PETQ).
Today's IPOs include: Honest Company (HNST), Five Star Bancorp (FSBC).
Click here to log on to your account or learn more about E*TRADE's trading platforms, or follow the Company on Twitter, @ETRADE, for useful trading and investing insights.
---
1 StreetInsider.com. Microsoft Corporation (MSFT) Earnings. 5/4/21.
What to read next...
05/04/21
Vax stock's parabolic rally reaches new levels at start of new month.
---
05/03/21
Stocks extend consolidation to a second week despite new records.
---
04/30/21
Thursday's intraday sell-off pattern in the Nasdaq 100 has a surprising track record.
---