Stock's move ain't peanuts
Peanut-allergy treatment received preliminary FDA approval
AIMT soared before FDA vote, pulled back after it
Stock then rebounded after filling last week's price gap
For the past couple of days, biopharma Aimmune Therapeutics (AIMT) has appeared on the LiveAction scan for big one-week implied volatility (IV) declines—instances in which options IV fell at least 30% from the week before: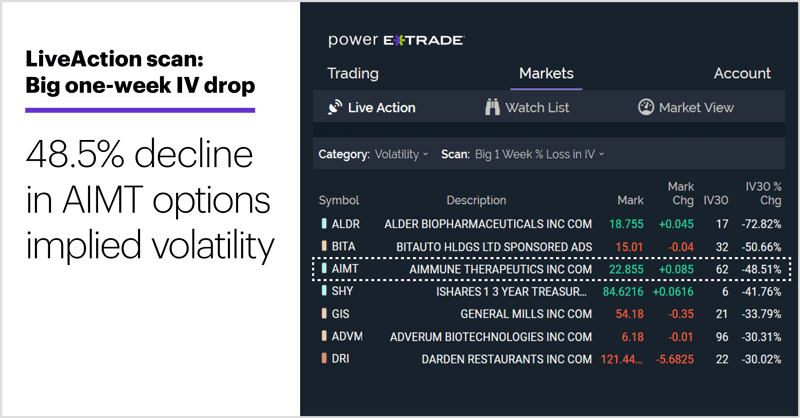 Source: Power E*TRADE
---
AIMT implied volatility was nearly cut in half from last week. Tickers that appear on this list have often recently released earnings, and the drop in IV, which is the market's estimate of future volatility built into an option's price, is a run-of-the-mill development after a company releases its numbers: Uncertainty rules in the prelude to earnings, pumping up options prices, and typically shrinks after the news crosses the wire.
But that wasn't the case for AIMT, which last released earnings in early August, and won't again until early November. But the company did undergo one of the key market-moving events in the pharma business—a Food and Drug Administration (FDA) approval vote. And it rocked the stock as much as any earnings announcement—and in surprising ways.
Some industry estimates peg the U.S. peanut-allergy therapy market at nearly $4 billion by 2027, with Aimmune projected to control the lion's share.
Last Friday an FDA advisory panel recommended approval of Aimmune's Palforzia, the first therapy for peanut allergies. The treatment takes an "immunization" approach: Clinical trials showed that patients who consumed small doses of Palforzia, which contains peanut proteins, gradually became desensitized, reducing their likelihood of having an allergic reaction to peanuts, or at least making such reactions less severe.1
There's an estimated 1.6 million children in the US suffering from potentially life-threatening peanut allergies, and some industry projections peg the U.S. peanut allergy therapy market in the neighborhood of $4 billion in the next eight years, with Aimmune projected to control roughly two-thirds of that market.2
As is always the case in these situations, though, clearing an initial FDA hurdle is only the first step in translating a drug approval into a marketplace success. That may explain some of the price action immediately before and after the FDA announcement last Friday (September 13):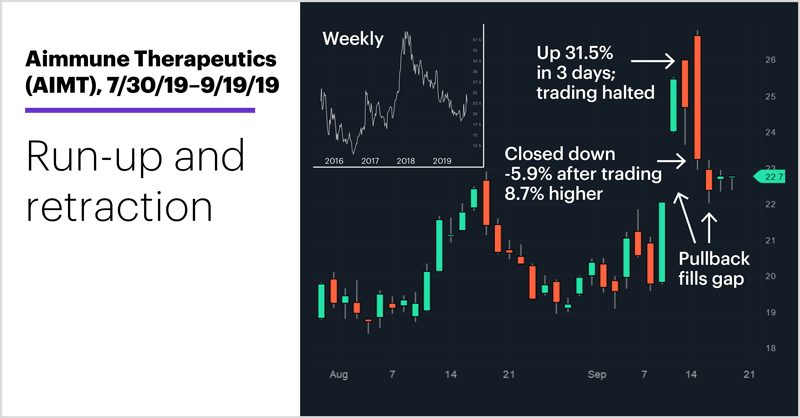 Source: Power E*TRADE
---
On Monday, September 9 (four days before the scheduled FDA vote), AIMT closed at $19.77, which the weekly chart inset at the upper left shows was well off the stock's all-time high of $42 from February 2018.
By last Thursday, though, the stock had traded as high as $26—a 31.5% surge—prompting the SEC to halt trading for Friday in anticipation of the FDA vote.3 When trading resumed Monday, AIMT jumped another 8.7% to $26.81 but reversed sharply to close down -5.9% at $23.22, likely prompting some traders to say to their computer screens, "Wait, wasn't that good news?"
By most accounts it was, but that doesn't mean the run-up and the reaction to it weren't exaggerated, as some traders digested details (including potential drug risks, and the fact that Palforzia won't receive final FDA approval before January4), and others took profits.
But after dropping another 5.2% on Tuesday—filling the September 10–11 up gap in the process, as many technical traders likely noticed—the stock spent the last two days in the plus column.
So, volatility is down. Now traders will be watching to see if the price action the past two days means the stock's trend is up.
Today's numbers (all times ET): Quadruple Witching Friday (stock options, index options, stock index futures, and single-stock futures expire), Baker-Hughes Rig Count (1 p.m.).
Click here to log on to your account or learn more about E*TRADE's trading platforms, or follow the Company on Twitter, @ETRADE, for useful trading and investing insights.
---
1 Reuters. First peanut allergy therapy gets backing from U.S. regulators' expert advisers. 9/13/19.
2 TheStreet.com. If You're Not Allergic to Risk, Consider Aimmune Therapeutics on Strength. 9/10/19.
3 MarketWatch.com. Aimmune's stock halted as FDA panel's decision awaited on peanut allergy treatment. 9/13/19.
4 Investor's Business Daily. Profit-Takers Drag This Highflying Biotech Stock Into The Red. 9/16/19.
What to read next...
09/19/19
One of this year's tech "unicorns" looks for room to zoom.
---
09/18/19
Airline stocks lose and gain altitude as crude oil adjusts to last weekend's production shock.
---
09/17/19
Strike interrupts GM upswing, but bulls could be back on the job sooner than some people think.
---