Stock-market seesaw
Stocks up: White House floats infrastructure program, retail sales jump
Stocks down: Market turns jittery on coronavirus spikes
This week: GDP, economic reopening rolls on
Thanks to a bullish start, the US stock market got back into the plus column last week, even if it finished the race with a bit of a bearish limp.
On Monday and Tuesday, talk of a $1 trillion infrastructure spending program, news of Fed corporate bond purchases, and a record-breaking retail sales report helped stocks bounce back from their steepest pullback in three months, but renewed coronavirus worries closed out the week on a nervous note.
After initially falling to a three-week low early last Monday, the S&P 500 (SPX) pivoted to the upside to close higher on the day, then followed up with a 1.9% rally on Tuesday. But the market wobbled for the remainder of the week, and—in a reversal of Monday's pattern—gave up early gains to close in the red on Friday: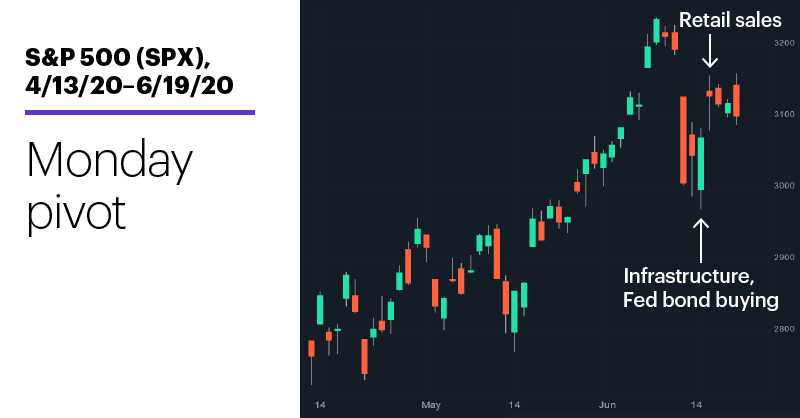 Source: Power E*TRADE
---
The headline: Infrastructure talk, retail sales help fuel stock rebound.
The fine print: Last week's good news was followed by a higher-than-expected new jobless claims number, more sober commentary about the economic outlook from Fed Chairman Jerome Powell, a jump in coronavirus cases in Texas, Florida, Arizona, and California, and an announcement from Apple (AAPL) on Friday that it would close some of its stores because of those spikes.1
The number: +17.7%, the increase in retail sales last month—more than twice the estimated number, and the biggest one-month gain in history.2
The quote: "We at the Fed need to keep our foot on the gas until we are really sure we are through this…and I think you may find that there's more for you to do as well." Fed Chairman Jerome Powell, addressing the U.S. House of Representatives Financial Services Committee last week.3
The scorecard: The Nasdaq 100 (NDX) wrapped up last week with consecutive closes above 10,000, and ran its year-to-date (YTD) gain back to nearly 15%:
Source (data): Power E*TRADE
---
Sector roundup: The strongest S&P 500 sectors last week were health care (+3.3%), information technology (+3%), and consumer staples (+2.5%). The weakest sectors were utilities (-1.9%), energy (-0.8%), and real estate (-0.7%).
Highlight reel: iQIYI (IQ) jumped 26% to $25.02 on Tuesday, while, Enphase Energy (ENPH) slid 26% to $39.04 on Wednesday.
Futures action: August WTI crude oil (CLQ0) rebounded most of last week, tagging $40.60/barrel on Friday before reversing with the stock market and closing at $39.83. Despite enjoying one of its biggest up days in recent weeks on Friday (+1.4%), August gold (GCQ0) remained within its two-month trading range, closing Friday at $1,753/ounce.
Breakout watch: November soybeans (ZSX0) ended last week at 880.75/bushel—near the top of their tight, two-week trading range amid reports that China would step up its purchases of US agricultural products.4
Last week's biggest futures up moves: July lumber (LBSN0) +18.7%, July milk (DCN0) +14.2%, July RBOB gasoline (RBN0) +12.2%. Last week's biggest futures down moves: July rough rice (ZRN0) -11%, July hogs (HEN0) -7%, July hard red wheat (KEN0) -12.7%.
Coming this week
Thursday looks like the big day—GDP and Durable goods—but traders will also be watching three key housing numbers:
●Monday: Chicago Fed National Activity Index, Existing Home Sales
●Tuesday: New Home Sales
●Wednesday: FHFA House Price Index
●Thursday: GDP (Q1 final), Durable Goods Orders, Wholesale Inventories, Jobless Claims, Fed Stress Test Results for Big Banks
●Friday: Personal Income and Spending, PCE Price Index, Consumer Sentiment
Earnings this week include:
●Monday: Ennis (EBF)
●Tuesday: AeroVironment (AVAV), La-Z-Boy (LZB), IHS Markit (INFO)
●Wednesday: National Beverage (FIZZ), Huazhu Group (HTHT), KB Home (KBH), Winnebago (WGO), Paychex (PAYX)
●Thursday: Accenture (ACN), McCormick & Company (MKC), Darden Restaurants (DRI), FactSet Research (FDS), Nike (NKE)
●Friday: Apogee Enterprises (APOG), MakeMyTrip (MMYT)
Go to the E*TRADE market calendar (login required) for an up-to-date earnings schedule and a complete list of splits, dividends, IPOs, and economic reports. The Active Trader Commentary also lists earnings announcements, IPOs and economic report times each morning.
Beware the "expectation gap"
Last Thursday the US stock market slumped for much of the day, with many fingers pointing at the morning's weaker-than-expected new jobless claims number, which came in around 1.5 million instead of the forecasted 1.2 million.
Here's the rub: The number was actually lower than the previous week's, and fit the multi-week pattern of fewer people filing for unemployment. While that may sound like a good thing, in the markets, sometimes "good" and "bad" are determined more by whether, and by how much, a number exceeds or misses expectations.
Those expectations are typically determined by polling various "experts"—economists and the like—who, believe it or not, are human beings with the same biases, blind spots and weaknesses that afflict the rest of the population. And if you watch the markets long enough, you'll discover that after the experts are caught with their pants down—as they were with the May jobs report, when they expected a loss of eight million jobs and the economy instead added more than two million—they sometimes overcompensate in the opposite direction.  
Which perhaps explains why last week's jobless claims total was roundly described as "disappointing." Analysts who were wrong about the most recent monthly employment report may have compensated by being overly optimistic about weekly jobless claims.
We'll have to wait a few more weeks to see whether last Tuesday's retail sales surprise triggers a similar response from analysts—a too-rosy forecast that disappoints the market, whether or not the number itself is good or bad.
Click here to log on to your account or learn more about E*TRADE's trading platforms, or follow the Company on Twitter, @ETRADE, for useful trading and investing insights.
---
1 CNN.com. Apple is closing some of the stores it reopened because of a spike in coronavirus cases. 6/19/20.
2 The Wall Street Journal. U.S. Retail Sales Rose Record 18% in May. 6/16/20.
3 Reuters. Fed's Powell Beats Drum for More Government Aid to Bolster Economy. 6/17/20.
4 Bloomberg.com. Stocks Rise on Trade, Stimulus Hopes; Bonds Slip: Markets Wrap. 6/19/20.
What to read next...
06/19/20
With earnings around the corner, food stock seeks to retain some of its lockdown-fueled demand.
---
06/18/20
Chinese hotel company's put volume soars as second-wave fears grip Beijing.
---
06/17/20
Yesterday's market action showed the potential for certain stocks to move if infrastructure spending moves from proposal to reality.
---