Market on the run
April is sixth-straight month with higher monthly high
Only 24 other runs have been as long or longer
Implications for May?
Even for short-term traders, in the markets, it's never not a good idea to think ahead.
At the midpoint of April, the S&P 500 (SPX) is up 3.8% for the month and 9.8% for the year. Anything can happen in two weeks, but if the month had ended yesterday, April certainly would have bolstered its reputation as one of the more reliably bullish months of the year for the US stock market (see "April's surprising market performance").
It also would have extended an impressive—but perhaps overlooked—market run. As noted in "New month, new quarter, new highs," this is the sixth-straight month the SPX has pushed to a higher high—a streak the index has matched or exceeded only 24 other times since 1960, most recently in February 2020: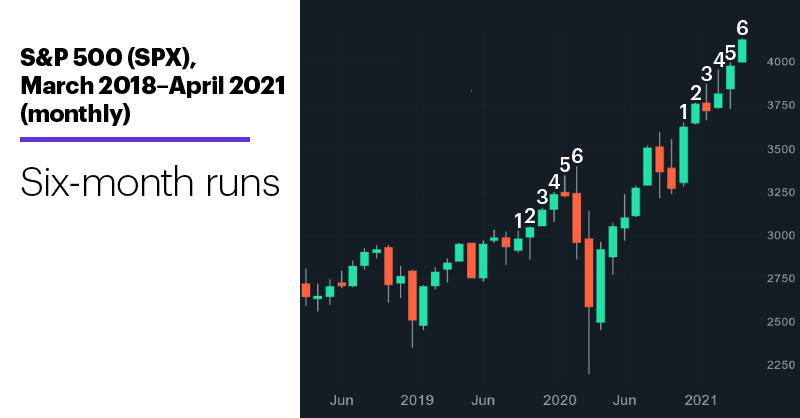 Source: Power E*TRADE
---
Here's how the index performed the following month:
Higher high: 17 times
Higher close: 11 times
Median return: -1.5%
These numbers suggest the market often took a breather the month after initially establishing a six-month streak of higher highs: Even though the SPX pushed to a higher monthly high 17 out of 24 times (71%), it closed higher only 11 times (46%), and the typical return that month was negative. Also, the SPX traded more to the downside than the upside that month in 14 of 24 cases.1
By the way, this tendency didn't necessarily portend a long-term or severe down move, last year's sell-off notwithstanding. Two months later the SPX closed higher 58% of the time, and 79% of the time three months later.
But it's a good reminder of how market momentum can ebb and flow even during the strongest of trends.
Today's numbers (all times ET): Weekly jobless claims (8:30 a.m.), Retail Sales (8:30 a.m.), Industrial Production (9:15 a.m.), Business Inventories (10 a.m.), Housing Market Index (10 a.m.).
Today's earnings include: Alcoa (AA), Delta Air Lines (DAL), Rite Aid (RAD), Bank of America (BAC), J.B. Hunt Transport (JBHT), BlackRock (BLK), U.S. Bancorp (USB), Citigroup (C), Progressive (PGR), UnitedHealth Group (UNH), Pepsi (PEP).
Click here to log on to your account or learn more about E*TRADE's trading platforms, or follow the Company on Twitter, @ETRADE, for useful trading and investing insights.
---
1 All figures based on S&P 500 (SPX) monthly prices, December 1959–April 2021. Supporting document available upon request.
What to read next...
04/13/21
Do traders see more blue sky for airlines with earnings approaching? Also, can a $2.8 billion fine be a good thing?
---
04/12/21
Rotation, what rotation? The Nasdaq 100 is back to all-time highs.
---
04/09/21
What are traders seeing in gold's recent rebound?
---