24-hour bug?
Stocks slumped Tuesday amid reports of Chinese coronavirus outbreak
Some travel-related stocks were hit especially hard
Market bounced back yesterday as story appeared to recede
When global markets slid on Tuesday, much of the blame was attributed to the spread (in China) of the coronavirus—a potentially deadly illness with pneumonia-like symptoms.
The Chinese stock market dropped sharply, and other Asian equity indexes suffered medium-sized losses (Japanese and South Korean benchmarks both lost around 1%). But in the US, the overall impact was mild—the S&P 500 (SPX) lost a little less than 0.3%.
But certain areas of the market were hit harder than others, including travel-related stocks—tourism companies, hotels, and airlines—on fears of a slowdown in global travel.
For example, Booking Holdings (BKNG)—the company formerly known as Priceline—sank more than 4% on Tuesday before closing down 3.1%: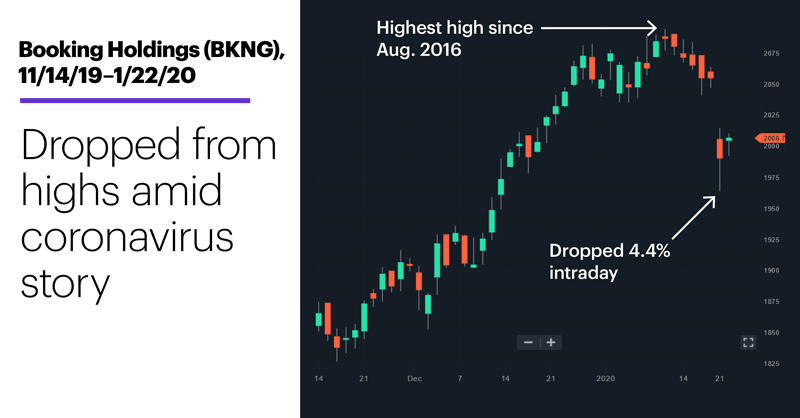 Source: Power E*TRADE
---
Tuesday's drop super-sized what had been a modest pullback from the stock's January 10 high, which the stock hit after a 13.6% rally off its November low that brought it to its highest level since August 2018. By midday yesterday, though BKNG was up around 0.9% (when the SPX was up just 0.25%), as were other stocks that had tumbled on Tuesday.
The coronavirus is a serious issue—it's believed to be responsible for as many as 17 deaths in China and at least one person in the US has been diagnosed with the disease1—but as is the case with other emotionally-charged events that catch the market off-guard, the immediate reaction can be overdone and the longer-term impact often minimal.
This has certainly been the case with some other health scares, as evidenced by the market's volatile, but relatively brief reactions to Ebola in 2014 and SARS (a respiratory illness similar to the coronavirus) in 2003.
For example, the following chart shows the price action in one biopharma stock, BioCryst Pharmaceuticals (BCRX), around the time the first case of the deadly Ebola virus was diagnosed in the US in early fall 2014. The stock jumped almost 31% from September 30–October 3 (other pharma stocks made similar moves), but gave back the entire rally within six days:
Source: Power E*TRADE
---
It would be another eight months before BCRX again traded to the level it had hit on October 3 during the Ebola scare, and in the interim it fell as much as 17% below where it was on September 30.
We'll likely be hearing more about the coronavirus in the days and weeks to come, but if the current scenario plays out similarly to past episodes, many of the stocks that got jolted the most by the initial news could soon revert to their previous trajectories.
In which case, traders may be looking at stocks like BKNG and wondering whether their recent pullbacks were a little overdone.
Market Mover Update: As the broad market set fresh records yesterday, so did Tesla (TSLA), which jumped more than 6% intraday to above $580, pushing its market cap past the $100 billion mark.
Homebuilder stocks got a bump yesterday amid the biggest increase in existing home sales in nearly two years. Boeing (BA) shares fell again, closing at their lowest level since December 2018,
Today's numbers (all times ET): European Central Bank (ECB) announcement (7:45 a.m.), Leading Economic Indicators (10 a.m.), EIA Natural Gas Report (10:30 a.m.), EIA Petroleum Status Report (11 a.m.).
Today's earnings include: AbbVie (ABBV), American Airlines (AAL), Southwest Airlines (LUV), JetBlue Airways (JBLU), Procter & Gamble (PG), Intel (INTC), Colgate-Palmolive (CL), Union Pacific (UNP), Kimberly-Clark (KMB), KeyCorp (KEY).
Click here to log on to your account or learn more about E*TRADE's trading platforms, or follow the Company on Twitter, @ETRADE, for useful trading and investing insights. 
---
1 CBSNews.com. What is the deadly coronavirus illness now blamed for 17 deaths in China?. 1/22/20.
2 Bloomberg.com. 'Sharp and Short-Lived': The Impact of Health Scares on Markets. 1/21/20.
What to read next...
01/22/20
Dividend darling's recent momentum may put it on trader radar.
---
01/21/20
Market rolls to more records amid initial Q4 numbers, trade-deal signing.
---
01/17/20
Some bulls may be seeing red after retail stock posts surprise holiday sales miss.
---