A bounce for the ages
US stocks jump 20% in three days before Friday pullback
Fed launches "QE infinity," $2 trillion in fiscal stimulus on track
This week: Jobs report on Friday
The stock market is coming off another historic week, but in a breath of fresh air for investors, this time it was the bulls making the history instead of the bears.
As the Federal Reserve announced a virtually limitless quantitative easing (QE) program and Congress moved to authorize more than $2 trillion in economic stimulus and relief spending, US stocks rebounded from fresh lows last Monday to post their strongest week since March 2009, despite giving back some ground on Friday. Along the way, the Dow Jones Industrial Average (DJIA) notched its largest one-day and three-day rallies since the 1930s.
The S&P 500's (SPX's) three-day, 20% rally off last Monday's low was more than two-thirds the size of its return for all of 2019—which was the index's sixth-strongest year since 1958. It was the SPX's biggest three-day rally off a low, slightly larger than its 19.8% rally from November 24-26, 2008: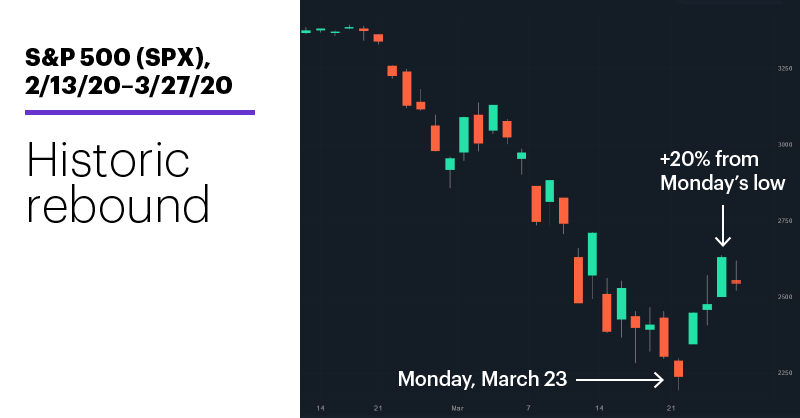 Source: Power E*TRADE
---
The headline: Stocks rebound as US unleashes unprecedented monetary and fiscal stimulus programs.
The fine print: The fact that the market made a similar move off its November 2008 low should be a reminder that this type of price action simply says "conditions are still extremely volatile," which doesn't necessarily translate to "prices have bottomed." The SPX rallied 27% off its November 21, 2008 before falling to fresh lows in March 2009 (see "Lessons from 2008"). The markets now face what likely will be a rough stretch of economic numbers depressed by the coronavirus shutdown.
The quote: "It's really much closer to a major snowstorm or a natural disaster than it is to a classic 1930s-style depression." Former Federal Reserve Chairman Ben Bernanke, commenting on the coronavirus market sell-off. He also forecasted a "very sharp," but relatively brief recession. 1
The move: 21.3%. That's how much the Dow Jones Industrial Average rallied from Monday to Thursday last week—it's biggest three-day jump since 1931.
The number: 3.28 million, the number of new weekly jobless claims last Thursday. It was the first hard data point to illustrate the potential economic impact of the coronavirus.
The scorecard: The Dow gained the most ground last week (thanks, Boeing!), followed by the small-cap Russell 2000 (RUT):
Source: Power E*TRADE
---
Sector roundup: The strongest S&P 500 sectors last week were utilities (+17.5%), real estate (+15.6%), and industrials (+15.4%). The weakest sectors were communication services (+5.4%), consumer staples (+6.4%), and health care (+8.1%).
Highlight reel: Boeing (BA), which tumbled 65% to $95.01 in the first three weeks of March, rallied 11% on Monday, 21% on Tuesday, 24% on Wednesday, and 14% on Thursday—a four-day, 90% rally that brought the stock back to $180.55, and turbocharged the Dow in the process. On Friday, Norwegian Cruise Line Holdings (NCLH) fell 23% to $12.02.
Futures action: May crude oil (CLK0) held its ground early last week, but turned lower Thursday and Friday, closing at a contract low of $21.84/barrel. April gold (GCJ0) skyrocketed nearly $200 on Monday–Tuesday (to $1,699.30/ounce) on fears that inflation could be the end result of the Fed's limitless QE program, but drifted lower the remainder of the week to close Friday at $1,630.60.
Coming this week
All eyes will be on Friday's jobs report, but there's a full slate of start-of-the-month economic data before it crosses the wire:
●Monday: Pending Home Sales
●Tuesday: Case-Shiller Home Price Index, Chicago Purchasing Managers Index (PMI), Consumer Confidence
●Wednesday: ADP Employment Report, Markit Manufacturing PMI, ISM Manufacturing Index, Construction Spending
●Thursday: Weekly Jobless Claims, Trade Deficit, Factory Orders
●Friday: Employment Report, Markit Services PMI, ISM Non-Manufacturing Index
This week's earnings include:
●Monday: Cal-Maine Foods (CALM)
●Tuesday: Conagra (CAG), McCormick & Company (MKC)
●Wednesday: PVH (PVH), Lamb Weston (LW)
●Thursday: Walgreens Boots Alliance (WBA), Acuity Brands (AYI), Carmax (KMX), Chewy (CHWY)
●Friday: Constellation Brands (STZ)
Go to the E*TRADE market calendar (login required) for an up-to-date earnings schedule and a complete list of splits, dividends, IPOs, and economic reports. The Active Trader Commentary also lists earnings announcements, IPOs and economic report times each morning.
A bull with claws or a bear with horns?
Some of the more curious chatter bouncing around the trading world last week had to do with the market having entered "bull-market" territory on Thursday after the Dow rallied more than 20% above Monday's close.
Aside from the fact that it was a three-day price move, that was a pretty interesting take on things, given the Dow—along with every other major US stock gauge—was still more than 20% below its former high, which is the working definition of a bear market.
So what are we looking at, bull or bear?
Perhaps a more logical definition of the end of a bear market would be when the market (let's use the S&P 500) is no longer 20% below its former high, but even that yardstick has its limitations. In past bear markets, the SPX has often rallied back above the -20% threshold (after initially falling below it) before reaching its final bottom.
For example, after the SPX first fell 20% below its December 2007 high in early July 2008, it popped out of the bear zone six times over the next two-and-a-half months—once for 21 straight trading days—even though the majority of the financial crisis sell-off was yet to come.2
This has been an exceptional time for the market, and there's a good chance it's going to remain that way for a while. Focus on managing risk and avoiding distractions, such as discussions about whether the market was in bull territory for five minutes.
Click here to log on to your account or learn more about E*TRADE's trading platforms, or follow the Company on Twitter, @ETRADE, for useful trading and investing insights.
---
1 CNBC.com. Bernanke: Coronavirus disruptions 'much closer to a major snowstorm' than the Great Depression. 3/25/20.
2 Price moves based on S&P 500 (SPX) daily closing prices. Supporting document available upon request.
What to read next...
03/27/20
The volatility continues, although lately it's been the kind most traders like. Find out how the market's dynamics may be shifting.
---
03/26/20
Huge rallies in "oversold" stocks may be a positive signal about the market's overall health, but traders still need to be selective.
---
03/25/20
S&P 500 enjoys one of its best days of the past 30 years, but what does it say about the market's path forward?
---