TGIF: Friday rally pares the bear
Market escapes bear territory (barely) with last-minute Friday rally
White House declares coronavirus a national emergency
This week: FOMC meeting—how low will the Fed go?
First, the bad news: The US stock market ended last week on the cusp of a bear market, off 19.9% from February's all-time high close. It was, without question, a bad week for stocks, set against a backdrop of travel bans, canceled sporting events, and schools and workplaces shifting to virtual mode as the US grappled with coronavirus fears.
The good news: Despite last Thursday being the worst day for the US stock market since 1987's "Black Monday," when the S&P 500 (SPX) fell 20.5%, a frantic Friday reversal took much of the sting out of the week's sell-off.
After Thursday's -9.5% washout, the SPX was down 16.5% for the week, and the market's second-worst week since 1960 looked like a done deal. But 24 hours and +9.3% later, that loss was down to -8.79%—much smaller than the SPX's 11.5% sell-off from February 24-28—and the index had inched back above the bear-market threshold: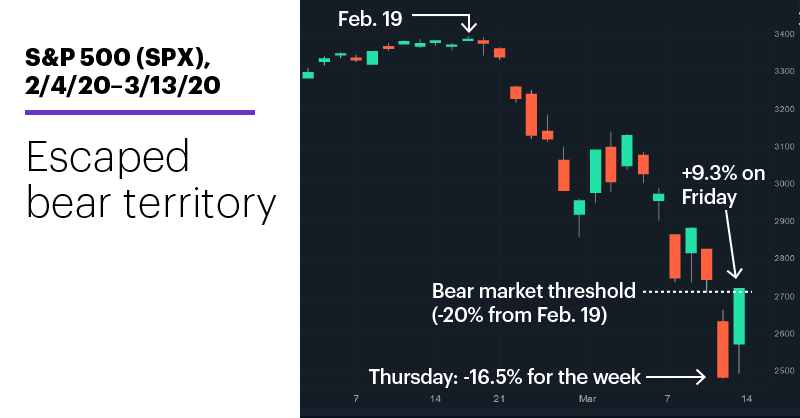 Source: Power E*TRADE
---
The headline: Coronavirus fears send stocks into bear market.
The fine print: The market's explosive Friday afternoon rally followed President Trump's declaration of a national emergency, which allows the government to allocate as much as $50 billion to the coronavirus fight. The president also announced he was waiving interest on federal student loans, and had instructed the Department of Energy to stockpile crude oil.1
The moves: Take your pick— the SPX's 6.4% rally in the last 30 minutes of trading on Friday, crude oil's 25% nosedive on Monday, Boeing's (BA) 18.2% and 18.7% drops on Wednesday and Thursday, gold's 11% sell-off after topping $1,700 on Monday.
The number: 77.57, the Cboe Volatility Index's (VIX) peak on Friday. It was the fear barometer's highest reading since November 2008.
The scorecard: All the major US indexes except the Nasdaq 100 (NDX) ended last week with double-digit YTD percentage losses, with the small-cap Russell 2000 (RUT) down a whopping 27%:
Source: Power E*TRADE
---
Sector roundup: The strongest S&P 500 sectors last week were information technology (-5.2%), health care (-6.65%), and communication services (-6.7%). The weakest sectors were energy (-24.3%), utilities (-14.3%), and materials (-13.2%).
Highlight reel: For a moment, let's forget about the red ink and take in the fact that Forty Seven (FTSV) jumped 62% to $93.91 on Monday (second-worst day of the week), and K12 (LRN) rallied 21% to $20.73 on Thursday (worst day of the week).
Futures action: The Russia–Saudi oil war sent crude oil to its biggest one-day loss (-25%) in nearly 30 years on Monday. The April future contract (CLJ0) traded as low as $27.34/barrel before rebounding to close the week around $32.95. After hitting $1,704.30/ounce last Monday, April gold (GCJ0) tumbled more than 11% the remainder of the week to close Friday around $1,517—a reminder that during extreme market conditions, people tend to dump everything but cash.
Coming this week
The Fed meeting is Wednesday, and the question is not whether the Fed will cut rates again, but how much they will cut them:
●Monday: Empire State Index
●Tuesday: Retail Sales, Industrial Production and Capacity Utilization, Job Openings, NAHB Home Builders' Index, Business Inventories
●Wednesday: Housing Starts, Building Permits, Fed Interest Rate Announcement
●Thursday: Current Account, Leading Economic Indicators
●Friday: Existing Home Sales
This week's earnings include:
●Monday: Tencent Music (TME), Healthequity (HQY)
●Tuesday: Baxter (BAX), FedEx (FDX)
●Wednesday: Five Below (FIVE), Baozun (BZUN), Progressive (PGR), General Mills (GIS)
●Thursday: Lennar (LEN), Cintas (CTAS), Crowdstrike (CRWD), Momo (MOMO)
●Friday: Tiffany (TIF)
Go to the E*TRADE market calendar (login required) for an up-to-date earnings schedule and a complete list of splits, dividends, IPOs, and economic reports. The Active Trader Commentary also lists earnings announcements, IPOs and economic report times each morning.
Tracking the bear. "Bear market" isn't a phrase that puts smiles on too many faces, but it's really just an arbitrary benchmark—a 20% or larger drop from a high. Is a 17% drop not worth paying attention to, or a 23% drop a completely different type of animal?
While no one likes to see the market drop the way it has recently, when most people talk about bear markets, what they're usually thinking about are prolonged periods of persistently falling prices, which are actually pretty rare. We've only had a couple of those in the past 35 years—the March 2000-October 2002 bear market, and the October 2007-March 2009 financial crisis decline.
So what may be in store after last week's dip into bear-market territory? Every situation is unique, but the following table shows what the SPX did eight other times after initially hitting the -20% bear-market threshold2—how much more the index fell before putting in its ultimate bottom, and how long it took (in trading days) to get there: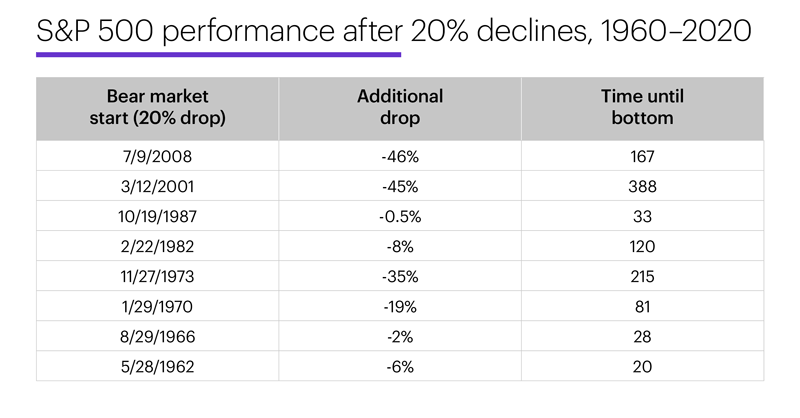 Data source: Power E*TRADE
---
Obviously, not all "bear markets" are created equal. Some (1962, 1966 and 1987) bottomed relatively quickly after the initial -20% drop, and didn't punish investors with too much additional downside. In others (1973, 2001, 2008), the market fell much more before finding its bottom, and took much longer to get there.
And while there's a first time for everything, one thing that never occurred was an immediate "V-reversal" from the initial 20% down move. In each case the SPX at least tested the original bear-market low before staging another long-term uptrend.
Don't forget those circuit breakers. US stock-market circuit breakers—temporary trading stoppages designed to give the market a "time out"—triggered twice last week, once on Monday and once on Thursday. Trading is halted in US stocks when the S&P 500 (SPX) falls a certain percentage below the previous day's closing price:
Circuit breaker 1: If the SPX falls 7% below the previous day's close, trading stops for 15 minutes.
Circuit breaker 2: If the SPX falls 13% below the previous day's close—before 3:25 p.m. ET—trading stops for 15 minutes. If the SPX falls 13% after 3:25 p.m. ET, trading doesn't stop.
Circuit breaker 3: If the SPX falls 20% below the previous day's close, trading stops for the remainder of the day, regardless of the time of day.
Stock index futures use the same circuit-breaker thresholds, but they have an additional rule for the after-hours market: Trading is halted after any 5% move above or below the previous day's close that occurs outside the stock market's regular trading hours of 9:30–4 p.m. ET.
Remember: Although it hasn't happened so far, after a trading halt the market may reopen at a much different level, which means limit orders placed during the halt may not get filled, and market orders may get filled far from where you expected.
Click here to log on to your account or learn more about E*TRADE's trading platforms, or follow the Company on Twitter, @ETRADE, for useful trading and investing insights.
---
1 Bloomberg.com. Trump Waives Student-Loan Interest, Stockpiles Oil in Virus Plan. 3/13/20.
2 Defined as an S&P 500 (SPX) daily closing price 20% or more below a prior high close. Supporting document available upon request.
3 The Cosmopolitan, Volume 5. How to Make Money in Wall Street. March-October 1888.
What to read next...
03/13/20
With the S&P 500 off more than 20% from February's highs, many traders will be looking to history to try to figure out the market's next move.
---
03/12/20
In volatile market conditions, objectivity can be the most precious commodity of all.
---
03/11/20
Oil price war slams crude oil prices, sends S&P 500 to key retracement level.
---