Stock in the clouds
ZS volatility patterns suggest potential for near-term momentum surge
Earnings currently scheduled for next week
Many cloud security stocks have been hot during lockdown
Health-care stocks may have been responsible for some of the market's most explosive price action in recent weeks—Monday's bull stampede was led by biopharma, amid news of Moderna's (MRNA) positive coronavirus vaccine tests—but tech has continued to be the real fire in the US market's belly.
And as noted here a couple of times since April (see "Lockdown realities put spotlight on cybersecurity stock" and "Cyber stock enters critical zone"), one corner of tech has been particularly hot—and it's no coincidence.
"Cloud security"—the technology that safeguards and provides access to companies' (and government's) critical applications, data, and virtual presence—has continued to be a conspicuous winner in the coronavirus economy.
The stock prices of many companies in this area have reflected the newfound demand for their services, including Zscaler (ZS), which has consolidated for several days after hitting a 21-month high on May 12:
Source: Power E*TRADE
---
After taking a -39% coronavirus hit in February–March, ZS rallied nearly 100% to its May 12 high of $78.74—around 12% below its all-time high of $89.54 from August 2019.
You can't blame a stock for taking a breather after that kind of rally, and it's likely many short-term traders are eyeing the recent consolidation as a chance to play a breakout. There are reasons to think that move could happen sooner rather than later.
The following chart shows ZS options implied volatility (IV)—the estimate of the stock's potential volatility over the next month—was higher than its historical volatility (i.e., its actual price movement):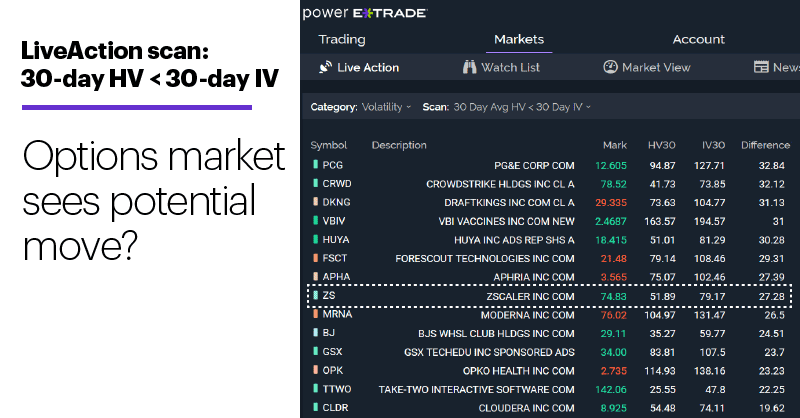 Source: Power E*TRADE
---
As was the case with Palo Alto Networks (PANW) last week, ZS options traders seem to be saying, "we think ZS has the potential to move more in the next 30 days than it did in the past 30 days."
One good reason for them to expect a potential momentum surge—and, by implication, a consolidation breakout—is that ZS is currently scheduled to release earnings next week (tentatively, May 28). By the way, PANW, which will post its numbers tomorrow, has rallied more than 7% since last Wednesday.
A final thought: Because high IV tends to make options more expensive, some ZS bulls may be looking to sell put options (instead of buying calls), either as a way to pocket some premium in the event of a rally, or to collect premium and buy the stock in the event of a short-term pullback. Take a look at the following options chain: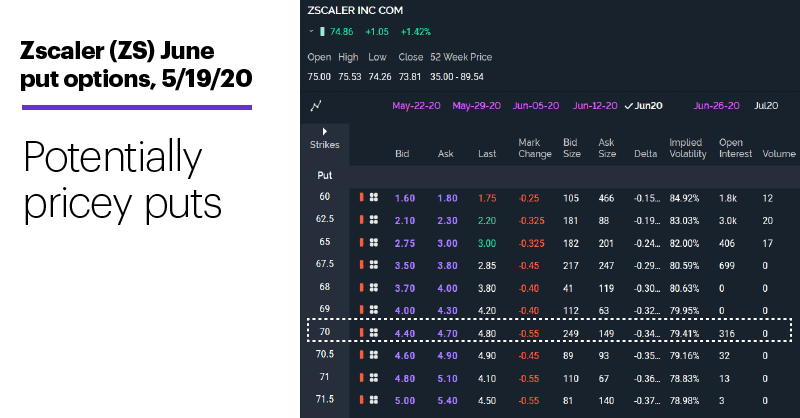 Source: Power E*TRADE
---
The June $70 puts were trading around 4.80 ($480) yesterday when ZS stock was a little below $75. A trader who expected the stock to make a down move to (or a little below) $70 before rallying—and was comfortable owning the stock at that price—could short a June $70 put, collect the premium, and take possession of the shares if the stock falls that far (if not, the premium is the only gain).
That's hardly the only plausible scenario, but one of the advantages of options is that they sometimes allow you to construct trades that can account for more than one outlook.
Market Mover Update: With earnings due out tomorrow, Nvidia (NVDA) banged out its third-straight record high with yesterday's 3%-plus intraday rally. The stock has gained more than 12% since last Thursday (see "Trading the numbers game").
Today's numbers (all times ET): EIA Petroleum Status Report (10:30 a.m.), FOMC minutes (2 p.m.).
Today's earnings include: Analog Devices (ADI), Target (TGT), Lowe's (LOW), Take-Two Interactive Software (TTWO), Qiwi (QIWI).
Click here to log on to your account or learn more about E*TRADE's trading platforms, or follow the Company on Twitter, @ETRADE, for useful trading and investing insights.  
---
What to read next...
05/12/20
Does huge options trade mean traders have a sweet tooth for iconic snack maker?
---
05/11/20
Stocks take record-breaking jobs report in stride, get back into plus column last week.
---
05/08/20
Will college dorms be filled to capacity this fall? One stock's outlook may hinge upon the answer to that question.
---