Avoiding head fakes
NVAX dropped sharply Tuesday amid reports of production slowdowns
Shares recovered much of their losses by midday
Closing price on similar big down days reveals surprising tendency
The markets may sometimes reward "quick thinking" and the ability to adapt to constantly changing conditions, but they're not necessarily kind to those who simply jump to conclusions.
After reports that Novavax (NVAX)—one of the companies tapped by the US government in 2020 to help develop COVID vaccines—has been slowed by consistent production setbacks,1 the market's response Tuesday morning was immediate. The stock tumbled as much as 24.4% in the opening minutes of trading, falling to its lowest level since mid-May.
Halfway through the session, though, NVAX had rallied more than 15% off its low and was trading near the top of the day's range:
Source: Power E*TRADE (For illustrative purposes. Not a recommendation.)
---
While the earliest of early reacters may have jumped to bearish conclusions, those who witnessed the stock's strong intraday rebound may have been inclined to view the day as a mini "bear trap" fueled by an overreaction to news: The company's quick response to the story, which included the assertion that its vaccine would be ready globally this year,2 may have fed an impression that the sell-off was a buying opportunity in a suddenly discounted stock.
Perhaps, but neither outlook takes into account the realities of what NVAX has done after similar sell-offs. And that's a very interesting story.
First, since 1995, NVAX has sold off 15% or more intraday 83 other times. By comparison, Microsoft (MSFT) and Apple (AAPL) have done the same thing only 11 times—combined.

Even more interesting is how NVAX often performed after these days depending on whether the stock closed in the upper or lower half of the day's range. While a close in the top half of the range may seem to be the more bullish intraday outcome (since buyers pushed prices well off the day's low), that's not how things tended to play out over the next 10 trading days: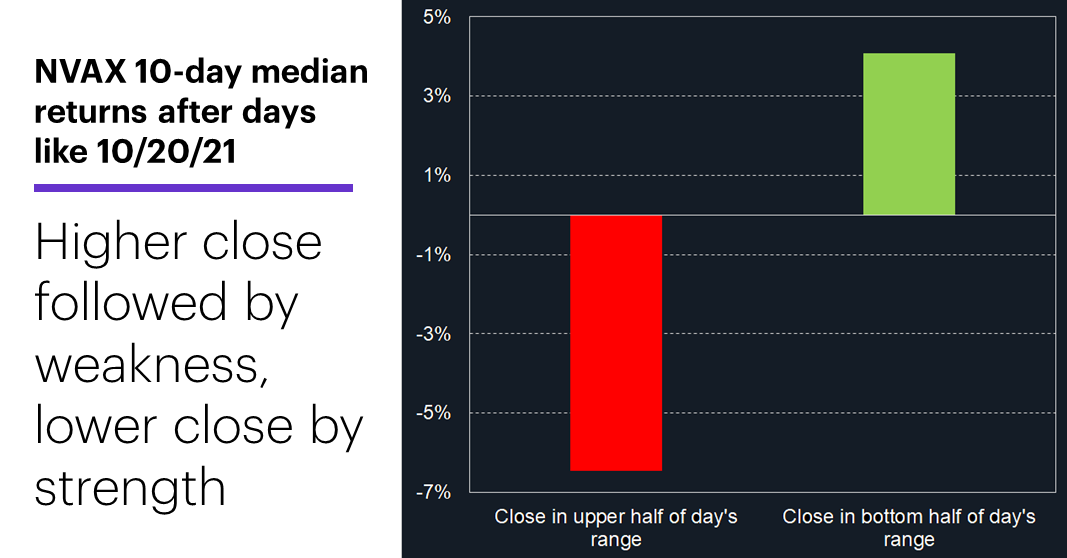 Source (data): Power E*TRADE (For illustrative purposes. Not a recommendation.)
---
When NVAX closed in the upper half of the day's range on a big intraday sell-off day, its median return after 10 days was -6.5%. But when it closed in the lower half of the day's range—something that would likely have more bearish connotations for many traders—its median 10-day return was +4.1%.3
Of course, NVAX made things even more interesting by sliding into the bottom half of the day's range later in the session before rallying again to close (slightly) in the upper half—one last reminder of the potential perils of jumping to conclusions before the final bell rings.
Market Mover Update: Otis Worldwide (OTIS) rallied more than 2% intraday on Tuesday, climbing to a nearly one-month high (see "Call volume on the rise").
Yield watch: Long-term interest rates pushed to the upside for a fourth-straight day, with the 10-year T-note yield tagging 1.65%—its highest level since May 20.
Today's numbers include (all times ET): Weekly jobless claims (8:30 a.m.), Existing Home Sales (10 a.m.), Leading Indicators (10 a.m.).
Today's earnings include: American Airlines (AAL), Southwest Airlines (LUV), AutoNation (AN), AT&T (T), Boston Beer Company (SAM), Intel (INTC), Union Pacific (UNP), Chipotle (CMG), Mattel (MAT), KeyCorp (KEY).
Today's IPOs include: P10 (PX), Ventyx Biosciences (VTYX), Vita Coco (COCO), Portillo's (PTLO), Enfusion (ENFN).
Click here to log on to your account or learn more about E*TRADE's trading platforms, or follow the Company on Twitter, @ETRADE, for useful trading and investing insights
---
1 Politico. 'They rushed the process': Vaccine maker's woes hamper global inoculation campaign. 10/19/21.
2 Politico. Novavax expresses fresh confidence in its vaccine. 10/20/21.
3 All figures reflect Novavax (NVAX) daily price data, 12/5/95–10/20/21. NVAX closed in the upper half of the day's range 31 times and closed in the lower half 52 times. Supporting document available upon request.
What to read next...
10/18/21
Big midweek turnaround erases loss, stocks enjoy best week since July.
---
10/15/21
Newly reconfigured transportation stock hits six-month low—and bulls jump in the next day.
---
10/19/21
Did Friday's intraday reversal in the Russell 2000 signal the potential for short-term small-cap weakness?
---