Stock breaks out as sector rebounds
Financials started week to the upside after last week's rally
SYF rallied more than 5% intraday yesterday
August call options volume more than 2,100% average
From one perspective, at least, this week picked up right where last week left off—the market-leading tech sector sold off yesterday, although it pared its losses by the close. But another sector story was unfolding below the surface—continued relative strength in financials.
Despite occasional bursts of upside momentum, the financial sector is still the S&P 500's (SPX) second-weakest sector this year, weighed down by an unfavorable interest rate environment and (in the case of commercial banks) prospects of loan defaults because of the COVID crisis. But on Friday both the SPX and Nasdaq financial sector indexes broke out of their respective trading ranges, pushing to their highest levels in nearly two months—financials have, in fact, been the SPX's fourth-strongest sector over the past month.
Is it just another head fake? Rather than speculate on the outlook for an entire sector, it's a good idea to remember that the market is made up of individuals stocks, and at any given time, some are rallying, some are falling, and some are just kicking back with a cocktail.
Yesterday, consumer financial services company Synchrony Financial (SYF) was in rally mode, jumping more than 5% intraday and breaking out of its own trading range to its highest high since June 17:
Source: Power E*TRADE
---
The stock has more than doubled off its March low of $12.15, but since it was more than cut in half by the February–March sell-off, it's still around $10 (37%) below its mid-February high around $34. For traders who see the potential for more near-term tailwinds from the broad market and the financial sector, that's potential upside.
The stock rally appeared to be getting support from the options market. In the morning, a Live Action scan showed call volume was more than 21 times average (around 43,000  vs. 2,000). The options chain showed most of that action—more than 14,000 contracts—was concentrated in the August $23 calls expiring next week: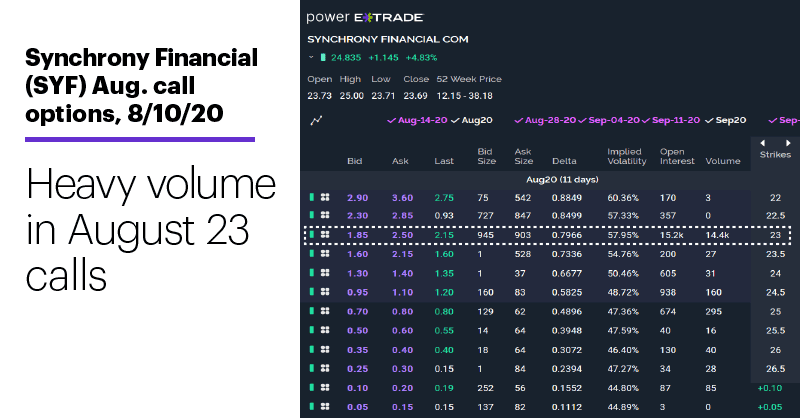 Source: Power E*TRADE
---
With open interest (OI) of more than 15,000 in those options, there's certainly the possibility that at least some of them represented traders betting on a near-term rally over the next nine days, since their value at this point mostly depends how far in the money they are.
Early yesterday afternoon, for example, the August $23 calls were trading around $2.13 when SYF shares were trading around $24.80—which means their "intrinsic value" of $1.81 (the stock price minus the option's strike price) accounted for around 85% of the option's premium.
Which is a long way of saying that traders playing the long side in SYF calls could be betting on more upside sooner rather than later—something that may also be reflected in the fact that the total open interest for all September SYF options was only around 420 contracts yesterday—around 1% of the OI in just the August $23 calls.
Options traders are sometimes referred to as "smart money," but they're no more or less informed than any other type of trader. But unusual options activity is always worth paying attention to, because it can occasionally tip you off to under-the-radar developments, including how certain players—sometimes big ones—may be positioning themselves.
Market Mover Update: After a 6.6% rally on Friday, FedEx (FDX) jumped nearly 9% yesterday, running its gain since breaking out of a trading range noted in "Trading outside the box" to more than 25%.
Today's numbers (all times ET): NFIB Small Business Optimism Index (6 a.m.), Producer Price Index, PPI (8:30 a.m.).
Today's earnings include: Sysco (SYY), Shockwave Medical (SWAV), K12 (LRN).
Click here to log on to your account or learn more about E*TRADE's trading platforms, or follow the Company on Twitter, @ETRADE, for useful trading and investing insights.  
---
What to read next...
08/06/20
Respiration technology stock gets wind knocked out of it, traders pause to catch breath and assess situation.
---
08/05/20
Mattress company's investors have probably rested comfortably lately, but the market may have set off an alarm.
---
08/04/20
Streaming content provider faces its first test since last month's earnings release.
---