A stimulating week
Small caps soar as stocks rebound for a second week
Stimulus back-and-forth looms over market
This week: Earnings season kicks off
In the final 30 minutes of last Tuesday's trading session, news that the White House was pulling the plug on further coronavirus-relief negotiations wiped out the stock market's gains for the day—and the previous day's, too. A promising rally off the late-September lows suddenly looked like it could be in jeopardy.
Three days later, though, the S&P 500 (SPX) was wrapping up its best week in more than three months and closing at its highest level since September 2—the day it hit its current all-time high: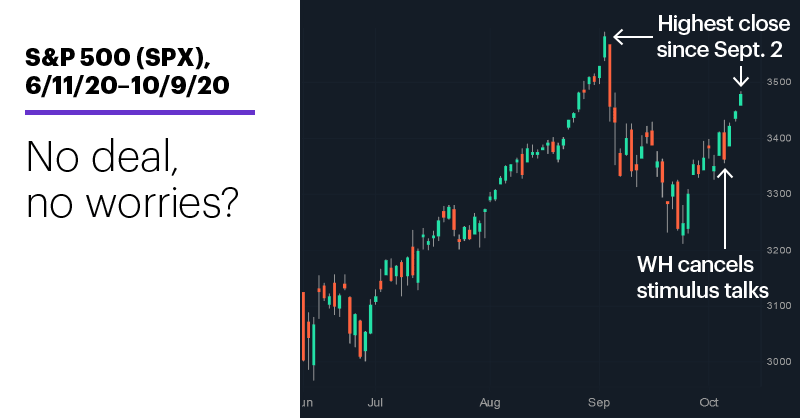 Source: Power E*TRADE
---
The headline: Stimulus saga fails to derail market.
The fine print: Stocks rebounded on Wednesday and Thursday as President Trump proposed a patchwork alternative to a formal relief bill (which included targeted support for the airline industry1), and got an extra bump on Friday after reports that the White House was returning to the bargaining table with a $1.8 trillion package—less than the $2.2 trillion congressional democrats had wanted, but higher than the administration's previous $1.6 trillion offer.2
The number: 840,000, last week's slightly-higher-than-expected weekly jobless claims number.
The quote: "[T]he risks of overdoing it seem, for now, to be smaller." Federal Reserve Chairman Jerome Powell, calling for continued, aggressive fiscal and monetary stimulus to support the US economic recovery.3
The scorecard: Despite trailing the field last week, the Dow sneaked back into positive territory for the year. The Russell 2000 (RUT) racked up its strongest week since June 5, and its 12th-biggest two-week gain (11%) of the past 20 years:

Source (data): Power E*TRADE
---
Sector roundup: The strongest S&P 500 sectors last week were materials (+5.1%), energy (+5%), and information technology (+4.6%). The weakest sectors were real estate (+1.4%), communication services (+2.2%), and consumer staples (+2.7%).
Highlight reel: On Monday Myokardia (MYOK) soared 58% to $220.34, while Eidos Therapeutics (EIDX)  jumped 42% to $73.51. On the downside. Palomar Holdings (PLMR) slid 19% to $88.02 on Wednesday, while Cytokinetics (CYTK) tumbled 42% to $16 on Thursday—just three days after jumping 19%.
Futures action: On Friday, December gold (GCZ0) posted its biggest one-day gain in nearly two months and broke out above last week's highs to end the week at $1,926.20/ounce. November WTI crude oil (CLX0) recouped most of the prior week's sell-off, closing Friday at $40.60/barrel. December US dollar index futures (DXZ0) slid to their lowest level since September 22, closing Friday just above 93.00.
Last week's biggest futures up moves: November natural gas (NGX0) +13.3%, November heating oil (HOX0) +9.7%, November WTI crude oil (CLX0) +9.4%. Last week's biggest futures down moves: November VIX (VXX0) -12.3%, November lumber (LBSX0) -7.6%, December cocoa (CCZ0) -2%.
Coming this week
The final earnings season of 2020 gets underway this week, with big banks kicking off the festivities:
●Tuesday: Citigroup (C), JPMorgan Chase (JPM), Fastenal (FAST), Goldman Sachs (GS), Johnson & Johnson (JNJ)
●Wednesday: Alcoa (AA), United Airlines (UAL), Bank of America (BAC), U.S. Bancorp (USB), Progressive (PGR), Wells Fargo (WFC), PNC Financial (PNC), UnitedHealth (UNH)
●Thursday: Atlassian (TEAM), Walgreens Boots Alliance (WBA), Dover (DOV), Honeywell International (HON)
●Friday: J.B. Hunt Transport (JBHT), VF (VFC), Kansas City Southern (KSU), NVR (NVR), Schlumberger (SLB)
In addition to the latest inflation data, this week's economic calendar closes out with a bang on Friday:
●Monday: Columbus Day (banks holiday, no Treasury trading)
●Tuesday: NFIB Business Optimism Index, Consumer Price Index (CPI)
●Wednesday: Producer Price Index (PPI), Beige Book
●Thursday: Import and Export prices, Empire State Manufacturing Index
●Friday: Retail Sales, Industrial Production, Capacity Utilization, Business Inventories, Michigan Consumer Sentiment (prelim.)
Go to the E*TRADE market calendar (login required) for an up-to-date earnings schedule and a complete list of splits, dividends, IPOs, and economic reports. The Active Trader Commentary also lists earnings announcements, IPOs and economic report times each morning.
Can small caps keep things going?
Thanks to back-to-back weeks of leading US stocks to the upside, last Friday the small-cap Russell 2000 (RUT) came within 2% of closing a week with a year-to-date gain for just the fourth time in 2020.
The RUT's underperformance isn't unique to 2020, though. Since the beginning of 2018, in fact, there have been only six other times the RUT has been the strongest major US equity index two weeks in a row (the last time was in May; before that, December 2019).
With the caveat that you can't read too much into a relative handful of examples, the fact remains that after two weeks at the top, the RUT has typically fallen into a bit of rut—at least temporarily—relative to the rest of the market.
For example, the week after these two-weeks runs the RUT gained ground five out of six times, (posting a median return of 0.8%), it was also the weakest or second-weakest US index that week—in other words, it fell to third or fourth place in the weekly index rankings. The week after that, things took decidedly more bearish turn: The RUT declined five out of six times and had a -2.7% median return.4
While the RUT could certainly break from the pattern it's established over the past couple of years, traders know "this time is different" are often dangerous words to live by.
Click here to log on to your account or learn more about E*TRADE's trading platforms, or follow the Company on Twitter, @ETRADE, for useful trading and investing insights.
---
1 The Washington Post. White House lurches in new direction on stimulus talks, pushing for airline aid. 10/7/20.
2 CNBC.com. Trump raises coronavirus stimulus offer to $1.8 trillion, source says. 10/9/20.
3 Financial Times. Powell says too little stimulus is worse than too much. 10/6/20.
4 Based on Russell 2000 (RUT) weekly closing prices, 12/29/17–10/9/20. Supporting document available upon request.
What to read next...
10/09/20
Is recent volatility data sending a signal about casino operator's stock?
---
10/08/20
Sports-centric gaming stock opens Q4 with a test of a potentially critical technical level.
---
10/07/20
Clouds form over insurance stock, but traders may be forecasting a change in the weather.
---