Stay tuned
Netflix stabilized after post-earnings pullback
Streaming giant crushed Emmy nominations
Relatively low volatility may make certain options attractive
To the casual observer, last week's Capitol Hill tech-antitrust showdown may have seemed like an effort to begin defanging the FAANG stocks, except that one of the letters was conspicuously missing.
That's probably as it should be. Netflix (NFLX) may sometimes be referred to as a "tech stock," but if it is, so is every TV network, cable outlet, and movie studio. Because NFLX is, in fact, an entertainment company, co-CEOs Reed Hastings and Ted Sarandos were presumably spared the ordeal of being questioned about whether "Tiger King" was part of an effort to monopolize reality TV.
Netflix has hardly been out of the spotlight, though. It dominated last week's Emmy nominations, racking up 160 while the nearest competition, perennial powerhouse HBO, got just 107. That news came out just a couple weeks after NFLX hit an all-time high of $575.37, then pulled back sharply after missing its earnings number and disappointing analysts with its projected subscriber growth: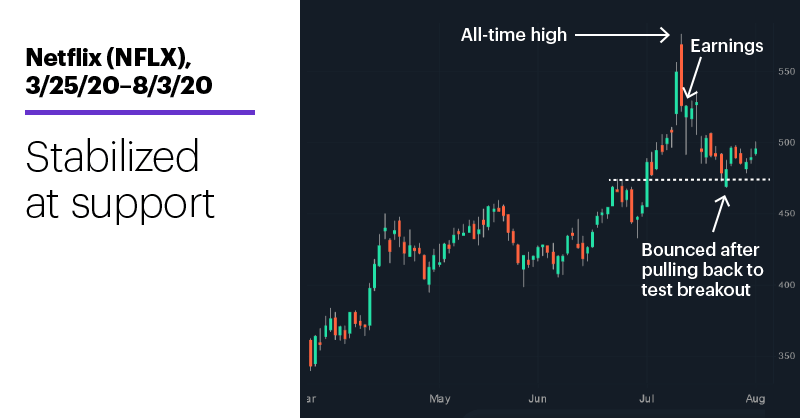 Source: Power E*TRADE
---
Here's the plot summary: The company noted that growth was slowing as people adjusted to "the initial shock of Covid and social restrictions."1
Plot twist: Were the numbers really that bad? They obviously disappointed the analysts, but it raises the question of whether those analysts had gotten ahead of themselves in terms of expecting NFLX to extend (indefinitely) the explosive growth it experienced during the height of the lockdown.
After all, you can't add 16 million subscribers every quarter—the record-setting increase NFLX reported with its previous earnings release, on April 21.2 Nonetheless, in Q2 the company did—just as it did in Q1—top subscriber projections; it simply offered a more sober (some would use the word "realistic") outlook of 2.5 million for Q3. Also, some people may have overlooked the fact that NFLX came up short on earnings in April, too.
Bullish traders may see opportunities in potentially cheaper-than-average options.
Many traders will notice that NFLX's current bounce (the stock started out this week by rallying more than 2% yesterday) came after the prices pulled back to test support at the late-June highs around $475—a level the stock broke through on July 1 en route to its record high.
Also, options traders may have spotted NFLX on yesterday's LiveAction scan for symbols with 30-day historical volatility (HV) below their 30-day implied volatility (IV). When IV (the options market's estimate of future volatility) is below HV (a stock's past price volatility), it can mean options premiums are relatively cheap, since high IV typically inflates options premiums and low IV can have the opposite effect.
Source: Power E*TRADE
---
The chart above also shows that yesterday NFLX's options IV was below average for the remaining monthly expirations this year.
Traders may interpret this volatility situation different ways: Some may see the low IV as a signal that NFLX is less likely to move as much in the next 30 days as it did in the past 30 days. Others—especially those who have seen the stock pull back after other earnings releases3 (a tendency not unique to NFLX)—may anticipate a challenge to its recent highs.
In which case, potentially cheaper-than-average options may come into play.
Market Mover Update: New records for tech and gold to start the week: The Nasdaq 100 (NDX) hit a new all-time high of 11,085.50, while August gold futures (GCQ0) touched $1,984.30/ounce before pulling back.  
Today's numbers (all times ET): Factory Orders (10 a.m.).
Today's earnings include: Activision Blizzard (ATVI), Verisk Analytics (VRSK), Allstate (ALL), Vulcan Materials (VMC), Green Dot (GDOT), Cardlytics (CDLX), Walt Disney (DIS), Match Group (MTCH), Henry Schein (HSIC), LGI Homes (LGIH), Microchip Technology (MCHP).
Click here to log on to your account or learn more about E*TRADE's trading platforms, or follow the Company on Twitter, @ETRADE, for useful trading and investing insights.  
---
1 CBSNews.com. Netflix adds 16 million global subscribers, showing it's essential in a pandemic. 4/21/20.
2 CNBC.com. Netflix shares fall after earnings miss, weak subscriber guidance for third quarter. 7/16/20.
3 StreetInsider.com. Netflix (NFLX) Earnings. 8/3/20.
What to read next...
08/03/20
Technology shares bounce back as traders digest GDP and eye this week's jobs report.
---