Bulls stocking up on staying home
KR one of 30 S&P 500 stocks with a positive Q1
Several "stay-at-home" stocks fought the red wave last month
Dynamics may shift as consumers adjust to new environment
One of the notable trading themes (or memes, depending on your viewpoint) to make the rounds in recent weeks is the attractiveness of so-called "stay-at-home" stocks—companies that make their money providing the things people need as they work, play, go to school, and "socialize" remotely.
Netflix (NFLX) and Amazon (AMZN) are two of the most commonly cited names of this bunch, along with stocks like video gamer Activision Blizzard (ATVI), chipmaker Nvidia (NVDA), which specializes in gaming and data-center tech, and Zoom Video Communications (ZM), the company responsible for the "Zoom happy hour" you may have participated in recently.
Although it may sound like a theme that's likely to lose momentum as the coronavirus loses its grip on the economy, the fact of the matter is that with exception of ZM, all of these stocks were among the 30 S&P 500 (SPX) components that managed to close out Q1 in the green. (ZM gained more than any of the others, but it began trading just last year, and isn't part of the SPX.)
And while you can argue the relative merits of this or that streaming platform, and whether some stay-at-home stocks have gotten a little frothy, there's no denying the one thing people can't stop doing in the Lockdown Era is buy food and other staples (ahem, toilet paper, anyone?).
That's probably why some grocery stocks have been among the market's best performers recently. Yesterday, for example, when the SPX was down more than 3% in early trading, Kroger (KR) was up more than 4%: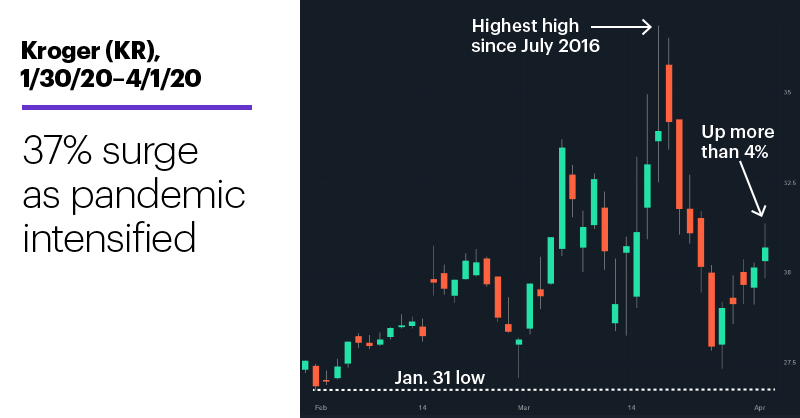 Source: Power E*TRADE
---
KR has rallied and pulled back three times in the past four weeks, but has yet to fall below its January 31 low; at its March 18 peak of $36.84—its highest high in nearly four years—the stock had rallied 37% above it. In contrast, over the same period the SPX tumbled 26%. (KR is also one of the SPX's Q1-positive names.)
The stock's Wednesday surge yesterday came amid news the company's sales had jumped 30% in March as shoppers stockpiled for the coronavirus lockdown. Kroger also reaffirmed its forward guidance for the year, and announced it had borrowed $1 billion to protect against coronavirus uncertainty.1
Given the stock's pattern over the past several weeks, some traders who see the potential for additional upside bursts in KR would likely look for entry opportunities when shares pull back closer to support near the January lows (i.e., at least below $28).
Risk-conscious options traders looking for the stock to make another run at its recent highs may use a vertical (bull) call spread—long one call option and short a higher-strike call with the same expiration. The trade's loss is limited to the cost of the spread, while the potential profit maxes out at the higher strike price. For example, the following chart shows the profit-loss profile for a bull spread consisting of a long June $28 call and a short June $38 call: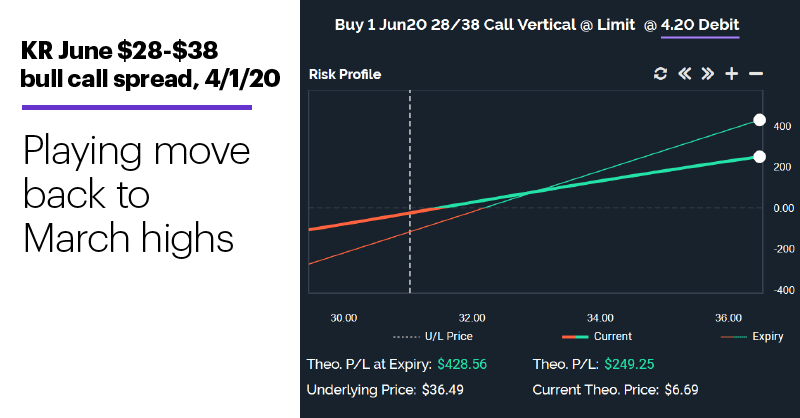 Source: Power E*TRADE
---
Warnings yesterday that the next two to three weeks could see a dramatic increase in coronavirus cases (and the government's extension of the stay-at-home advisory until April 30) suggest the factors that drove rallies in stocks like KR aren't going to disappear overnight. But that doesn't mean these names are a free—or endless—ride.
Kroger noted yesterday that sales spiked in the middle of last month and then tapered off toward the end of the month as "customers adjusted to the new dining, work and travel restrictions."2
Although there likely will be more unsettling pandemic news in the coming weeks, consumers (and investors) will continue to adapt.
More than ever, traders need to pick their spots and practice disciplined money management. The market punishes those who don't
From the econ front lines: To no one's surprise, the ISM Manufacturing Index for March was below the 50 threshold separating manufacturing expansion from contraction, but at 49.1 the reading was well above the consensus estimate of 44. Construction Spending for February was a different story, though, coming in it at -1.6% vs. a forecast of +0.6%.
Today's numbers (all times ET): Motor Vehicle Sales, International Trade (8:30 a.m.), Jobless Claims (8:30 a.m.), Factory Orders (10 a.m.), EIA Natural Gas Report (10:30 a.m.).
Today's earnings include: Walgreens Boots Alliance (WBA), Acuity Brands (AYI), Carmax (KMX), Chewy (CHWY).
Click here to log on to your account or learn more about E*TRADE's trading platforms, or follow the Company on Twitter, @ETRADE, for useful trading and investing insights.  
---
1 Reuters. Kroger posts 30% jump in March comparable sales, borrows $1 billion. 4/1/20.
2 TheStreet.com. Kroger Holds 2020 Earnings Guidance, Cautions on Volatile Sales Amid Coronavirus Uncertainty. 4/1/20.
What to read next...
03/31/20
After a sell-off and a huge rebound, is the recent consolidation in this bio pharma IPO the calm before its next volatility storm?
---
03/30/20
Stocks stage historic rebound as stimulus efforts kick into high gear. But don't bet on the rollercoaster ride being over just yet.
---
03/27/20
The volatility continues, although lately it's been the kind most traders like. Find out how the market's dynamics may be shifting.
---