Price patterns and volatility signals
S&P 500 dropped for 3rd-straight day, down more than 3%
Index hit lowest level since March 2021
Similar moves clustered in other periods of market stress
Monday's stock-market swoon probably wasn't the way most investors wanted to kick off the week, but it may have contained the seeds of a silver lining for decline-weary bulls.
Before detailing the somewhat rare three-day pattern the S&P 500 (SPX) formed as of yesterday, take a look at the following monthly chart: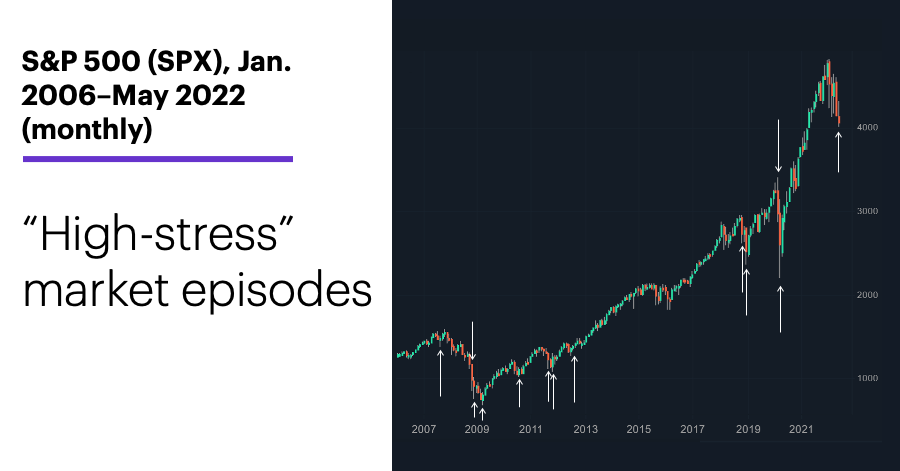 Source: Power E*TRADE. (For illustrative purposes. Not a recommendation.)
---
The arrows mark months that contained one or more (usually more) instances of this three-day pattern. As a group, these arrows more or less represent a Volatility's Greatest Hits of the past decade and a half, including: the 2008–2009 financial crisis, the 2011 European debt crisis and US debt downgrade, the Brexit and China-slowdown sell-off of late 2018, and the February–March 2020 COVID correction.
One implication of this chart is that the pattern tends to occur in periods of exceptional market stress—not that many traders and investors would have argued the current environment didn't already fit that description before Monday. And as the chart shows, some of these months—but by no means all—represented significant market lows.
The daily chart below details this surprisingly simple pattern, which consists of three-straight down days, the last of which traded at least 2.5% below the previous day's close and fell to the lowest low of at least the past 90 trading days (roughly three months):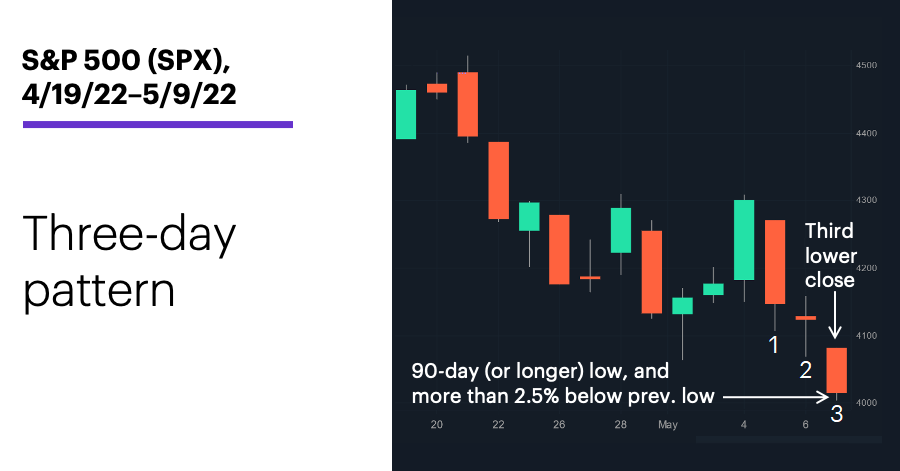 Source: Power E*TRADE. (For illustrative purposes. Not a recommendation.)
---
This isn't the only way the SPX's past three days could be described (yesterday was actually the index's lowest low in more than a year, and it fell more than 3% intraday), but it captures the broad strokes: a three-day losing streak that concludes with a larger-than-average down day that also sets a notable new low. The fact that the SPX had experienced only 68 similar episodes dating back to 1960—less than one per year, on average—gives an idea of how unusual this type of price action is.1
And while it may seem like a very faint silver lining in the moment, the monthly chart shows the high-volatility downturns this pattern typically occurs in have sometimes marked important market lows.
That is not to say Monday is likely to be one of those lows. The chart below of the February–March 2020 sell-off highlights why. The three-day pattern formed three times during this time window, and while some eyes may be drawn to the final one that coincided with the March 23 market low, they shouldn't overlook the significant downturns that followed the first two (February 28 and March 12):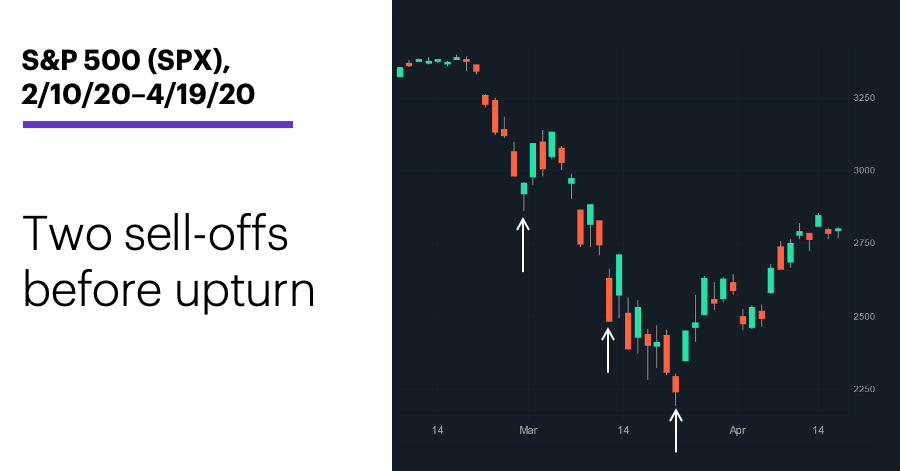 Source: Power E*TRADE. (For illustrative purposes. Not a recommendation.)
---
But the chart highlights one other detail: the SPX bounced after the first two signals (if only for one day after the March 12 pattern) before turning lower again. In fact, five trading days after the pattern, the index was higher 69% of the time, and after 20 trading days it was up 71% of the time with an average gain of 4.2%.
Market Mover Update: One under-the-radar stock that sidestepped yesterday's red tide was MSC Industrial (MSM). But this was just the fourth up day for the stock since April 21's tentative upside breakout. A trader who sold MSM June $90 calls on April 21 for $1.75 would have seen them drop to $0.45 by yesterday (see "Spreads, step-by-step").
Today's numbers include (all times ET): NFIB Small Business Optimism Index (6 a.m.).
Today's earnings include: Warner Music (WMG), Peloton (PTON), Hyatt Hotels (H), Trade Desk (TTD), Coinbase (COIN), Roblox (RBLX), Electronic Arts (EA), Li Auto (LI).
Click here to log on to your account or learn more about E*TRADE's trading platforms, or follow the Company on Twitter, @ETRADE, for useful trading and investing insights.
---
1 All figures reflect S&P 500 (SPX) daily prices, 12/31/59–5/9/22. The months highlighted on the first chart are: 1/17/2008, January 2008, October 2008, November 2008, March 2009, June 2010, August 2011, October 2011, June 2012, August 2015, October 2018, December 2018, February 2020, and March 2020, May 2022. Supporting document available upon request.
What to read next...
05/09/22
Losing streak stretches to five weeks as market digests Fed, jobs data.
---
05/06/22
Formerly high-flying cybersecurity stock's volatility at one-year high as sell-off nears key levels.
---
05/05/22
Consumer defensive stock's put volume jumps with a week to go until earnings.
---