Stocks test breakout
Current downturn is market's biggest pullback in more than month
S&P 500 touched important price level on Monday
Some models of recent price action implied possible downside
Monday's market action wasn't notable just because it represented the S&P 500's (SPX) biggest two-day drop in more than two months. It was where the index landed that may be more significant to many traders, since it represent the first meaningful test of the up move that began in earnest in mid-July—the move at the center of the "Is it a Bear Market Rally or Something More?" debate.
It's also a good lesson in the challenges of analyzing markets in real time.
Let's take a top-down look at things. In noting the recent rebound has been well within the range of historical bear-market rallies (in terms of both size and duration), Morgan Stanley Wealth Management made a case for taking a cautious view about the move's longer-term viability. In addition to pointing out the bond and currency markets aren't matching the stock market's bullish enthusiasm, they argue the inflation battle isn't over yet, hoped-for 2023 rate cuts are looking less likely, and 2023 earnings forecasts are still too rosy given the possibility of a policy-driven economic slowdown.1 Until the past few days, though, investors appeared to be discounting such considerations.
That's one look at the macro picture. Some traders may be looking at the recent price action as a more pragmatic test of whether the market is, in the short term, "serious" about its uptrend. Earlier this month, the S&P 500 (SPX) broke out above the resistance formed by the upper boundaries of two short-term consolidations, rallying 4.4% in five days before turning lower: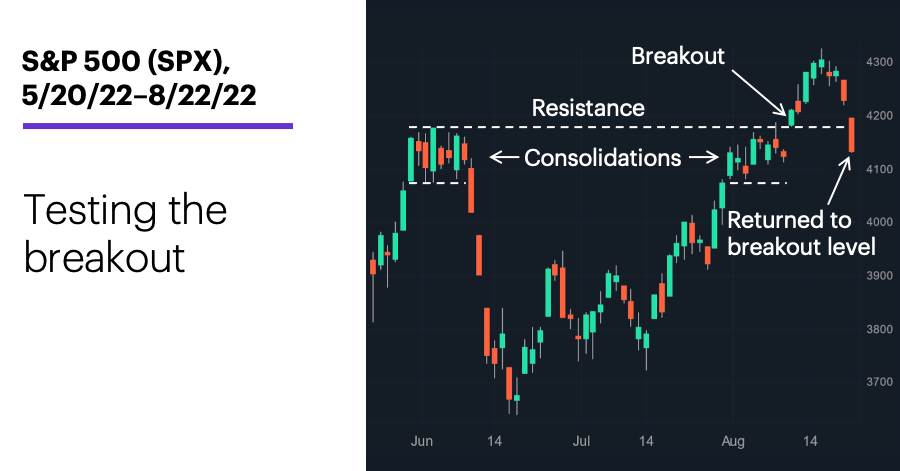 Source: Power E*TRADE. (For illustrative purposes. Not a recommendation.)
---
A test of a former breakout level is a common enough occurrence in the markets. The underlying idea is that, if a move has "legs," the former resistance (breakout) level should transform into support. In other words, if traders thought it was a good idea to buy the market on the initial breakout, they should buy it again when prices return to that level. If they don't, it may mean bullish enthusiasm isn't as strong as it appeared to be.
Meanwhile, another group of traders may be analyzing similar past pullbacks to see if they offer any insights into the market's current dynamics. For example, the SPX closed down more than 1% on both Friday and Monday. A trader who analyzed what the SPX did after other consecutive 1%-or-larger losses would find the index was higher five days later 57% of the time, with a median gain of 0.6%.2 The question—always difficult to answer—is whether a certain price pattern accurately captures the gist of what the market is doing at a given time.
For example, one could point out the current pullback consists of more than just back-to-back big daily losses. It sent the market to its lowest level in more than a week and followed a 14-week high on August 16. So, if we expand the pullback definition to consecutive 1%-or-larger losses that dropped the index to a five-day (or longer) low four days after hitting a five-day (or longer) high, we find the following: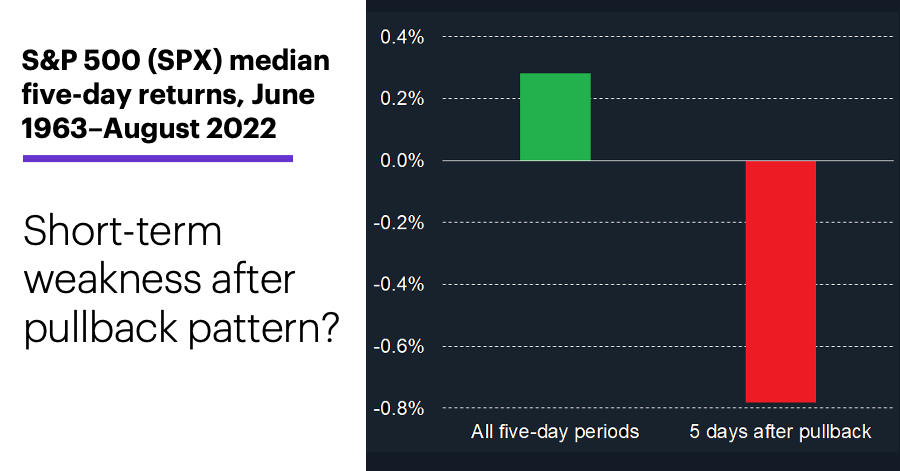 Source (data): Power E*TRADE. (For illustrative purposes. Not a recommendation.)
---
While the SPX's median five-day return over the past 61 years is around 0.3%, its median five-day return after the pullback pattern was -0.8%. In the short term, at least, the market tended to follow through to the downside more than pivot immediately to the upside.
Of course, that doesn't mean this definition of the recent pullback is the "correct" one. But it does underscore the reality that when a market tests a price level, a passing grade isn't always a given.
Market Mover Update: Monday's sell-off also brought to life some of the issues discussed in S&P range highlights "strangle hurdle". While the September 4,080–4,185 long strangle was profitable for several days after the SPX broke out to the upside on August 10, when the market was at its intraday lows yesterday, the spread had lost roughly 17% of its value since August 9—even though the SPX was still above its August 9 close. Monday also jolted the Cboe Volatility Index (VIX) to its biggest one-day jump since June 13.
Today's numbers include (all times ET): New Home Sales (10 a.m.).
Today's earnings include: Toll Brothers (TOL), J.M. Smucker (SJM), Dick's Sporting Goods (DKS), Urban Outfitters (URBN), Macy's (M), Nordstrom (JWN), Intuit (INTU), Medtronic (MDT).
Click here to log on to your account or learn more about E*TRADE's trading platforms, or follow the Company on Twitter, @ETRADE, for useful trading and investing insights.
---
1 Morgan Stanley. Beware Bear Market Rallies. 8/22/22.
2 Reflects S&P 500 (SPX) daily price data, June 6/10/63–8/22/22. Prior to Monday, the pullback pattern represented in Chart 2 occurred 33 times since June 1962. Supporting document available upon request.
What to read next...
08/22/22
Stock market's streak of positive weeks halted at four.
---
08/18/22
Options traders placed some big orders in a retail stock set to release earnings next week.
---
08/16/22
Is this surging tech stock's volatility attracting buyers or sellers?
---