S&P range highlights "strangle hurdle"
The S&P 500 has paused in recent days after double-digit percentage rally
Consolidation occurring near level of its spring range
Breakout traders considering using non-directional options spreads?
Traders with a vague sense of déjà vu in recent days probably haven't looked at a chart of the S&P 500 (SPX), which shows the index doing almost exactly what it did in late May and early June—consolidating around 4,120: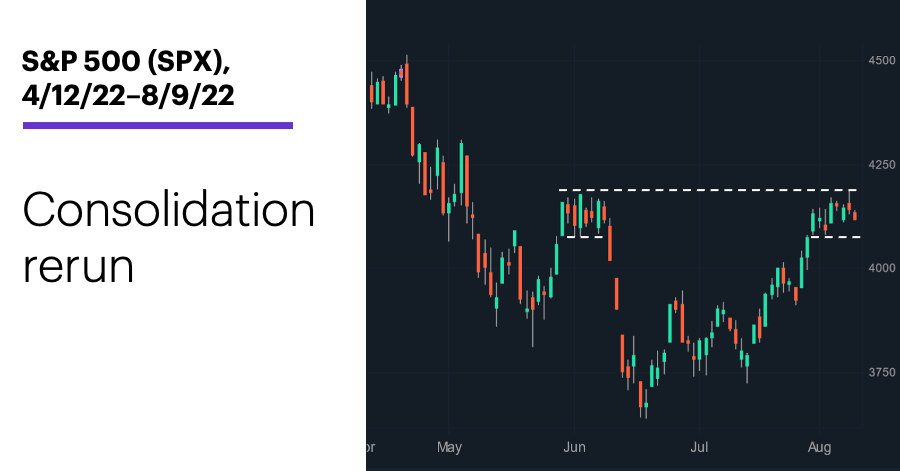 Source: Power E*TRADE. (For illustrative purposes. Not a recommendation.)
---
The spring pause ended with a downside breakout that took the market to its bear-market lows in a little more than a week. Regardless of how the current episode plays out, consolidations like this often attract breakout traders anticipating a volatility surge to follow a pause.
That, of course, prompts some options traders to consider using "non-directional" spreads to take advantage of a move in either direction—for example, a long strangle, which consists of a long out-of-the-money (OTM) call option and a long OTM put option. The following chart shows the risk-reward profile for a long strangle with strike prices the same amount above and below the current stock price: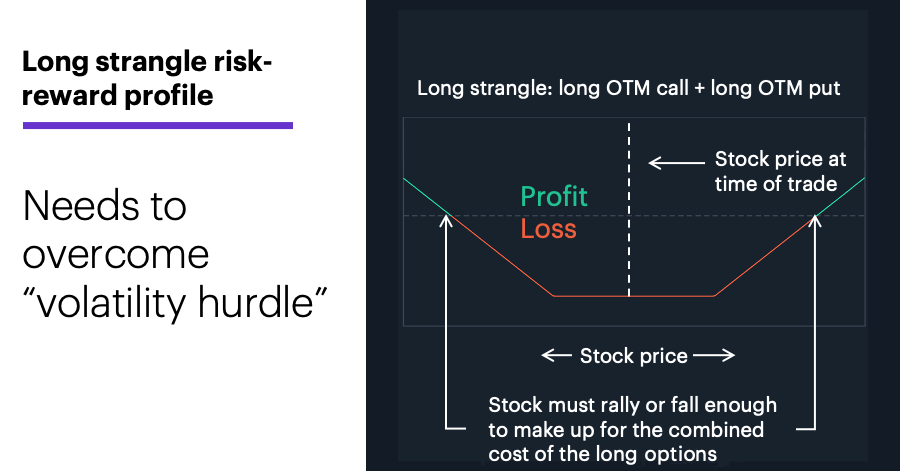 Source: Power E*TRADE. (For illustrative purposes. Not a recommendation.)
---
Some traders may choose to buy a call with a strike price near the upper boundary of the trading range and a put with a strike near the lower boundary, based on the logic that a breakout of these specific levels could lead to a significant momentum increase.
So much for the basic theory and goals. In practice, long strangles face two key hurdles on the path to potential profitability. First, while the position can make money if the market moves higher or lower, the catch is that prices have to move enough to make up for the combined cost of two long options. And depending on the strike prices, the volatility level at the time of the trade (higher volatility generally means more expensive options), and the amount of time until expiration, that hurdle can be surprisingly high.
Midday on Tuesday, for example, a strangle consisting of a SPX September 4,185 call and a September 4,080 put (strike prices reflecting the approximate boundaries of the recent range) was trading for around 162.80 ($16,280). That means, at expiration,  the SPX would need to be at least 162.80 points above or below its level at the time of the trade (around 4,120) for the position to generate any profit.
Time decay compounds the challenge, since options lose at least some of their value each day, and that loss accelerates as expiration approaches. Even if a high-momentum breakout move occurs, it has to happen before the options expire. A minor breakout could result in both options losing most or all of their value. Bottom line, volatility must increase, and it must do so within the lifetime of the selected options.
These challenges aren't necessarily insurmountable, depending on the situation, but they're a reminder that non-directional spreads like strangles don't remove the burden of analysis and forecasting, they simply replace forecasting price direction with forecasting volatility. Sometimes that may be an advantage, other times not.
Note: "Legging into a strangle" discusses the pros and cons of taking a staggered approach to executing a strangle trade.
Market Mover Update: Gold has gotten a great deal of attention for its roughly 6% gain over the past three weeks, but it's actually lagged the metals field, having been outgained by silver, copper, platinum, and palladium. In fact, September palladium futures (PAU2) are up around 22% since July 20—almost four times as much as December gold (GCZ2).
Today's numbers include (all times ET): Mortgage Applications (7 a.m.), Consumer Price Index, CPI (8:30 a.m.), Atlanta Fed Business Inflation Expectations (10 a.m.), Preliminary Wholesale Inventories (10 a.m.), EIA Petroleum Status Report (10:30 a.m.).
Today's earnings include: Disney (DIS), Ballard Power Systems (BLDP), Krispy Kreme (DNUT), Bumble (BMBL), AppLovin (APP), Honda (HMC).
Click here to log on to your account or learn more about E*TRADE's trading platforms, or follow the Company on Twitter, @ETRADE, for useful trading and investing insights.
---
What to read next...
08/09/22
Do traders think the recent moves in clean energy stocks are sustainable?
---
08/08/22
Will labor market strength trigger a shift in trader sentiment?
---
08/05/22
A post-earnings rally to record highs may attract traders—for more than one reason.
---