Spreading your options
LOGI up more than 140% off March lows, trading near record highs
Options IV relatively high despite recent stock consolidation
Bull spread a potentially lower-cost breakout play
These days, a tech stock that has more than doubled since March isn't that exceptional. What actually may be rarer is one that pauses long enough for chase-weary traders to catch up with it. When that happens, they need to have a plan in place.
Consider the recent action in Logitech (LOGI), a computer-tech company that makes the nuts-and-bolts things most of us use in our everyday interactions with the digital world—keyboards and mice (wired and wireless), device remotes, webcams, and various gaming peripherals (headsets, steering wheels, flight sticks, etc.).
Needless to say, it's been a nice product portfolio for the stay-at-home era, which may explain some of the stock's price action in recent months. LOGI, which in January was trading just below its 2018 all-time high around $50, fell as low as $31.37 in March before taking off on a virtually unbroken rally that has pushed shares to multiple new records since May, most recently yesterday's new milestone high above $76: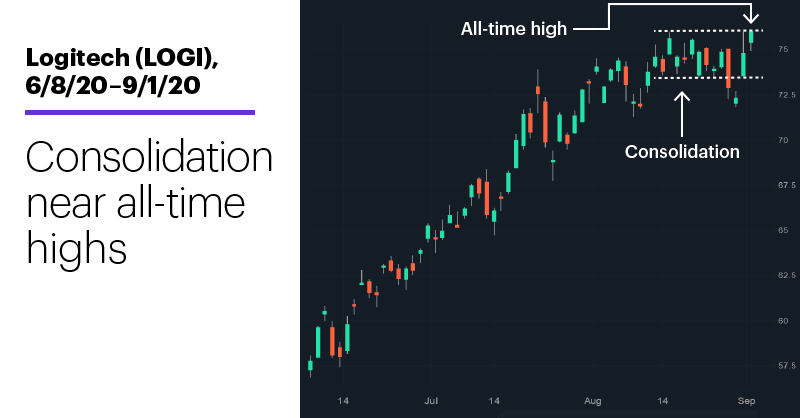 Source: Power E*TRADE
---
But the chart also shows that after running its rally to more than 140% by mid-August, LOGI shares lost a bit of their momentum. For the past two weeks, the stock has traded in a fairly narrow range between $73 and $76, with the exception of a two-day dip below the lower boundary last week.
That recent stagnation doesn't seem to have discouraged options traders from buying calls, though. The following LiveAction scan shows LOGI call volume was around 32 times its put volume yesterday morning:
Source: Power E*TRADE
---
In this case, there wasn't any evidence of traders getting into or cashing out of any huge, individual positions—just generally heavy volume and open interest (OI) concentrated in the September $75 (at-the-money) and $80 strikes (around $1,000 contracts total between them, and total OI of 3,500). Also, the in-the-money $60, $65, and $70 strikes all had OI of at least 2,000 contracts.
In addition to the call activity, implied volatility (IV) for September options was running around 52%—19 percentage points above its 30-day average of 33%, while IV for October options was 10 percentage points higher than average—a possible signal the options market was anticipating renewed price volatility in coming weeks.
Traders who assembled those puzzle pieces and saw an opportunity to position themselves for a potential upside breakout could, of course, buy stock or calls, but some may have seen an advantage in using a long-short options spread instead.
Yesterday morning, for example, the October $75 call was trading around 3.70. Instead of simply buying the call outright, a trader could have paired it with a short October $85 call trading at 0.75 to create a "bull spread" that would have cost only 2.95 ($295), and would have provided long-side exposure for any stock rally up to $85 by expiration. With a maximum potential profit of $705 per spread (before commissions), the strategy offered a reward-to-risk ratio of roughly 2.4-to-1:
Source: Power E*TRADE
---
The spread's potential profit would be capped even if the stock kept rallying, of course, but that's balanced by the position's limited risk (the cost of the spread)—a compromise many traders would likely find acceptable when attempting to take shorter-term profits out of a market that's still near its all-time highs after a hot rally.
Market Mover Update: Recent IPO Rocket Companies (RKT) rallied more than 10% intraday yesterday in advance of today's earnings release.
Today's numbers (all times ET): Motor Vehicle Sales, MBA Mortgage Applications (7 a.m.), ADP Employment Report (8:15 a.m.), Factory Orders (10:00 a.m.), EIA Petroleum Status Report (10:30 a.m.), Beige Book (2 p.m.).
Today's earnings include: Five Below (FIVE), Cloudera (CLDR), Navistar (NAV), Rocket Companies (RKT), Copart (CPRT), CrowdStrike (CRWD), Guidewire Software (GWRE), Macy's (M), PagerDuty (PD), Verint Systems (VRNT).
Click here to log on to your account or learn more about E*TRADE's trading platforms, or follow the Company on Twitter, @ETRADE, for useful trading and investing insights.  
---
What to read next...
09/01/20
A couple of recent IPOs may have moved out of the headlines, but their price action could be attracting more eyes—and clicks—than ever.
---
08/31/20
Market rumbles into key stretch on the calendar as Fed steps up—again.
---
08/28/20
Global auction player throttled up in recent months. Does recent pullback signal sentiment shift?
---