Spreading options, spreading risk
FB has rallied more than 5% since hitting a five-month low last week
Stock still in its biggest pullback since March 2020
Options volatility relatively low with earnings due next week
Social media stocks will be in the spotlight next week, with Facebook (FB), Twitter (TWTR), and Pinterest (PINS) all scheduled to release earnings.
Facebook may be the most interesting of the trio to traders, not just because it's the biggest company, but because of its recent price action—which also happens to highlight the way some traders think about using options.
Although FB has staged a healthy bounce over the past several days, it still has a ways to go before it erases the correction from its September high that reached -17% last week: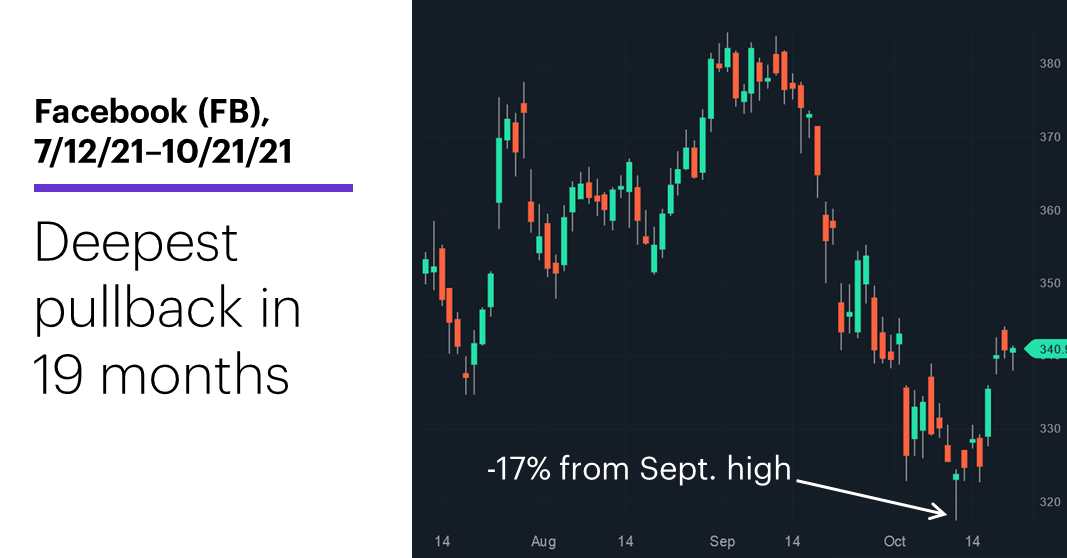 Source: Power E*TRADE (For illustrative purposes. Not a recommendation.)
---
The move, which was the social media giant's biggest pullback since March 2020, dropped shares to a five-month low—a discount that appears to have attracted some buyers in recent days, but still leaves the stock more than 10% below its September high with a couple of trading sessions to go before earnings.
The following chart shows FB's earnings-day moves for its past 15 earnings releases—what the options market expected the stock to do (purple columns) and what it actually did (green and red columns, representing the up or down move that actually occurred):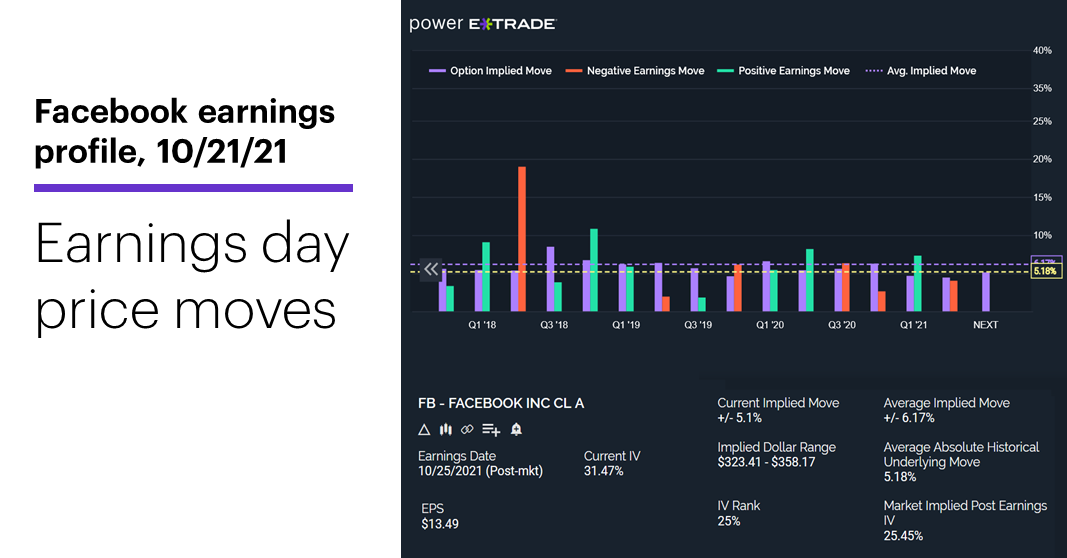 Source: Power E*TRADE (For illustrative purposes. Not a recommendation.)
---
These results are fairly representative of what FB has done on all 37 of its earnings days. The stock rallied nine times and fell six times, with an average move—up or down—of 5.18% (yellow dashed line).
It's always important to keep "up or down" in mind, because although earnings releases are fairly reliable volatility catalysts, you never know what direction that volatility will take. And no matter how big a move is, one day is just one day. That's why conservative options traders with focused time horizons sometimes consider "vertical" options spreads.
For example, the bull call spread, which combines a long call and a short higher-strike call with the same expiration date, has the potential to profit if the underlying stock rallies, but limits downside risk to the debit required to put on the position (the cost of long call minus the premium collected from selling short call).
Unlike long-term investors, traders operating on a limited time frame sometimes find such spreads offer favorable risk–reward characteristics—not least of all because they're cheaper than outright options positions. Yesterday, for example, when FB was around $340, a trader looking for long-side exposure could have bought an at-the-money December call option for around 14.75 ($1,475). A trader who also sold a December $370 call for 6.22 ($622)—creating a bull call spread—would have reduced the cost of that long exposure by 42%. As always, the trade-off is that the position stops accruing profits if the underlying rallies above the short call's strike price.
But trading is always a matter of balancing risks against rewards—which is never more important than when volatility is potentially on the horizon.
Market Mover Update: Another area of the social media space—online dating—was getting a lot of trader attention yesterday, with Match (MTCH) and Bumble (BMBL) jumping 10.3% and 7.5%, respectively.
Thursday was a volatile day for the still-bubbling oil market. December crude oil futures (CLZ1) hit another contract high ($83.96/barrel) on Thursday but reversed to close down on the day. The contract has either closed up or made a higher high every day but one since September 20.
Yield watch: The 10-year T-note yield pushed higher for a fifth-straight day, tagging 1.68%.
Today's numbers include (all times ET): PMI Composite Flash (9:45 a.m.).
Today's earnings include: American Express (AXP), Cleveland-Cliffs (CLF), Honeywell (HON), Schlumberger (SLB).
Today's IPOs include: Marpai (MRAI), Aris Water Solutions (ARIS), Minerva Surgical (UTRS), Xilio Therapeutics (XLO).
Click here to log on to your account or learn more about E*TRADE's trading platforms, or follow the Company on Twitter, @ETRADE, for useful trading and investing insights
---
What to read next...
10/21/21
Vax stock's sell-off highlights the advantages of letting the dust settle before potentially rushing into a trade.
---
10/20/21
Options traders focus on calls as industry leader gets ready to release Q3 earnings.
---
10/19/21
Did Friday's intraday reversal in the Russell 2000 signal the potential for short-term small-cap weakness?
---