Split decisions
TTD up 30% since May 10 after 50% correction
Shares up more than 9% after last week's stock split
Huge position in OTM July put options
Popular wisdom regarding stock splits is that these events can be bullish catalysts, since a lower stock price makes shares more affordable to a wider range of investors.
Rather than attempt to dissect the (at-best) mixed data surrounding splits, let's flash back 10 months or so, when two of the market's highest-profile stocks—Apple (AAPL) and Tesla (TSLA)—split their shares effective August 31, 2020.
Although both stocks notched sizable gains the first day they traded at their split-adjusted prices (and AAPL tacked on a second day of gains), the bullish momentum evaporated quickly: TSLA tumbled 34% over the next five days, while AAPL slid for the better part of three weeks, falling nearly 18% before turning higher. The flipside: AAPL rallied 30% and TSLA soared 55% in the month before the splits took effect, resulting in an apparent case of "Buy the split announcement, sell the split."
Of course, those are just two examples, but they are reminders that reflexively following "popular wisdom" can sometimes lead to less-that-optimal trade outcomes.
That brings us to a stock that split more recently—digital advertising marketplace The Trade Desk (TTD) which has so far (after three days) avoided a similar fate, having rallied 9.3% since its 10-for-1 split took effect on June 17: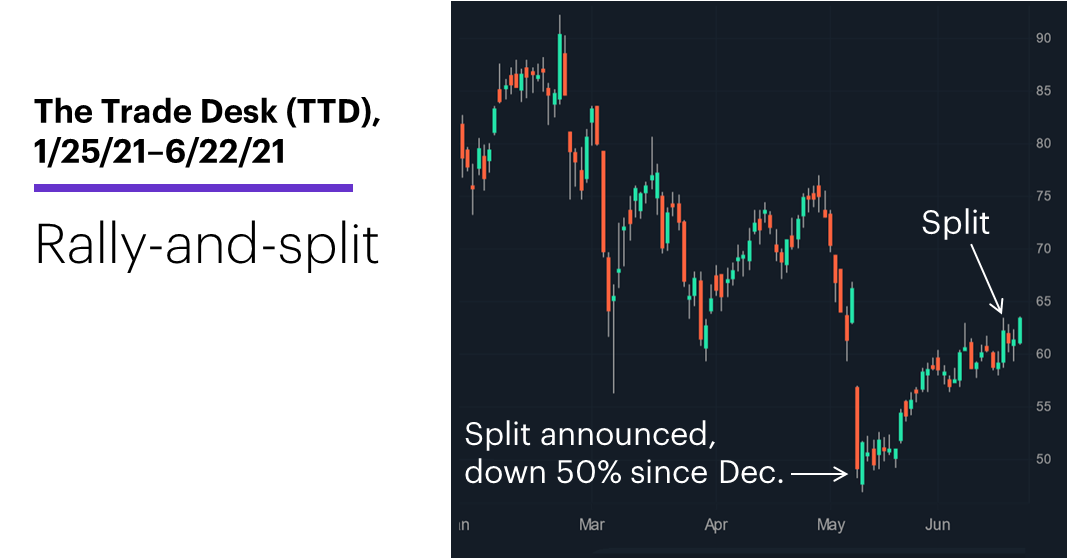 Source: Power E*TRADE
---
One obvious distinction between the TTD's split and those of Tesla and Apple: While the latter stocks were firmly entrenched in last year's mega-rally when they split, TTD's split occurred when the stock, although in a short-term rally, was not far removed from a 50% correction from its December record high. One obvious similarity: TTD rallied 21% from May 10—the day the split was announced, which was the same day its correction hit 50%—to the day before the split took effect (June 16).
Meanwhile, some options traders may have noticed TTD's open interest running high this week (around 10 times average yesterday), with a huge number of positions in the July $58 puts, which were roughly $6 below the market yesterday:
Source: Power E*TRADE
---
Regardless of whether it's a single trade or an amalgamation of dozens of them, 31,500 options—representing a nearly $183 million position in TTD—will make many traders take notice, even if they can't necessarily be sure of the intent behind the trades.
Note: Chipmaker Nvidia (NVDA) has rallied roughly 25% since announcing a 4-for-1 stock split that is scheduled to take effect as of July 19.1
Today's numbers include: MBA Mortgage Applications (7 a.m.), Current Account (8:30 a.m.), PMI Composite Flash (9:45 a.m.), New Home Sales (10 a.m.), EIA Petroleum Status Report (10:30 a.m.).
Today's earnings include: Concentrix (CNXC), HB Fuller (FUL), KB Home (KBH), Winnebago (WGO), IHS Markit (INFO), Patterson (PDCO).
Today's IPOs include: Sprinklr (CXM), First Advantage (FA).
Click here to log on to your account or learn more about E*TRADE's trading platforms, or follow the Company on Twitter, @ETRADE, for useful trading and investing insights.
---
1 Forbes. Stock Splits: This Is Why This Corporate Action Is Often Misunderstood By Investors. 5/26/21.
What to read next...
06/14/21
S&P 500 sets new records as tocks brush off the latest reminder of rising consumer prices.
---
06/11/21
Key economic data on the horizon may help clarify the near-term outlook for lumber—and the companies that revolve around it.
---
06/10/21
Food stock's sell-off shows the potential for concrete data to cut through the market "noise."
---