Spikes and bumps
DDS soared 27% on Monday, pulled back 12% intraday Tuesday
Rally followed news of Berkshire investment
Resulting price pattern has sometimes signaled additional selling
One thing that can brighten an investor's day is to find out that Warren Buffett likes a stock you own.
When Berkshire Hathaway jumps in the pool, it tends to make a splash, not just because of the size of its positions, but because of the publicity that follows. The resulting "Buffett Bump" has goosed many an investor portfolio, at least temporarily, as would-be Warrens try to pile on for the ride.
That's what happened recently with Dillard's (DDS)—sort of.
Amid news that a Berkshire investment manager scooped up 1.1 million shares of the department store chain (a 6% stake),1 shares skyrocketed as much as 46% intraday on Monday before settling for a 27% closing gain—and that was after the stock had already rallied 44% in the previous 10 days: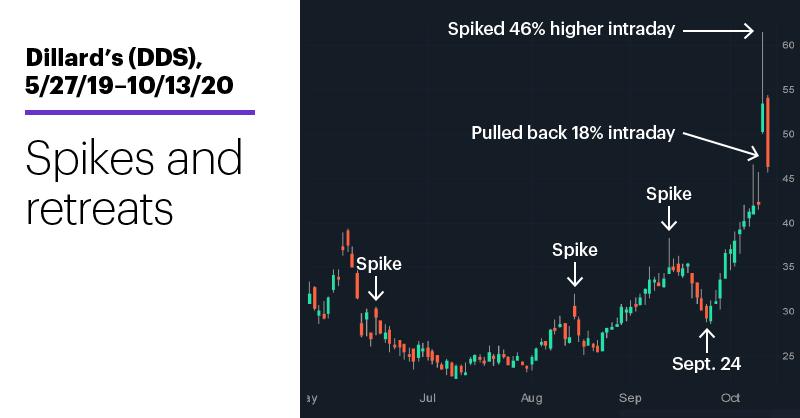 Source: Power E*TRADE
---
Yesterday was a different story, though. Shares retreated nearly 18% intraday—filling the Friday–Monday up gap--before trimming the loss to around 13% by the close. The result was a "spike" high on the price chart—a day with a high far above the days before and after it—which plenty of chartists view as a potential top pattern (usually with the caveat that it is preceded by a significant price rally).
The longer-term hope of investors who buy on news like Monday's is that the sponsorship of a large player like Berkshire (who "may know something we don't know") is a bullish signal for a stock. No comment. Suffice to say, you could probably find examples that could support or disprove this theory.
The shorter-term picture is something else. As Tuesday's price action makes clear, the story didn't end on Monday. One possible question for traders is whether yesterday's correction was simply a temporary balancing of some of Monday's extreme bullishness, or a possible signal that investors were actually having second thoughts about the whole thing.
One way to get some perspective is to look at what the stock has done after similar price moves. Over the past 20 years, for example, DDS has made 28 notable spike highs—days where the high was at least 5% above the high of the day before it and the day after it. Three of the most recent (marked on the chart above) highlight some of the characteristics of what's often happened next:
1. More often than not, DDS traded lower at least one more day after completing the spike pattern.
2. Five days later the stock was lower in 19 of the 28 instances (68% of the time), and had declined, on average, 4.5%.2
Although Monday's rally pushed shares to their highest level since February, Dillard's has been trending lower since 2015, when it peaked around $144. As the weekly chart below shows, other sharp rallies over the past few years have not necessarily led to lengthy uptrends: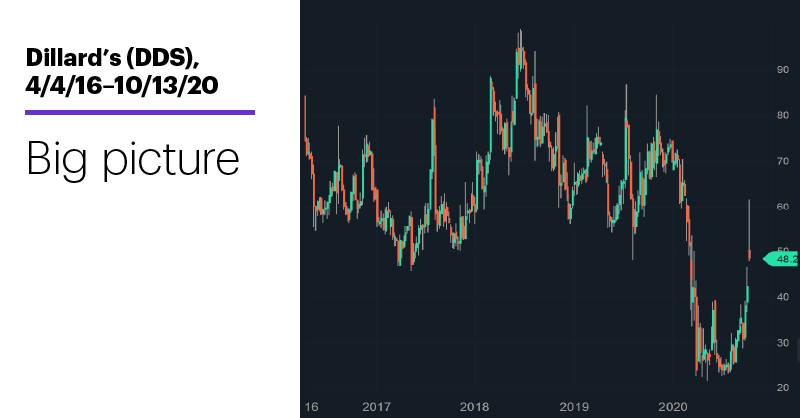 Source: U.S. Census Bureau
---
Even at its low yesterday, the stock was still 26% above its average Street analyst target of $33.50.3 Regardless of the longer-term outlook, traders may be more interested in gauging whether historical patterns of near-term downside follow-through will play out again.
Market Mover Update: Despite a mostly promising start to earnings season—JPMorgan Chase (JPM), Johnson & Johnson (JNJ), and BlackRock (BLK) all topped their numbers—the S&P 500 (SPX) nonetheless closed down the day after the Cboe Volatility Index (VIX) signaled increased market fear (see "VIX for traders").
Today's numbers (all times ET): Producer Price Index, PPI (8:30 a.m.).
Today's earnings include: Alcoa (AA), United Airlines (UAL), Goldman Sachs (GS), Bank of America (BAC), U.S. Bancorp (USB), Progressive (PGR), Wells Fargo (WFC), PNC Financial (PNC), UnitedHealth (UNH).
Click here to log on to your account or learn more about E*TRADE's trading platforms, or follow the Company on Twitter, @ETRADE, for useful trading and investing insights.  
---
1 Barron's. Dillard's Stock Is Up Nearly 40% Today. Here's Why. 10/12/20.
2 Based on Dillard's (DDS) daily prices from 6/30/89–10/13/20. "Spike-high" pattern (28 examples) defined as: a day with a high 5% or more above the highs of the days immediately before and after it. Supporting document available upon request.
3 TipRanks. Dillard's Stock Forecast & Price Targets. 10/13/20.
What to read next...
10/13/20
The market's so-called "fear gauge" can provide useful insights into market dynamics, but you first need to understand what it really represents.
---
10/12/20
Market hits five-week high as traders appear to stay positive about coronavirus-relief saga.
---
10/09/20
Is recent volatility data sending a signal about casino operator's stock?
---