Clouds part for solar stocks on Earth Day
Solar energy stocks surged Thursday amid Biden emissions pledge
Group has consolidated after retreating from Jan. highs
Solar-friendly policies likely to remain intact?
One of the most noticeable rays of sunshine in Thursday's cloudy day for the US stock market was the jump in solar stocks.
It wasn't much of a stretch to connect the dots between a surge in green energy names and President Biden's Earth Day speech, in which he vowed to cut US carbon emissions in half by 20301—a goal that, if realized, would imply a major acceleration away from fossil fuels and toward renewables.
Yes, a speech is just a speech (and Mr. Biden won't be president in 2030, anyway), but some traders may be wondering if such rhetoric will help renew bullish momentum in the solar space, which has floundered most of this year after a scorching 2020.
Many solar stocks tripled (or more) off last year's lows into their January 2021 highs amid a market-wide rebound after the COVID sell-off and, later in the year, expectations a potential Biden win could usher in greener energy policies. The following chart shows the impressive gains in three well-known names, SolarEdge Technologies (SEDG), Sunrun (RUN), and First Solar (FSLR):
Source: Power E*TRADE
---
The next two to three months weren't as kind to the group, though—SEDG, FLSR, and RUN all gave back between 45%–60% of their rallies by March or April.
But the stocks, especially FSLR, have more recently climbed off their lows, amid Street chatter that current US tariffs on Chinese solar products could extend beyond the current 2022 expiration date, as well as the potential tax-credit benefits featured in the Biden administration's infrastructure plan.2 (In mid-March, Morgan Stanley analysts called the pullback in clean tech a "rare buying opportunity." Among the factors they cited was the potential catalyst of clean energy and infrastructure legislation.3)
FLSR's 10% Wednesday–Thursday rally was the stock's biggest two-day gain since January 7, and pushed shares to test their early April high: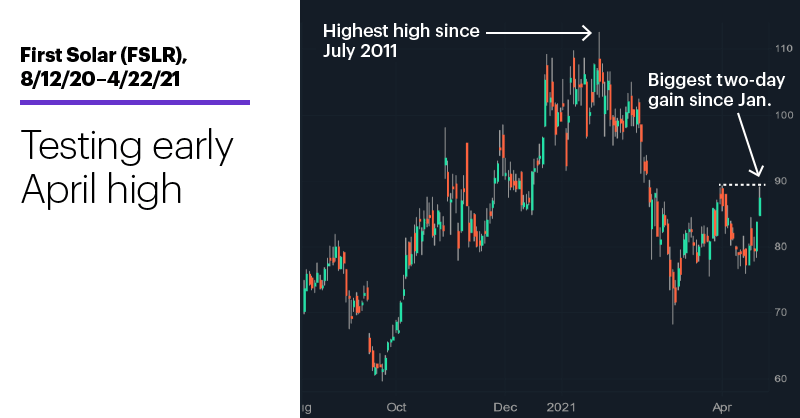 Source: Power E*TRADE
---
Of course, experienced traders know that big price moves driven by feel-good or feel-bad headlines can be vulnerable to short-term setbacks, even if the market eventually resumes the move. It's worth noting, for example, that the April 1 high FSLR challenged yesterday came a day after the White House unveiled its infrastructure bill. (For a couple of other examples, check out "News and price action" and "Potential cure for a news shock.")
The headlines are in. Now the market will have its say.
Market Mover Update: And speaking of headlines, on Thursday afternoon the S&P 500 (SPX) flipped from being up 0.13% on the day to being 0.7% in the hole within 15 minutes of reports that the White House was going to push for an increase in the capital gains tax.
Today's numbers include (all times ET): New Home Sales (10 a.m.).
Today's earnings include: American Express (AXP), Kimberly-Clark (KMB), Honeywell International (HON), Schlumberger NV (SLB).
Click here to log on to your account or learn more about E*TRADE's trading platforms, or follow the Company on Twitter, @ETRADE, for useful trading and investing insights.
---
1 MarketWatch.com. Biden pledges to cut U.S. greenhouse gases 50% by 2030—with major implications for oil and gas sector. 4/22/21.
2 Barron's. First Solar Could Rise as Help From Washington Is On the Way, Analyst Says. 4/19/21.
3 BusinessInsider.com. The pullback in clean tech stocks presents a 'rare buying opportunity', Morgan Stanley says. 3/10/21.
What to read next...
04/22/21
Why some traders may see opportunities than others in price consolidations.
---
04/20/21
Outperforming semiconductor support stock pulls back—reversal or pullback?
---
04/19/21
Nasdaq stays hot, but defensive sectors also warm up as stocks extend run.
---