Sun breaks through clouds
Solar stocks have jumped in recent days
Group peaked in January after huge run in late 2020
RUN consolidation breakout sends shares 21% higher
While the broad stock market appeared to have a lingering hangover yesterday after Wednesday's Fed announcement, you wouldn't have known it if you were looking at the Nasdaq 100 (NDX), which jumped more than 1% to set a record high for the second time this week.
Particularly conspicuous were solar stocks, not only because of the size of their rallies, but because they've performed so poorly in recent months after staging a monumental rally. The following chart of First Solar (FSLR), SolarEdge (SEDG), and Sunrun (RUN) highlights the group's struggles this year. After their very sunny 2020, the trio sold off sharply starting in January and, after a few aborted bounces, drifted to lower lows last month: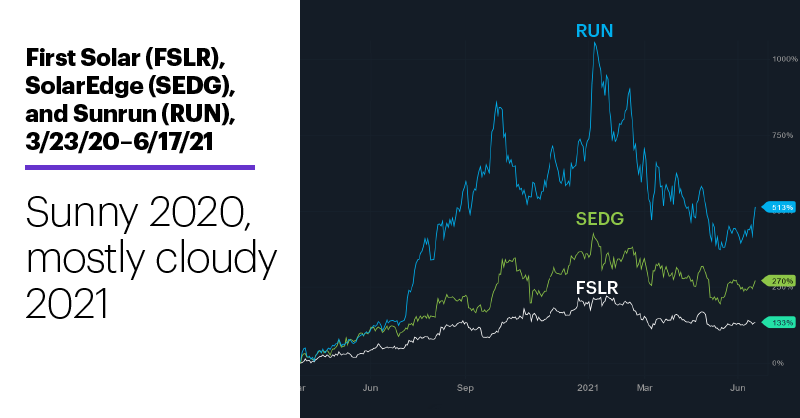 Source: Power E*TRADE
---
However, while all three are still far removed from their highs, their rallies over the past month or so have been solid—RUN, for example, has gained 30% since May 18, although 21% of that has occurred over the past two days: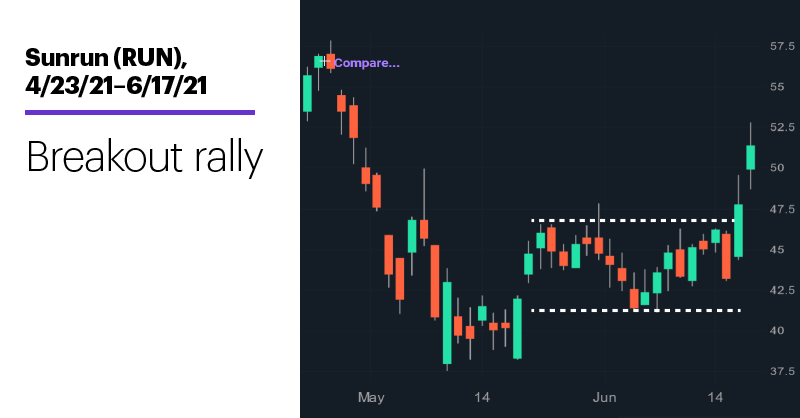 Source: Power E*TRADE
---
That price surge, which broke the stock out of a month-long trading range, also happened to unfold as Morgan Stanley analysts upped their price target for the stock, noting (among other things) potential tailwinds from the booming electric vehicle (EV) market—a source of revenue they think could ultimately rival the company's bread-and-butter rooftop solar business. (Sunrun recently inked a deal to become the home-charging and integration systems provider for Ford's new electric pickup truck, the F-150 Lightning.)1
Options traders also appeared to be getting in on the action, with heavier-than-average RUN call volume and a high number of options trades: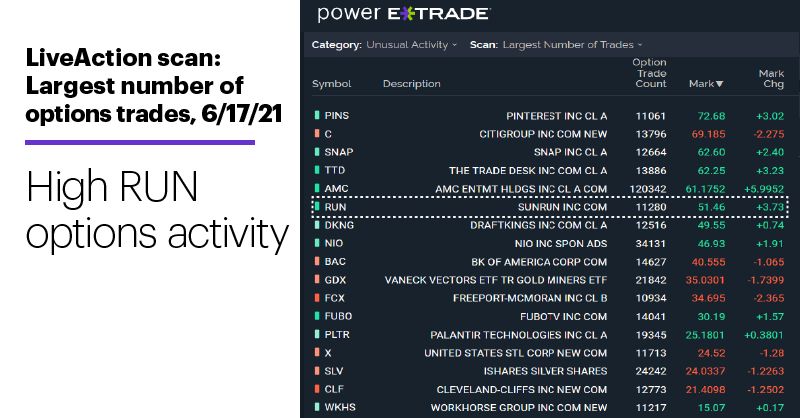 Source: Power E*TRADE
---
While solar stocks have made several head fakes to the upside over the past several months, the bounce off May's lows nonetheless represents the longest-lasting up move of the year.
It remains to be seen whether this week's momentum will have legs, but "Playing the breakout" may offer some helpful insights on the type of price action that sometimes follows breakout moves like the one in RUN.
Market Mover Update: As goes lumber, so goes lumber companies? West Fraser Timber (WFG) slid more than 3% on Thursday as lumber futures fell to their lowest level since April 5 (see "Lumber, housing, and options").
Reminder: No numbers of note today, but don't forget it's quarterly expiration.
Click here to log on to your account or learn more about E*TRADE's trading platforms, or follow the Company on Twitter, @ETRADE, for useful trading and investing insights.
---
1 TheStreet.com. Sunrun Shines on Morgan Stanley Price Target Hike. 6/16/21.
What to read next...
06/17/21
Is this stock's recent volatility reading a warning of more selling to come, or a contrarian rebound signal?
---
06/16/21
Big prints appear on the options tape despite stock's tight trading range.
---
06/15/21
Dips in financial stocks and gold may attract more attention in light of this week's inflation focus.
---