Solar flareup
Renewable energy stocks have soared over the past two weeks
Climate legislation passed in Senate, expected to pass in House
Short-term price action suggesting "energy" may ebb and flow?
While growth and tech stocks have borne the brunt of the 2022 bear market, solar stocks have had a bumpy ride since their parabolic 2020 rally that ended in early 2021.
The space has experienced occasional fits and starts of upward momentum over the past 19 months, but few moves that have matched the one that has unfolded over the past couple of weeks. For example, two solar stocks with significant footprints in the residential solar space, Sunrun (RUN) and SunPower (SPWR), have both rallied more than 70% since May 11, with a significant portion of those gains occurring since late July: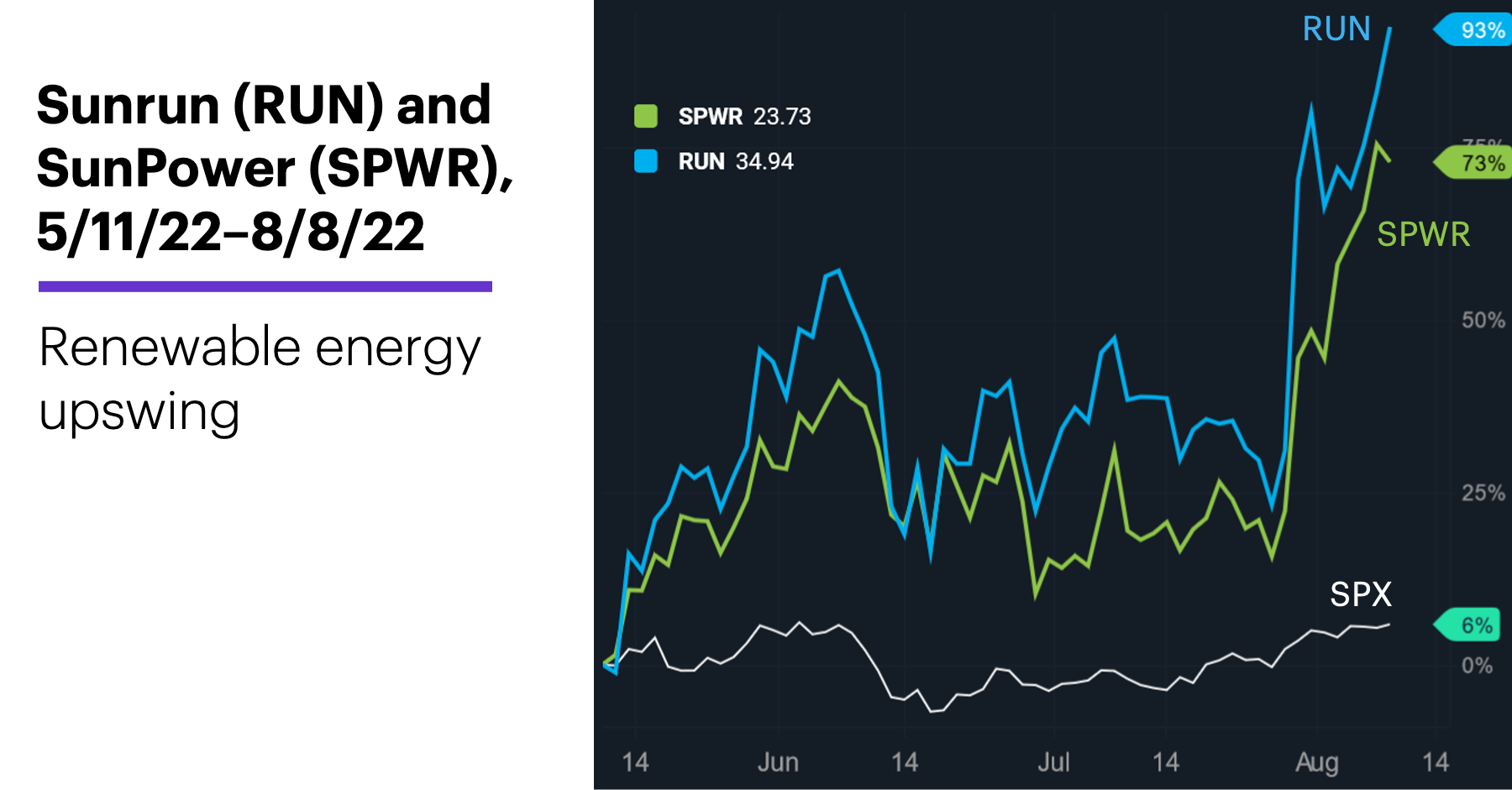 Source: Power E*TRADE. (For illustrative purposes. Not a recommendation.)
---
Both stocks had been cited by Morgan Stanley & Co. analysts as having the potential to benefit from increased residential solar adoption in the face of soaring traditional utility costs.1
Although the recent upswing in renewables has overlapped with a broad-market rally, it has certainly gotten an energy boost from Washington, D.C. It's no coincidence that a climate-spending package thought to be dead in the water several weeks ago received new life late last month, and passed the Senate as part of the Inflation Reduction Act over the weekend.
The following chart of RUN shows the stock surged 30% on July 28 when Democratic Senators struck a deal to move the bill forward for a vote. The stock jumped another 8% the next day, pulled back 11% over the next three days (up arrow), and then rallied as much as 21% over the next four days when it peaked at $37.30 Monday: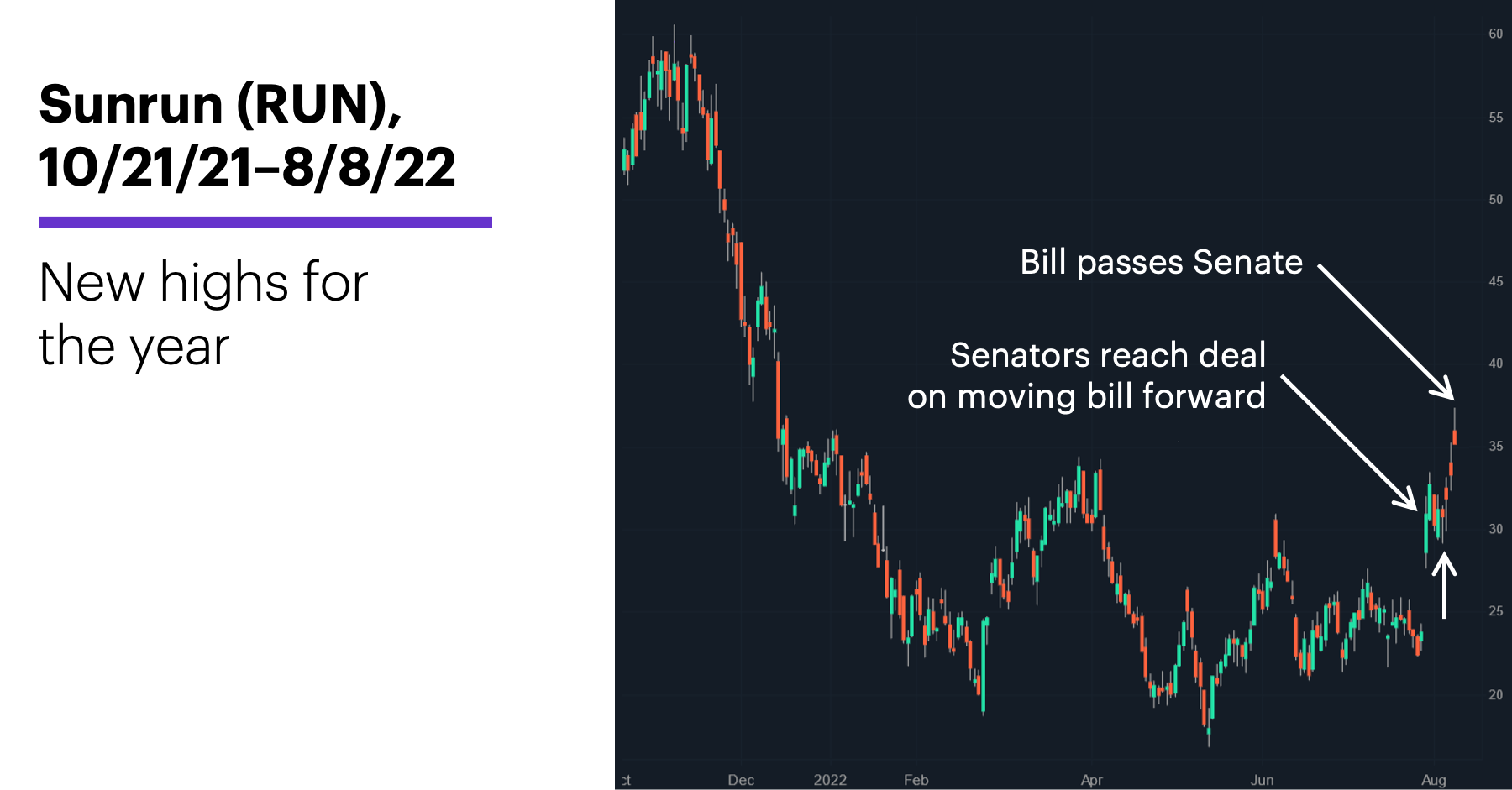 Source: Power E*TRADE. (For illustrative purposes. Not a recommendation.)
---
While the legislation, which is expected to pass the House and signed into law by President Biden, would certainly be a welcome development for the renewable energy industry, the RUN chart contains a few potential takeaways:
1. Buy the rumor, sell the news, Pt. 1. While the stock rallied around 37% in the two days following news the Senate would bring the bill to a vote—which virtually ensured passage in the Democratic–controlled Senate—it gained less than 15% over the four days culminating in Monday's bill-approval rally.
2. Buy the rumor, sell the news, Pt. 2. Also, like many other clean-energy stocks, RUN pulled back from Monday's early high (when it was up more than 12% intraday) to close in the lower portion of its range—a loss of momentum that suggests bullish enthusiasm waned as the day wore on. (A similar, slightly longer-term dynamic played out in the three-day, 11% pullback that followed the July 28–29 rally.)
3. Still closer to lows than highs. Finally, notice that while RUN has pushed to a new high for the year, it is well below its late-2021 highs around $60, and even further below its all-time highs around $100.
Like energy itself, stock prices are prone to ebb and flow. With a nine-day, 57% rally under its belt and the expected House approval the only known "good" news on the horizon, traders—even those who may think renewable energy group is on a sustainable upswing—may be considering the possibility that RUN and stocks like it may have more volatility in their future after the headlines fade.  
Market Mover Update: If inflation is a problem in part because people think it will continue to be a problem—that is, they curtail spending because they think prices will be high in the future—data released yesterday suggest a minor victory for the central bank in its battle against inflation. A New York Fed study showed consumers' expectations of where inflation would be three years from now had dropped to 3.2%, its lowest level since April 2021.2
Today's numbers include (all times ET): NFIB Business Optimism Index (6 a.m.), Productivity and Labor Costs (8:30 a.m.).
Today's earnings include: Emerson Electric (EMR), Sysco (SYY), GlobalFoundries (GFS), Roblox (RBLX), Trade Desk (TTD), Coinbase (COIN), Plug Power (PLUG), Wynn (WYNN).
Click here to log on to your account or learn more about E*TRADE's trading platforms, or follow the Company on Twitter, @ETRADE, for useful trading and investing insights.
---
1 UtilityDive.com. Sunrun, SunPower gain as residential solar grows amid rising utility bills, reliability concerns: Morgan Stanley. 8/5/22.
2 Reuters.com. U.S. consumers' inflation outlooks drop sharply, NY Fed survey shows. 8/8/22.
What to read next...
08/08/22
Will labor market strength trigger a shift in trader sentiment?
---
08/05/22
A post-earnings rally to record highs may attract traders—for more than one reason.
---
08/04/22
Options trade highlights under-the-radar tech stock about to release earnings.
---