The other energy story
Renewable energy stocks were some of the biggest winners of 2020
Many solar names have pulled back since hitting new highs in Jan.
SPWR fell 17% Thursday after releasing earnings
Good, old-fashioned fossil fuels have dominated the energy discussion lately—crude oil has surged to 13-month highs and the S&P 500 (SPX) energy sector is enjoying its longest stretch out of the relative strength basement in quite a while.
Meanwhile, the clean energy arena has shown signs of losing some of the momentum that made it one of last year's rebound darlings. Riding the broad-market rally off the March 2020 lows and boosted by the possibility of renewable-friendly Biden administration policies,1 many solar stocks and other renewable names doubled or tripled over the next 10 months.
For example, SunPower (SPWR), which was trading for less than $7 a year ago, closed at $54.01 on the final day of January—a roughly 690% rally: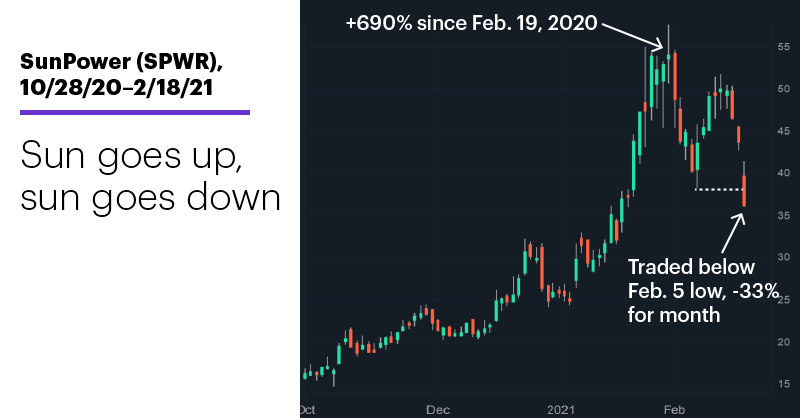 Source: Power E*TRADE
---
This month has been a different story for alternative energy, though. Under the best of circumstances, big rallies are subject to sharp corrections, which is exactly what SPWR and many other renewable energy stocks have been doing this month. SunPower's downturn picked up steam the past few days, including a 17% sell-off yesterday after the company lowered its guidance for future earnings,2 which extended the stock's decline this month to around 33%.
The move had the expected impact on options premiums. Yesterday SPWR calls were trading at steep discounts to where they were just one week ago, while put premiums spiked. A little more than halfway through Thursday's trading session, for example, the March $40 calls were down around 56% on the day, while the March $30 puts were up 36% to a seven-day high: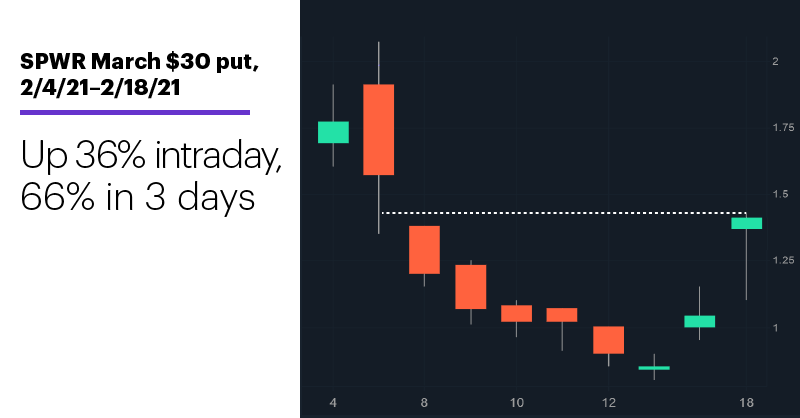 Source: Power E*TRADE
---
The takeaway is that for traders who expect the uptrends in renewable energy stocks to re-engage—either near current levels or after a deeper correction—sharp down moves like the one in SPWR are sometimes welcome events, as they can breathe new life into long-call and short-put strategies that likely seemed dead in the water just days earlier.
Market Mover Update: Yesterday April WTI crude oil futures (CLJ1) cracked $62/barrel for the first time before pulling back to around $60 (see "Oil gets energized").
For the second day in a row, semiconductors were one of the weaker links in the tech sector (see "Chip squeeze facing resistance?").
Through yesterday, at least, Advance Auto Parts' (AAP) late-January sell-off to its former lows around $143 has to qualify as a successful test of support: The stock has remained above that level for three weeks and rallied more than 13% (see "Traders playing support?").
Today's numbers (all times ET): Existing Home Sales (10 a.m.), E-Commerce Retail Sales (10 a.m.).
Today's earnings include: Deere (DE).
Click here to log on to your account or learn more about E*TRADE's trading platforms, or follow the Company on Twitter, @ETRADE, for useful trading and investing insights.  
---
1 CNN.com. This solar company's stock has spiked 300% in 2020. Here's why. 11/3/21.
2 TheStreet.com. SunPower Lower as Earnings Forecasts Lag Expectations. 2/18/21.
What to read next...
02/18/21
Options activity ramps up as stock pressures its three-year highs.
---
02/17/21
Understanding basic market tendencies can help build a stronger framework for trading, regardless of the news of the day.
---
02/16/21
Stocks notch quiet gains as February rally continues, but loses a little steam.
---