Small stock, big options
NSSC near top of high open-interest scan
Stock rallied 290% from April 2020–Nov. 2021
Shares down 14% in past 2 weeks, earnings due early Feb.
Many traders who noticed Napco Security Technologies (NSSC) down more than 1% in early trading yesterday may have just assumed another cloud-based cybersecurity platform was taking its lumps with the rest of the tech sector.
Despite its name, though, NSSC isn't a tech stock—at least not in the way most people think of them. Sure, the company incorporates digital tech in some of its products, but it's actually an industrial company that makes physical security products—everything from access-control and video surveillance systems to fire alarms and dead-bolt locks.
In other words, whatever selling was going on was unrelated to any recent rotation out of tech. Napco is, however, a small-cap stock, an area of the market that has also been under pressure. But until the past couple of weeks, NSSC had mostly bucked the small-cap underperformance trend, rallying more than 50% from August to its late-December record close of $25.77:
Source: Power E*TRADE. (For illustrative purposes. Not a recommendation.)
---
That gain was the most recent leg of the stock's 290% gain since April 2020, when it closed below $7. At yesterday's low of $22, NSSC had fallen almost 15% from its December high.
But what may have attracted traders to NSSC in the first place was its presence near the top of the LiveAction scan for the unusual open interest (OI). Yesterday, it's OI was nearly 20 times average: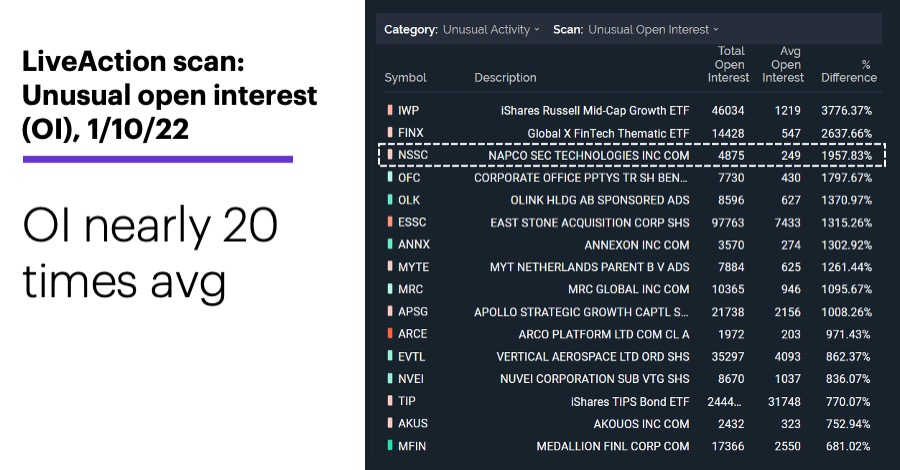 Source: Power E*TRADE. (For illustrative purposes. Not a recommendation.)
---
Napco is a lower-volume stock (average daily volume of 138,000 shares), and its options volume is similarly light. The reason it appeared on the scan was a 3,200-contract position in the January $20 puts, which accounted for 88% of the ticker's OI. (No other contract had OI of more than 110 contracts.)
A simple, but important aspect of this position is its duration. Whatever its "purpose"—as a speculative short trade, a hedge for a long stock position, or, perhaps, a bullish large trader collecting premium, or something else—it has no implications beyond January 21 when the options expire. And these puts will have no value at expiration unless NSSC is trading around 10% lower than it was around midday on Monday.
Another important detail: Traders who dug into NSSC's options detail yesterday would have seen that the implied volatility (IV) for the February options was much higher than it was for the January, March, or June expirations: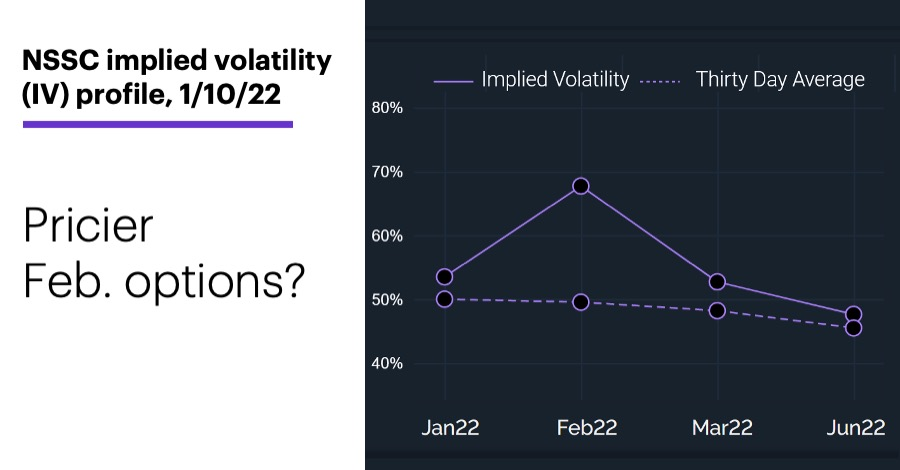 Source: Power E*TRADE. (For illustrative purposes. Not a recommendation.)
---
Since Napco is currently scheduled to release earnings on February 7, it stands to reason that the market is pricing in higher volatility for February options. But again, the 3,200-contract put position will expire more than two weeks before the numbers come out, so if someone established that position expecting a move in the stock, it wasn't related to the earnings release.
Some traders may watch NSSC's options chain to see if a same-sized position pops up in a later expiration month, which would suggest the trade has been rolled forward and may be part of a longer-term strategy. Either way, a volatility profile can help options traders get a better handle on which contracts may be relatively overpriced and which may be relatively underpriced.
Market Mover Update: Yesterday brought a somewhat obscure bit of stock market behavior, being only the 69th time since 1960 that the S&P 500 (SPX) fell more than 2% intraday to hit its lowest level in at least 10 days, but rebounded to trim its closing loss to less than -1%. Although the next day closed lower 36 of 69 times, after five days the SPX was higher in 42 cases, with a median gain of 0.6%.1
Today's numbers include (all times ET): NFIB Business Optimism Index  (6:30 a.m.).
Today's earnings include: TD Synnex (SNX).
Click here to log on to your account or learn more about E*TRADE's trading platforms, or follow the Company on Twitter, @ETRADE, for useful trading and investing insights.
---
1 All figures reflect S&P 500 (SPX) daily prices, 12/30/59–1/10/22. Supporting document available upon request.
What to read next...
01/10/22
Stocks retreat amid tepid economic data and hawkish Fed stance.
---
01/07/22
The prospect of rising rates may have rattled the tech sector, but some traders may welcome the movement.
---
01/06/22
Automaker's upside breakout drives call options sharply higher, but for how long?
---