Small caps, big moves
Small caps have led US market for past three weeks
Russell 2000 broke out of eight-month trading range
Which stocks have led the small-cap charge?
OK, first things first: Small-cap stocks have made so many bullish head fakes this year, it would be unwise to interpret their recent relative strength as a sea change—i.e., evidence that they're making a move to lead the market for a long time.
On the other hand, it doesn't make much sense to ignore what's been going on, especially if there's a possibility that it could lead to opportunities for traders.
The small-cap Russell 2000 (RUT) is the Cinderella of stock barometers—the one major US index that didn't get invited to the New Record High Ball. (Even the Dow snuck into that party, despite still trailing the RUT year to date.) But the following chart shows the RUT has, in recent weeks, definitely emerged from its rut: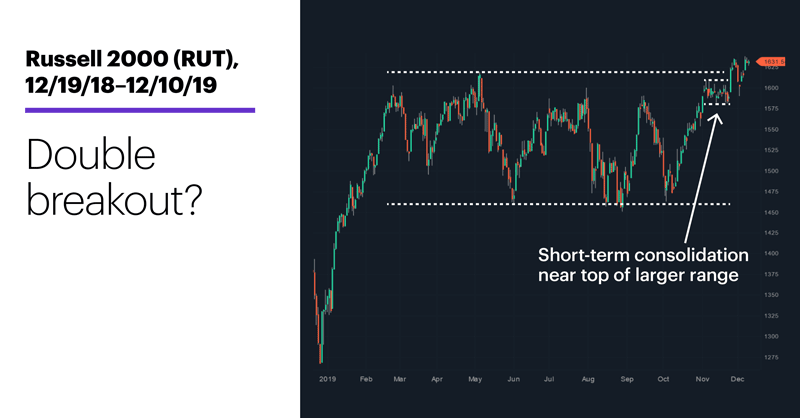 Source: Power E*TRADE
---
If fact, it's been the strongest US index for the past three weeks, and even though as of yesterday all the major stock gauges were in the red for this week, the RUT was down the least.
Although the RUT is still more than 6% below its all-time high (from way back in August…2018), the chart shows the index recently broke out of a massive eight-month trading range, pushing to its highest level in more than a year.
Also, some traders may have noticed that, in the process, the index broke out of a smaller consolidation near the top of the larger range. And they may have further noticed the RUT tested that breakout with the November 29–December 3 pullback, after which the index rebounded back toward its post-breakout highs. Who cares? It may not look all that impressive, but it's the first time this year the RUT hasn't quickly retreated after reaching this general price level, and it's the index's longest—and largest—rally since its December–February upsurge.
So if you're wondering which stocks have been propelling the Russell, the following chart of EverQuote (EVER) offers an example. The small-cap insurer has more than doubled since October 22, a run that included a huge jump on November 5 after the company released earnings: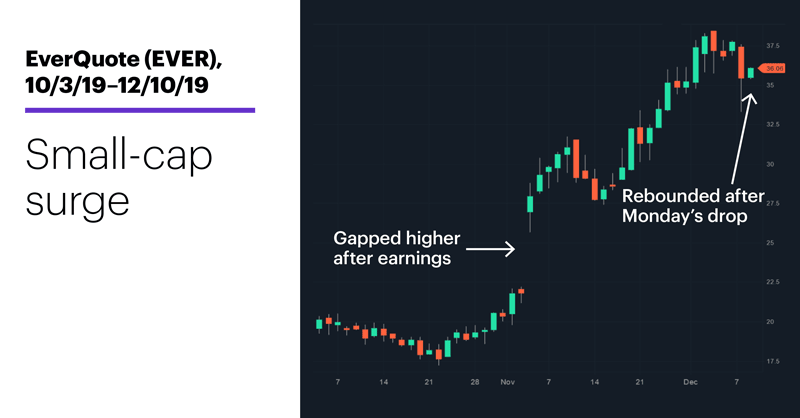 Source: Power E*TRADE
---
The stock recovered yesterday after a sharp pullback on Monday, the low of which may provide a risk (stop-loss) point for bulls looking for another upswing.
The chart offers a good snapshot of small-cap dynamics, as it highlights the volatility these stocks often exhibit—the risk along with the potential opportunity. High-momentum small-cap stocks that have gained more than 100% in less than two months should certainly be viewed through a cautious lens, since you never know when a hot move will turn icy.
But if the RUT can sustain its recent breakout (and even a couple of months ago, some analysts were saying rotation into small-caps was overdue1), short-term traders may be looking for some of the recent individual outperformers to keep their momentum going.
The key, as always, is to never let a good story get in the way of risk management and objectivity about a trade. Take care of that, and the stories will take care of themselves.
Today's numbers (all times ET): CPI (8:30 a.m.), Atlanta Fed Business Inflation Expectations (10 a.m.), EIA petroleum status report (10:30 a.m.), FOMC announcement (2 p.m.).
Today's earnings include: Lululemon Athletica Inc (LULU), American Eagle Outfitters Inc (AEO), Children's Place Inc (PLCE).
Click here to log on to your account or learn more about E*TRADE's trading platforms, or follow the Company on Twitter, @ETRADE, for useful trading and investing insights.
---
1 CNBC.com. Small-cap stocks are primed to outperform large caps over the next 10 years. 10/9/19.
What to read next...
12/10/19
Are certain sectors or stocks more likely to gain ground at the end of the year?
---
12/09/19
Stocks rebound from first real pullback since October.
---
12/06/19
Home Depot made the news a couple of weeks ago, but things may be more interesting now that it's no longer in the spotlight.
---