Small-cap bulls think big
Russell 2K has led market in recent months
Small-cap index recently formed short-term trading range
PAR also consolidated after pushing to new record highs
Now that the S&P 500 (SPX) has gotten its new record high out of the way, perhaps the market will turn its attention to other things, like whether small-caps can maintain their torrid pace and catapult the Russell 2000 (RUT) back to its former highs.
Although the RUT mostly lived up—or, rather, down—to its acronym in recent years, since March the small-cap index has enjoyed one of its best stretches of the past decade, running neck-and-neck with the otherwise market-leading Nasdaq 100 (NDX) and gaining roughly 60% since March 18.
That momentum was in evidence yesterday, too. Halfway through the trading session, while the SPX was barely positive after its record-setting party, the RUT was up around 1% and near the top of a short-term consolidation pattern: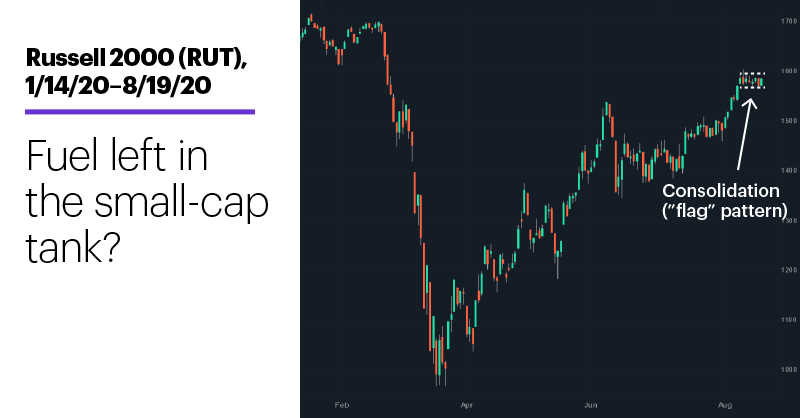 Source: Power E*TRADE
---
While there has been a steady drumbeat of voices in recent weeks that the market rally has overextended itself—and emotional letdowns (which can translate into pullbacks) are quite common after the "euphoria" of new records—some market watchers may be looking for the RUT to take its turn at the head of the table and make a run at its January high around 1,715 or even its August 2018 all-time high around 1,742.
Okay, one step at a time. Traders would probably settle for the near-term momentum that could potentially result from an upside breakout of the current trading range.
In addition to playing this scenario with index ETFs, small-cap bulls may also be turning their attention to specific small-cap stocks that have been exhibiting upside momentum of their own. For example, after a massive rally, cloud-based point-of-sale (POS) tech provider PAR Technology (PAR) has also consolidated in recent days, just above its January all-time high:
Source: Power E*TRADE
---
PAR's February–March sell-off dropped it almost exactly to where it was in August 2017, erasing a three-year, 300%-plus gain that the stock recouped in just five months—a seemingly surprising development considering the company caters to the hospitality industry (although it also has a government wing). Fortunately, PAR, which topped its earnings numbers earlier this month,1 concentrates on national chains rather than the independent restaurants that have borne the brunt of the pandemic.2
Experienced traders know not to chase momentum too aggressively, but they also know opportunities sometimes present themselves when prices are at a temporary standstill and they can clearly define their risk on any given trade.
No slumber for lumber: What happens when months of pent-up housing-market demand suddenly gets unleashed? Maybe surging building materials prices, like the 175% rally in September lumber futures (LBSU0) since April 1: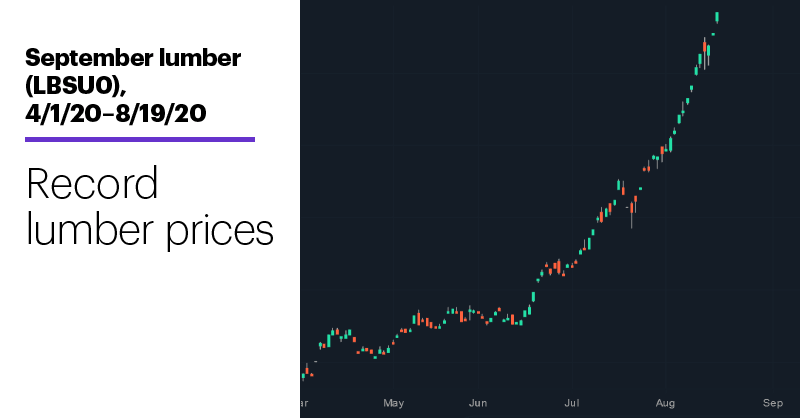 Source: Power E*TRADE
---
Yesterday marked another record high for the market, and was the 20th day in a row it made either a higher high or close.
Market Mover Update: Ontrak's (OTRK) 20%-plus explosion yesterday pushed the stock's five-day gain to 49%. As of yesterday, Ballard Power (BLDP) had rallied nearly 17% in the six days after a second test of the breakout level noted in "Batteries not included." Nike (NKE) popped the top on its recent consolidation on Wednesday, rallying 2.4% intraday to $109.50 (see "Looking good, feeling good").
Today's numbers (all times ET): Jobless Claims (8:30 a.m.), Leading Indicators (10 a.m.).
Today's earnings include: Alibaba (BABA), BJ's Wholesale Club (BJ), Estee Lauder (EL), Toro (TTC), Keysight Technologies (KEYS), Ross Stores (ROST).
Click here to log on to your account or learn more about E*TRADE's trading platforms, or follow the Company on Twitter, @ETRADE, for useful trading and investing insights.  
---
1 StreetInsider.com. PAR Technology Corp. (PAR) Earnings. 8/7/20.
2 InsiderMonkey.com. PAR Technology Corp. (PAR) Earnings. 8/7/20.
What to read next...
08/19/20
Price action before and after earnings highlights potential opportunities for both stock and options traders.
---
08/18/20
Two stocks—one little, one big—show why we shouldn't assume too much about market trends in the pandemic era.
---
08/17/20
Stocks press higher, balancing encouraging economic data against US–China tensions.
---