Sleeper stock wakes up traders
PRPL has more than quintupled since early April
Mattress company has rallied more than 40% in past eight days
August calls trading at premium, September puts at discount?
Forget about big tech, vaccine stocks, semiconductors, electric vehicles or any other area of the market you think has been tearing up the charts the past few months.
The real money has been in mattresses.
Well, one mattress stock, anyway—Purple Innovation (PRPL), which yesterday experienced only its second down day of the past two weeks, and was up (before an intraday reversal) 44% since July 24 and more than 500% since forming the second low of a double-bottom pattern on April 3:
Source: Power E*TRADE
---
Not impressed? Since mid-March, the direct-to-consumer mattress seller, which launched in 2010 and began trading in 2016, has outgained everyone from "short-burn-of-the-century" Tesla (TSLA) and vaccine-leader Moderna (MRNA)—two stocks that have posted explosive rallies over the past four-plus months—to a couple of little tech companies called Amazon (AMZN) and Apple (AAPL):
Source: Power E*TRADE
---
A little too much spring in this mattress? Shorting a soaring stock is just as risky—if not riskier—than catching the proverbial falling knife, since stocks can only drop to zero and rallies can continue…if not forever, a lot longer than most short sellers can stay solvent, to paraphrase economist John Maynard Keynes. Also, PRPL topped earnings and trounced revenue estimates when it last reported numbers on May 11,1 and may also have gotten some extra love in the pandemic era because of its strong shop-from-home model.
That said, even exceptionally bullish PRPL traders probably wouldn't be caught off guard by at least a pullback after such an incredibly strong rally, in which case a possible initial downside target could be the stock's most recent technical formation: the support zone containing the highs of the June–July consolidation (centered roughly around $20).
Despite yesterday's intraday downturn, the epic proportions of the stock's recent rally means options traders are still looking at expensive call prices and cheap puts relative to prices from just a week or two ago, although PRPL's implied volatility (IV) is so high it could be argued that premiums are inflated across the board: For example, PRPL August options IV was around 174% yesterday, 75% above the 30-day average.
The following chart shows PRPL August $25 puts had roughly quintupled in price since July 22, while the September $25 puts had been cut roughly in half: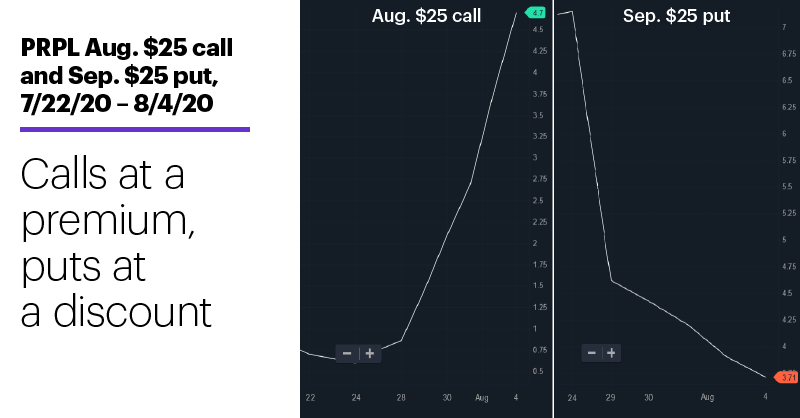 Source: Power E*TRADE
---
Some bearish options traders may see the opportunity to collect inflated August call premiums, but as that approach represents a leveraged short position in a parabolically rising stock—even if yesterday's intraday reversal may have been a shot across the rally's bow—the risks can't be underestimated.
More conservative traders may favor the long-put alternative (either outright or in a spread), while remembering that options tend to lose value at an accelerated rate in the final two or three weeks before expiration, which would make the August options much less attractive for this type of play.
Regardless of the specific strategy, though, traders won't want to get caught napping on this one.
Note: PRPL is currently scheduled to release earnings a week from tomorrow (August 13).
Market Mover Update: Yesterday Netflix (NFLX) closed above $500 for the first time since July 20, notching its fourth-straight up day.
Today's numbers (all times ET): MBA Mortgage Applications (7 a.m.), ADP Employment Report (8:15 a.m.), International Trade (8:30 a.m.), PMI Services Index (9:45 a.m.), ISM Non-Manufacturing Index (10 a.m.), EIA Petroleum Status Report (10:30 a.m.).
Today's earnings include: Alarm.com (ALRM), Carvana (CVNA), CVS (CVS), Wendy's (WEN), ETSY (ETSY), Fastly (FSLY), Fiverr (FVRR), GoDaddy (GDDY), Wayfair (W), Square (SQ), Roku (ROKU), Regeneron (REGN).
Click here to log on to your account or learn more about E*TRADE's trading platforms, or follow the Company on Twitter, @ETRADE, for useful trading and investing insights.  
---
1 StreetInsider.com. Purple Communications, Inc. New (PRPL) Earnings. 8/4/20.
What to read next...
08/04/20
Streaming content provider faces its first test since last month's earnings release.
---
08/03/20
Technology shares bounce back as traders digest GDP and eye this week's jobs report.
---