Miners on the move
Silver outpacing gold during recent precious metals rally
Demand edge for silver amid potential infrastructure push?
Some silver miners have outperformed the metal
Sometimes the most valuable aspect of a price move is to highlight activity in a related, and possibly overlooked, market.
Case in point: gold. While its recent rally may pale in comparison to some of the other commodity surges of the past few months, it's still been the yellow metal's biggest up move since it hit an all-time high last August.
As usual, though, silver has been overshadowed by its higher-profile cousin—even if, as the following chart shows, silver has outgained gold since the late-March lows in both markets: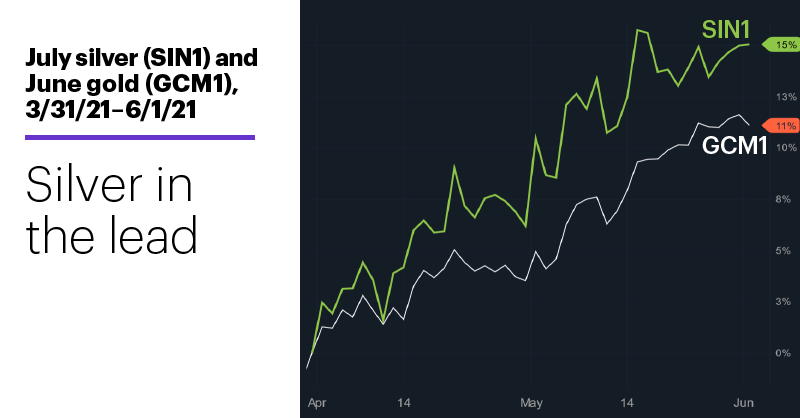 Source: Power E*TRADE
---
While there's plenty of debate over the outlook for precious metals, some analysts have given the nod to silver over gold in terms of future potential appreciation,1 for a very simple reason: While the two markets are highly correlated, silver, unlike gold, has a much wider range of industrial applications, in large part because of its unparalleled ability to conduct electricity. And demand in that area could get a boost if some form of President Biden's infrastructure plan, with its targeted allocations for solar energy and electric vehicles, sees the light of day.2  (The White House is scheduled to resume infrastructure compromise talks with Capitol Hill Republicans this week.)
While many mining companies traffic in a variety of metals, the following chart shows the year-to-date performance of two silver-centric miners, Gatos Silver (GATO) and First Majestic Silver (AG), along with July silver futures. A key takeaway: If silver has a (well-deserved) reputation as a more volatile market than gold, the chart shows that these stocks have been more volatile than their namesake metal—but both have also gained much more than silver so far this year: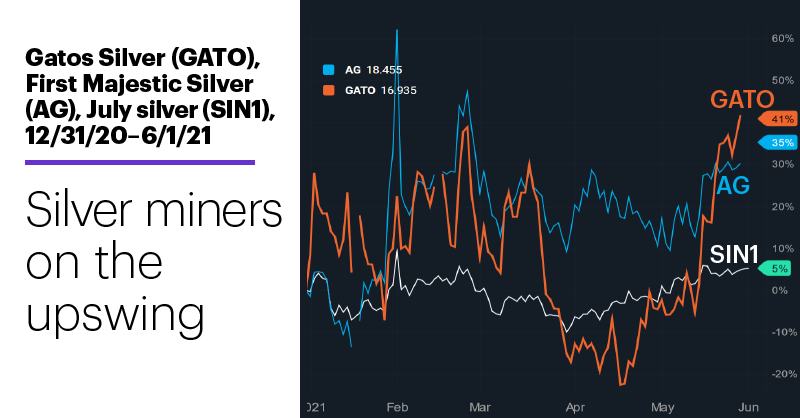 Source: Power E*TRADE
---
Final note: GATO, which has jumped nearly 85% since April 19, appeared on yesterday's LiveAction scan for unusual open interest, with more than 10 times its average number of open options positions. These holdings were concentrated in calls, with the most conspicuous position being 1,000 contracts of the August $17.50 calls—nearly four times as much as the next-largest position, which was in the August $25 calls.
Market Mover Update: A few futures markets that gave back some of their huge rallies in recent weeks have flipped back to the upside the past several days. July WTI crude oil (CLN1) kicked off June with a 2%-plus rally and a fresh contract high of $68.87/barrel, while July corn (ZCN1) jumped 4.6% to 687.25. Also, July coffee (KCN1)—which hasn't pulled back in the past couple of months—pushed to a new contract peak of 166.75, its highest level since December 2019.
Today's numbers include (all times ET): Mortgage Applications (7 a.m.), ADP Employment (8:15 a.m.), Beige Book (2 p.m.), Vehicle Sales.
Today's earnings include: Advance Auto Parts (AAP), J.M. Smucker (SJM), DocuSign (DOCU), Smartsheet (SMAR), NetApp (NTAP), nCino (NCNO), RH (RH).
Today's IPOs include: High Tide (HITI).
Click here to log on to your account or learn more about E*TRADE's trading platforms, or follow the Company on Twitter, @ETRADE, for useful trading and investing insights.
---
1 Bloomberg. Singapore Dealer Prepares Vault for 15,000 Tons of Silver. 4/11/21.
2 Barron's. Silver Prices Are Lagging. Investments in Renewable Energy Should Change That. 5/27/21.
What to read next...
06/01/21
Stocks close out May on up note, head into June with two-week win streak.
---
05/28/21
Unusually high open interest shines light on stock testing its all-time low.
---
05/27/21
How do some traders adjust for the limitations—and frequently high price tags—of directionless options strategies?
---