Shovel-ready stocks?
Semiconductor index hit all-time high yesterday
ASML rallied to new record prior to today's earnings release
AMAT made new 52-week high near consolidation top
There's an old saying that when there's a gold rush, you want to be the guy selling shovels.
Is there something similar going on with semiconductor stocks and the companies that make their "shovels"?
Well, it's probably a stretch, but the fact that yesterday the PHLX Semiconductor Index (SOX) punched out a new record high as it continued to push the upper boundary of its six-month triangular consolidation certainly was a noteworthy development: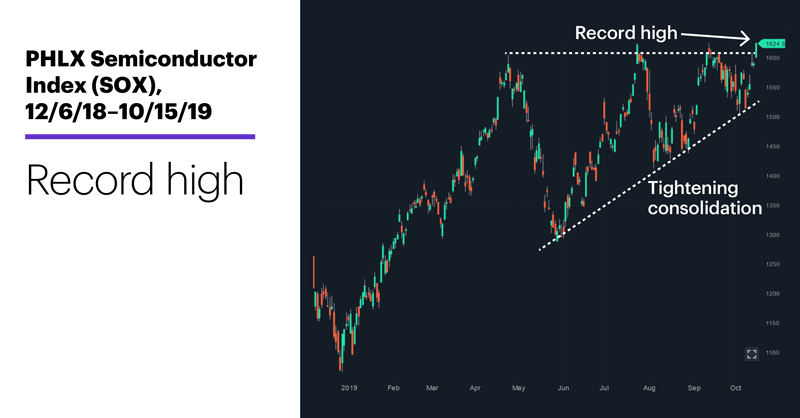 Source: Power E*TRADE
---
For more than a year, chip stocks have been more or less held hostage by the trade-war story, often jumping when news of a "breakthrough" emerges and just as frequently selling off when a negative headline crosses the ticker.
On balance, though, the fact that the SOX has again returned to the level of its April, July, and September highs—and tagged a new all-time high before any major US stock index—will likely have some chart watchers thinking about the possibility of a larger momentum breakout, especially in the wake of last week's mini-breakthrough on the trade front. Yes, tomorrow can always pull the rug out from under today's rally, but traders need to work with the tailwinds they have, when they have them.
Although the SOX probably brings to mind chipmakers like Intel (INTC), Advanced Micro Devices (AMD), and Nvidia (NVDA), the index also contains companies that supply components, support, and systems to these businesses. Yesterday, two of these stocks, ASML (ASML) and Applied Materials (AMAT), landed on the LiveAction scan for stocks making new 52-week highs.
ASML actually hit a new all-time high yesterday after releasing earnings—three days after a high-momentum breakout from a consolidation that formed near its previous 52-week/all-time highs from September, and one day before today's earnings release: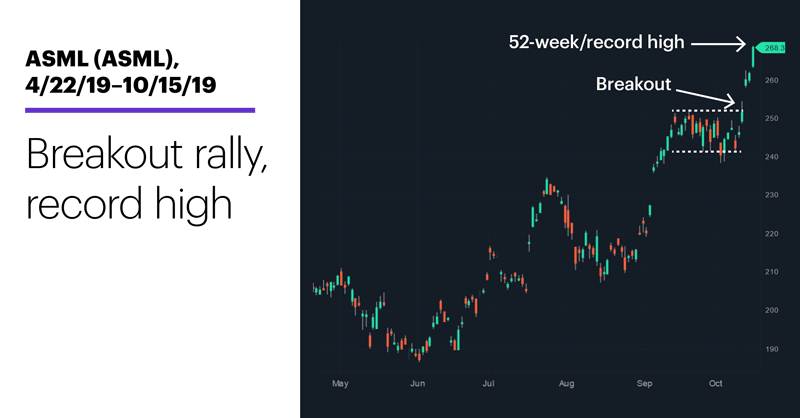 Source: Power E*TRADE
---
AMAT's chart is more reminiscent of the pushing-the-top-of-its-consolidation SOX chart: The stock's roughly 2% gain yesterday also pushed it to a new 52-week high (just a bit above its July and September peaks), but it's still around $10 below its all-time high of $62.40 from March 2018.
Source: Power E*TRADE
---
For those in full earnings-watch mode, AMAT is scheduled to release its numbers on November 21.
Some bullish traders may see the potential for sustained upside breakout in the SOX (and by implications, further rallies in stocks like ASML and AMAT) based on at least a short-term continued ceasefire in the trade war—and perhaps buoyed by some unexpected bullishness early in earnings season.
But these traders may also understandably decide caution is the better part of valor and wait for their stocks of choice to pull back and, perhaps, test recent breakout levels before entering the market. If larger market conditions remain favorable and trade negotiations don't derail, the chip arena may reward patience as much as aggressiveness.
Market Mover Update: Earnings season got off to a bullish start yesterday, with some key banks—including JPMorgan Chase (JPM), Citigroup (C), and Wells Fargo (WFC)—surprising analysts to the upside and helping propel the S&P 500 (SPX) above 3,000 (intraday) for the first time since September 24. Johnson & Johnson (JNJ) and UnitedHealth Group (UNH) also topped estimates, the latter stock jumping more than 8%.
Phillips 66 (PSX) continued its roll yesterday, closing at its highest level in nearly a year and running its five-day gain to 7% (see "Priming the momentum pumps").
Today's numbers (all times ET): Retail Sales (8:30 a.m.), Atlanta Fed Business Inflation Expectations (10 a.m.), Business Inventories (10 a.m.), Housing Market Index (10 a.m.), Beige Book (2 p.m.).
Today's earnings include: Alcoa (AA), Bank of America (BAC), ASML (ASML), Abbott Laboratories (ABT), U.S. Bancorp (USB), International Business Machines (IBM), CSX (CSX), Progressive (PGR), PNC Financial Services (PNC), Netflix (NFLX), Comerica (CMA).
Click here to log on to your account or learn more about E*TRADE's trading platforms, or follow the Company on Twitter, @ETRADE, for useful trading and investing insights.
---
What to read next...
10/15/19
Some big options traders appeared to take an interest in a key consumer stock the week before it releases earnings.
---
10/14/19
After a see-saw week, a new earnings season gets rolling amid trade-war optimism.
---
10/11/19
Stock finds support at duel technical level.
---