Shedding light or throwing shade?
RBA up more than 9% Thursday after -9% Wednesday
Options open interest more than 13 times average
Head fake or follow-through?
It's not often you see a relatively low-profile industrial stock fall 9% in a day—on an absence of news—and then turn around and recoup the entire loss the next day, but that's exactly what industrial auction house (i.e., machinery, not Monets) Ritchie Bros. (RBA) did this week.
More on that in a moment. First, let's look at RBA's options. On Thursday morning, open interest (OI) was a little more than 13 times its typical level, with 6,691 unclosed contracts vs. a daily average of 508: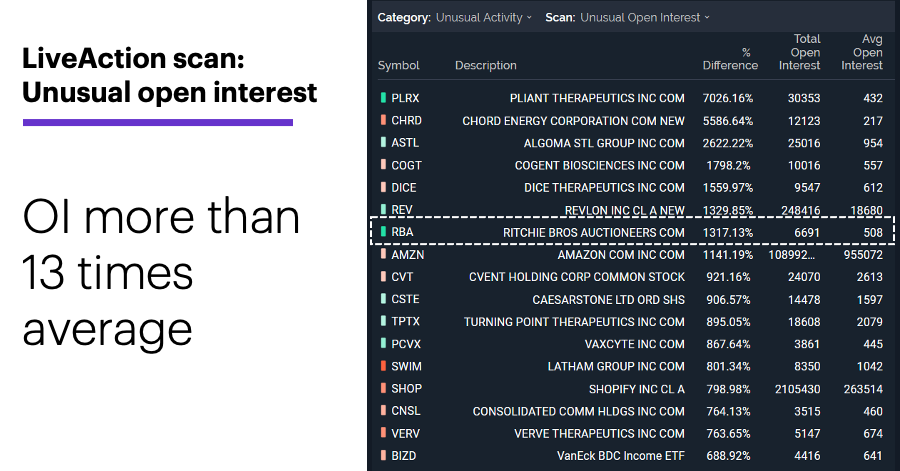 Source: Power E*TRADE. (For illustrative purposes. Not a recommendation.)
---
The options chain (below) showed 5,300 of those contracts (80% of the total OI) were almost evenly split between the September $65 and $70 calls—two of the closest strikes to where the stock was trading around midday on Thursday: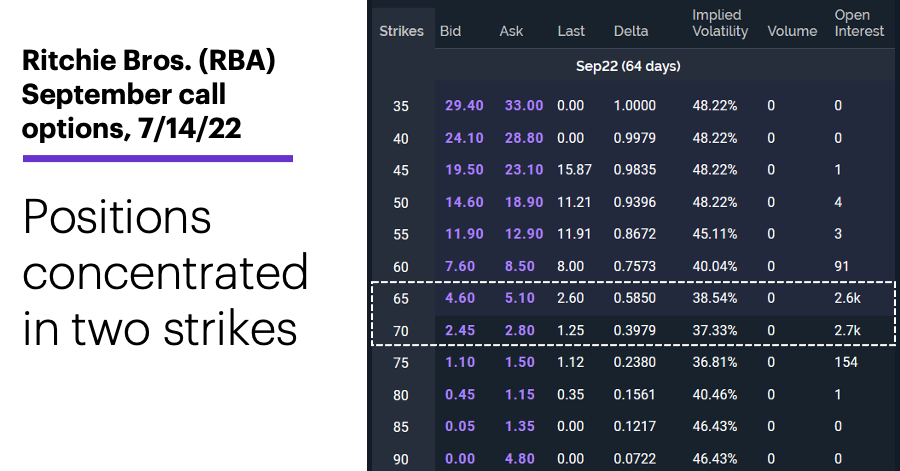 Source: Power E*TRADE. (For illustrative purposes. Not a recommendation.)
---
Big call positions accompanying a big move in the stock. Well, if you hadn't been watching RBA in recent weeks, you may not have known that its OI has been elevated for a while: 2,500 contracts in each strike changed hands on June 24 when the stock closed modestly higher, around $62. Yesterday, when the stock was up nearly 10% after two-and-half hours of trading, neither contract had seen any activity. In other words, whatever market outlook may have been represented by the high OI in these calls, it wasn't connected to this week's activity in the stock.
Even in a stock that has had its share of abrupt price swings this year, this week's Wednesday–Thursday reversal stood out: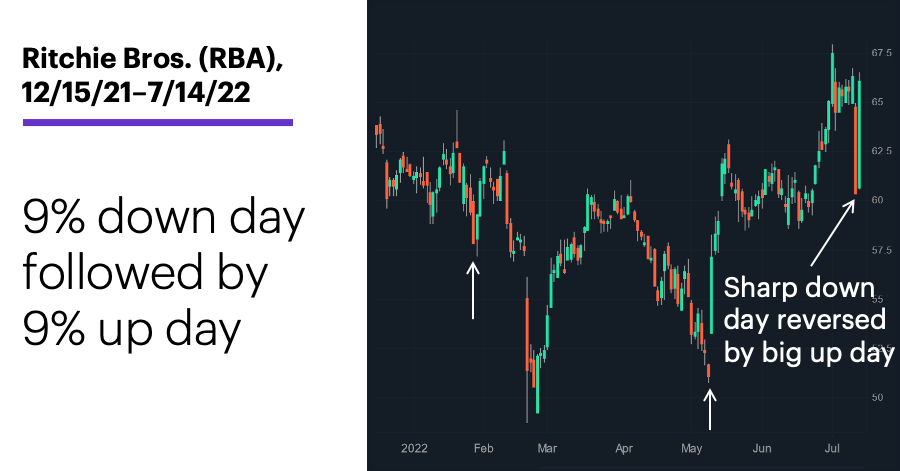 Source: Power E*TRADE. (For illustrative purposes. Not a recommendation.)
---
A big move in one direction that is immediately reversed could mean traders and investors thought twice about whatever caused the initial move (perhaps new information came to light). That implies  prices could get pushed sharply in the other direction as traders caught on the wrong side of the market scramble to get out—i.e., a "squeeze." That thesis lends itself to the idea that prices could follow through in the direction of the second (reversal) day.
A couple of similar two-day reversals from earlier this year (January and May) seem to support that idea, at least partially: The stock fell relatively sharply one day but erased all or most of those gains the following day. In both cases, RBA followed through to the upside for at least a few more days.
But like the high OI, these snapshots may be potentially misleading. If we go back and look at all similar episodes (more than 50 dating back to 19981), it turns that the pullbacks that eventually followed both the January and May bounces were more common than the bounces themselves: One week after the two-day reversals, RBA was higher 51% of the time, but after two weeks, it was lower 61% of the time.
Options activity often sheds light on stock activity, and vice versa, but sometimes both can potentially mislead unwary traders.
Note: RBA is currently scheduled to release earnings early next month.
Today's numbers include (all times ET): Retail Sales (8:30 a.m.), Empire State Manufacturing Index (8:30 a.m.), Import and Export Prices (8:30 a.m.), Raphael Bostic Speaks (8:45 a.m.), Industrial Production (9:15 a.m.), Business Inventories (10 a.m.), Consumer Sentiment (10 a.m.).
Today's earnings include: Wells Fargo (WFC), PNC Financial Services (PNC), Citigroup (C), UnitedHealth (UNH), U.S. Bancorp (USB), BlackRock (BLK).
Click here to log on to your account or learn more about E*TRADE's trading platforms, or follow the Company on Twitter, @ETRADE, for useful trading and investing insights.
---
1 Refers to a day the stock closed at least 2% higher and closed above its opening price one day after closing at a five-day (or longer) low, closing down at least 2%, and closing below its opening price. Based on Ritchie Bros. (RBA) daily price data, 3/10/98–7/14/22. Supporting document available upon request.
What to read next...
07/14/22
"Quality" vs. accuracy: In trading, it's not just about how often you're right, but how your winners measure up to your losers.
---
07/13/22
Earnings season brings volatility, but traders shouldn't jump to conclusions about what a particular move implies.
---
07/12/22
Gaming stocks may have surprised some traders with the way they've responded to recent COVID headlines.
---